A Kamloops care home is aiming to revisit the Old West annually after a week of activities, which are becoming more consistent amidst the COVID-19 pandemic.
Seniors at Ridgeview Lodge in Brocklehurst were treated to a week of Western activities at the end of May, culminating in a visit by some barnyard companions from The Barn in Black Pines.
Residents were involved a wide variety of activities, including gold panning, cattle roping, virtual Western concerts, scenic drives into the countryside and Western movies.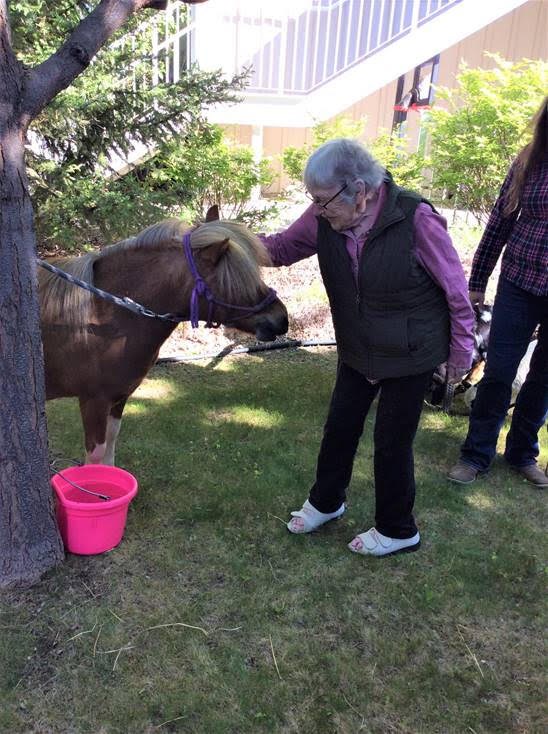 For the gold panning, staff utilized a kiddie pool and pie tins and made fake gold nuggets. In order to cattle rope, a staff member brought in a fake steer head and rope and demonstrated how to do it.
For the petting zoo, residents were brought outside in groups to see the animals — a miniature horse named Lily, goat named Kenny and a five month old lamb aptly named Bo Peep.
"It was amazing. Some of our residents were brushing the horse and telling us things about horses that we didn't even know," Kiara Janzen, director of resident programs, told KTW.
"The smile on peoples' faces — some people you hadn't seen smile in years — just smiling ear to ear. And I think everyone's hearts were gleaming all day.
Janzen said Ridgeview opted for the Western-themed events in recognition of the fact so many of its residents grew up on farms.
"And we knew it really resonated with them," Janzen said.
One resident who got a kick out of the events was Patricia Crawshay, who turned 100 in March. She said the week of activities was lovely and was delighted when the lamb settled in her lap for a cuddle in the sun.
Crawshay recently moved to Kamloops from Sechelt to be closer to family and had been living on her own.
Janzen said recreational activities have been inconsistent and were more or less shut down for care homes through the pandemic, but over the past few months, they have been running more consistently.
"And we really wanted to kick off that with a really fun week," Janzen said, noting Western Week will return as an annual event.
Next up for the residents at Ridgeview? Hawaiian Week.
"That'd be nice," Crawshay said.