Since 2017, the Butterfly Room at Royal Inland Hospital has been providing safe space and support for people who have been abused.
But it recently emerged from its cocoon and spread its wings, thanks to the work of local groups who have made the space even more welcoming with a colourful butterfly mural, a splash of butterfly decals and a traditional Secwepemc greeting.
The recent work done to the room was a result of a partnership between Interior Health/Royal Inland Hospital emergency department, the Kamloops Sexual Assault Counselling Centre (KSACC) and Big Bear Child and Youth Advocacy Centre.
"It's just everybody coming together, recognizing that there was a gap and working hard to fill it for, ultimately, our patients," said Tracy Scott of Interior Health and Big Bear Child and Youth Advocacy Centre vice-president.
The Butterfly Room is a space where medical and forensic exams can be done in privacy, away from the chaos of the rest of the hospital.
Victims can also request the presence of a volunteer from the sexual assault response team, a service provided by the KSACC, who will stay with them through the exam process and provide information on follow-up procedures and justice-related services.
"The moments after an assault, the hours and days after an assault, can be really traumatic for folks," said Alix Dolson, co-ordinator for the sexual assault response team.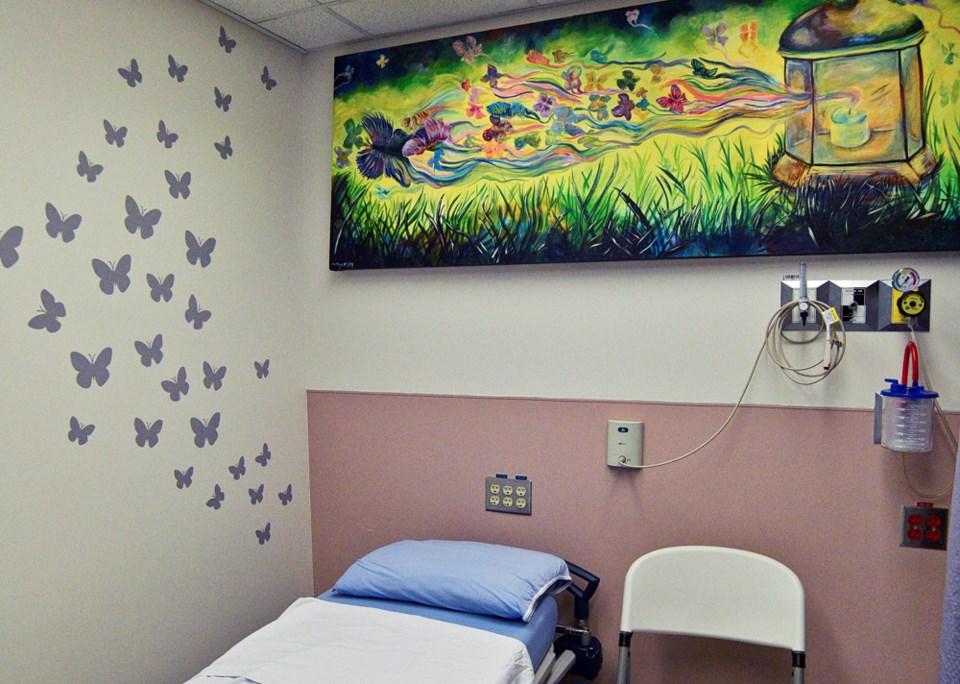 "We're really glad to be able to provide people with that emotional support piece and be able to sit with them through this and provide them with ongoing services if they need them."
There are about 20 volunteers involved in the sexual assault response team program, but the organization is always looking for more.
Since the room is used for victims as young as 13, it was important to create a space that was welcoming and warm.
Tara Ettinger, co-ordinator of the Big Bear Child and Youth Advocacy Centre, said a student from the Thompson Rivers University visual-arts program was hired.
"We just asked her if she could create a painting for this room that represented hope, healing, a healing journey and just brightness," Ettinger said.
"And so she came up with that concept of the butterflies leaving the light and everything's aglow."
The butterfly imagery is significant beyond simply creating a colourful backdrop for the room.
Butterfly is also a signal used in Interior Health to note a need for sensitivity.
Big Bear Child and Youth Advocacy Centre also recently donated video-conferencing equipment to the child maltreatment clinic to allow for more regional communication.