The Western Karate Academy has been a big supporter of the KTW Christmas Cheer Fund for years, and 2018 is no different.
The students are on track to raise more than $8,000 during their annual kickathon event.
Perhaps even more exciting is the fact a single fundraiser was responsible for about a quarter of that total — and he's only eight years old.
Denver McKinlay collected more than $2,000 this year, a big jump over the $1,000 he raised during his first event last year.
According to Denver's dad, Matt McKinlay, it took plenty of pounding the pavement.
"A lot of walking," Matt said. "The step counter got its workout."
"We just went to different streets and went from house to house," Denver said.
Matt said there were very few homes that weren't willing to donate even a small amount, noting there were even a few people who donated as much as $50.
Matt said a resident on Orcrest Drive in Westsyde met Denver and was impressed with the boy's spiel.
"And then he just walked in and came out with a $50 bill," Denver said. "I'm like, OK, he's going to give us something regular, like $5, $10, maybe $20.
"And then he just pulls out of his pocket a $50 bill."
Even people who may not have had a lot of cash on hand were excited to donate, Matt said.
"There was one lady that brought him a big handful of change and handed it to him," Matt said.
"So he started counting and she was like, 'No, I'm going to get more' and she went and found another big handful of change."
Denver added some of his own money to the Christmas Cheer Fund coffers, auctioning off some of his own belongings and collecting bottles from home to raise extra cash.
Of course, it wouldn't be the kickathon without the kicking.
Each Western Karate Academy student involved must perform 1,000 kicks, which Denver completed last week.
If you think that sounds like a lot of kicking, you're right.
"When you get to about 300, it starts to hurt," Matt said.
The trick, according to Denver, is to keep switching between legs.
Rather than suffer from exhaustion after all those kicks and all that fundraising, Denver is already thinking ahead to next year's event, with a goal of exceeding the $2,000 he raised for this year's Christmas Cheer Fund.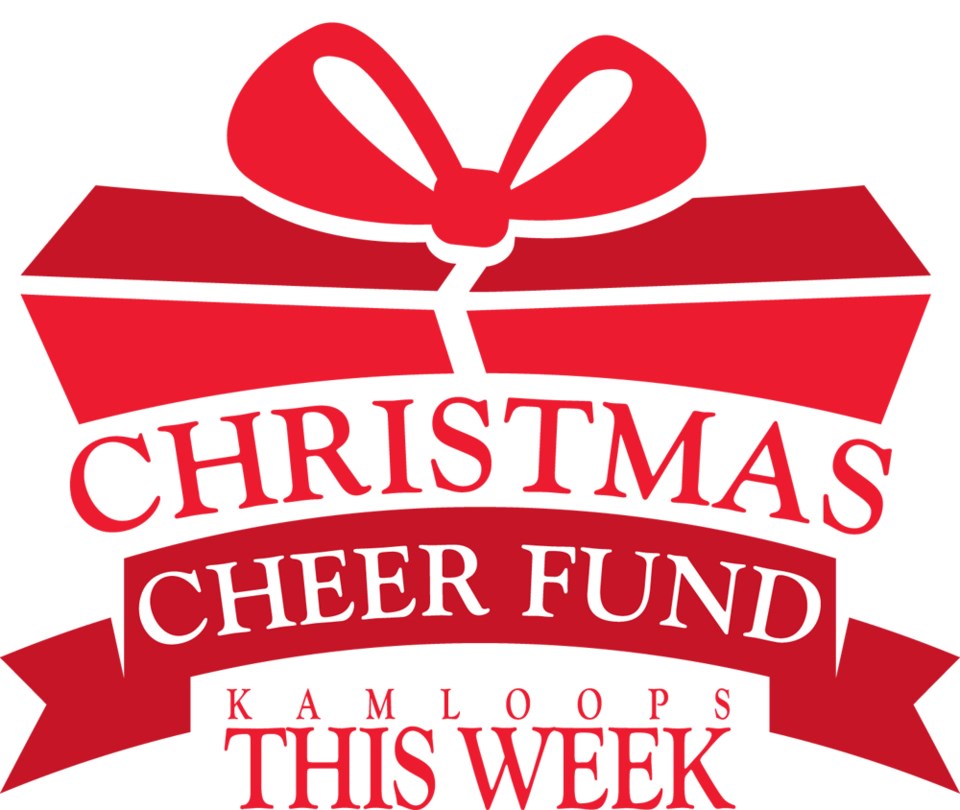 HERE'S HOW TO HELP A GREAT CAUSE
Charities being supported this year include the Y Women's Emergency Shelter, Out of the Cold shelter, The Mustard Seed New Life Community, Kamloops Brain Injury Association and Boys and Girls Club's Falcon Program.
To donate, go online to kamloopsthisweek.com/cheer or visit the KTW office, 1365B Dalhousie Dr. in Southgate. Office hours are Mondays to Fridays from 8 a.m. to 4:30 p.m.
All donations collected will be held by the United Way Thompson Nicola Cariboo for distribution in January. Online receipts will be issued immediately by the United Way; cash donations will generate receipts in January.
During the KTW Christmas Cheer campaign, we will recognize donors, along with a running tally.
THANK YOU, DONORS!
• St. John Vianney Friday Afternoon Bridge Club: $100
• In Memory of Peter
Botham: $100
• Valerie Brown: $100
• ND McGowan: $100
• KTW Social Fund: $321
• Kamloops This Week: $2,070
• Anonymous: $100
• Anna Evenrude: $50
• John and Val Kemp: $100
• Spencer and Janet Bryson: $200
• The Posse: $100
• Irene Anderson: $20
• Lynne Totten: $100
• Marg Clements: $100
• Anonymous: $500
• Darren, Sharlene & Kyle McIlwain: $158
• Tracey Mourre: $20
• Rick & Judy Collinge: $100
• Anonymous: $25
Tom & Sharon Moore: $100
• Amy Regen: $100
• Wally & Wendy Reddeman: $75
• Jerry & Wendy Patrick: $100
• Rick Bennett: $50
• Teresa & Colman Byrne: $200
• Anonymous: $100
• Evelyn Meyer: $60
• Buzz & Jane Osterloh: $100
• Anonymous: $200
• Anonymous: $320
• Margaret Sandulak: $100
• Shirley Brown: $100
• Wendy and Kim in memory of Peter Basson & John Healy: $25
• Linda Jackson in memory of George Wilmot: $100
• Anonymous: $500
• Jo-Mary & Bob Hunter: $200
• Sharon L. in memory of Sharon & David Frampton: $100
• In memory of James Maloney: $500
• Shirley Ross: $100
• Sue Turner: $200
• Cyndi Lion: $100
• Lois McAlary: $100
• Donna Sharpe: $50
• Anonymous: $150
• Don & Marlene Pattern: $60
•Libby Denbigh in memory of David and Rachel: $50
• Sharon Cooley in memory of Ruth Cooley: $50
• Anonymous: $50
• Anonymous: $50
• Richard and Shirley Holmes: $100
• Anonymous: $200
• Anonymous: $20
• Anonymous: $50
• Marianne Forrest in memory of Bob Madden: $30
• Don & Marlene Pattern: $60
• Anonymous: $50
• Erik Seifert: $100
• Tony and Kaz Dufficy: $50
• Anonymous: $100
• Ron & Susan Durant: $100
• Kenneth Sharman: $100
• Evan & Wendy Lichlyter: $100
• Ken & Gladys Klepachek: $100
• Sandra Blakely in memory of Douglas Blakely: $100
• Kathy Sinclair: $50
• G & A Morrissette: $300
• Darko & Allison Filipic: $200
• Gary and Carol Bacon: $100
• Anonymous: $100
TOTAL TO DATE: $10,365