As we move through the final days of the 2018 KTW Christmas Cheer Fund drive, significant donations continue to arrive.
We've recently seen $9,600 from Jim Doan and the Western Karate Academy's Kick-A-Thon event, as well as $3,145 from Dean Nicholson and other generous souls at IG Wealth Management.
Most recently, Kelly Shantz from the Free Radicals Hockey Club brought in cheques from club members that totalled $7,840.
These funds come directly from the pockets of players, which makes their generosity even more notable.
"It gets pretty wide support from the guys," Shantz said.
The Free Radicals is a group that gets together to play hockey a few nights a week.
According to its website, they are simply a bunch of old hockey players acting like kids.
These old hockey players have been fundraising for the Christmas Cheer Fund since 2011 and have managed to raise more than $50,000 since then.
Shantz said everyone in the group is fairly competitive and that has helped keep their donation numbers as high as they have been.
And, as always, their generosity is appreciated.
Donations can be made online at kamloopsthisweek.com/cheer or at KTW's office, 1365B Dalhousie Dr. We are open weekdays from
8 a.m. to 4:30 p.m.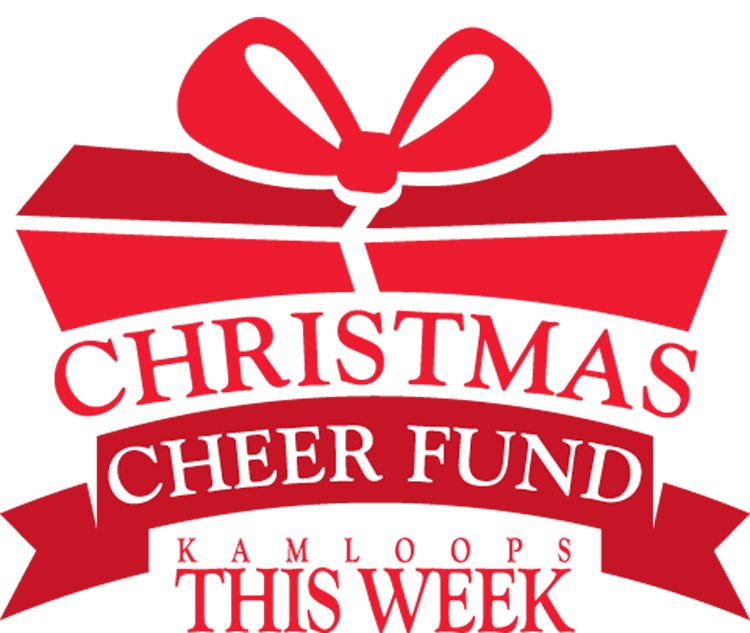 HERE'S HOW TO HELP A GREAT CAUSE
Charities being supported this year include the Y Women's Emergency Shelter, Out of the Cold shelter, The Mustard Seed New Life Community, Kamloops Brain Injury Association and Boys and Girls Club's Falcon Program.
To donate, go online to kamloopsthisweek.com/cheer or visit the KTW office, 1365B Dalhousie Dr. in Southgate. Office hours are Mondays to Fridays from 8 a.m. to 4:30 p.m.
All donations collected will be held by the United Way Thompson Nicola Cariboo for distribution in January. Online receipts will be issued immediately by the United Way; cash donations will generate receipts in January.
During the KTW Christmas Cheer campaign, we will recognize donors, along with a running tally.
THANK YOU, DONORS!
• St. John Vianney Friday Afternoon Bridge Club: $101
• In memory of Peter Botham: $100
• Valerie Brown: $100
• ND McGowan: $100
• KTW Social Fund: $321
• Kamloops This Week: $2,070
• Anonymous: $100
• Anna Evenrude: $50
• John and Val Kemp: $100
• Spencer and Janet Bryson: $200
• The Posse: $100
• Irene Anderson: $20
• Lynne Totten: $100
• Marg Clements: $100
• Anonymous: $500
• Darren, Sharlene and Kyle McIlwain: $158
• Tracey Mourre: $20
• Rick and Judy Collinge: $100
• Anonymous: $25
• Tom and Sharon Moore: $100
• Amy Regen: $100
• Wally and Wendy Reddeman: $75
• Jerry and Wendy Patrick: $100
• Rick Bennett: $50
• Teresa and Colman Byrne: $200
• Anonymous: $100
• Evelyn Meyer: $60
• Buzz and Jane Osterloh: $100
• Anonymous: $200
• Anonymous: $320
• Margaret Sandulak: $100
• Shirley Brown: $100
• Wendy and Kim in memory of Peter Basson and John Healy: $25
• Linda Jackson in memory of George Wilmot: $100
• Anonymous: $500
• Jo-Mary and Bob Hunter: $200
• Sharon L. in memory of Sharon and David Frampton: $100
• In memory of James Maloney: $500
• Shirley Ross: $100
• Sue Turner: $200
• In Memory of Julianne Lion: $100
• Lois McAlary: $100
• Donna Sharpe: $50
• Anonymous: $150
• Don and Marlene Pattern: $60
• Libby Denbigh in memory of David and Rachel: $50
• Sharon Cooley in memory of Ruth Cooley: $50
• Anonymous: $50
• Anonymous: $50
• Anonymous: $200
• Anonymous: $20
• Richard and Shirley Holmes: $100
• Anonymous: $50
• Marianne Forrest in memory of Bob Madden: $30
• Don and Marlene Pattern: $60
• Anonymous: $50
• Erik Seifert: $100
• Tony and Kaz Dufficy: $50
• Anonymous: $100
• Ron and Susan Durant: $100
• Kenneth Sharman: $100
• Evan and Wendy Lichlyter: $100
• Ken and Gladys Klepachek: $100
• Sandra Blakely in memory of Douglas Blakely: $100
• Kathy Sinclair: $50
• G & A Morrissette: $300
•• Darko and Allison Filipic: $200
• Gary and Carol Bacon: $100
• Anonymous: $100
• Maureen Hove: $50
• Brenda Fennell: $200
• Anonymous: $300
• Dale and Noeline Kerr: $100
• Phil and Verne Churchill on behalf of our family: $100
• Harriett Chave: $100
• In memory of Noel Kirby from family: $100
• Anne Wade: $50
• Anonymous: $200
• Anonymous: $30
• Beth and Chris Tanner in memory of Eleanor and Bob Tanner: $100
• Anonymous: $20
• Wesley, Vanessa and Christina Mah: $100
• TRU Quilters: $200
• In memory of Joe Bedard: $100
• In memory of Teresa and Sam Bruno: $100
• Kamloops Seniors Village: $240
• Kathie and Jim Ayotte: $200
• Lovely Ladies of the Lake: $300
• Jack Morden: $100
• Maria and Robert McGowan: $25
• Don and Debby Erickson: $100
• Anonymous: $40
• Preceptor Delta Chapter of Beta Sigma Phi: $90
• Spice of India Cuisine: $700
• Linda Inglis: $100
• Ken and Diana Hauser: $100
• Don Whyte and Gail Cameron: $100
• Case and Verita Van Diemen: $500
• The Roman Catholics at Sun Peaks: $500
• Anonymous: $500
• Anonymous: $25
• Rosemary Anderson: $50
• Bev Turner: $50
• Anonymous: $100
• Colleen Stainton in memory of many wonderful friends: $200
• Tivola Howe: $100
• In memory of our parents Tom and Gloria Stout and Muriel and Norman Cooper: $100
• Brian and Kathy Andriashyk: $35
• For family and friends: $700
• Anonymous: $25
• David and Helen Gulley: $100
• In memory of Sandy: $100
• Lorna McMillan and Robin Johnson: $50
• Dearborn Motors: $1000
• John and Eileen Jones: $100
• L&J Diamond Maintenance: $150
• Judy and Jerry Smandych: $100
• Shankaramma and Basavana Gowd: $300
• Paula Gardner in memory of Brad Gardner: $100
• Naomi Geczi in memory of my son David Geczi: $20
• Colleen and Judean Steffenson: $100
• Patricia Hanson: $25
• Anonymous: $100
• Kamloops Ladies Afternoon Curling Club: $166
• Wayne and Twink Murphy: $25
• In memory of Brett and Bob: $100
• M. Pilatzke in memory of Jack Pilatzke: $50
• Allen Hyslop: $100
• In memory of Ken Littlejohns: $100
• Marie, Norio, Ed and Roy Sakaki in memory of Vi and Frank Sakaki: $100
• In memory of Ken and Lois Devick: $75
• In memory of Al Johnson: $50
• In memory of George McIntosh: $100
• Robert McDiarmid: $100
• Gary and Susan McIntyre: $50
• John Metcalfe: $250
• In memory of Peter Howard: $100
• Anonymous: $100
• Jerry Neigel: $200
• Anonymous: $100
• Anonymous: $150
• Anonymous: $200
• Metro Kam Tech: $250
• Judith Fowles: $100
• Noreen Rozek in memory of Pat Rozek: $100
• In memory of Mike and Quay Jules: $150
• Gwen Mackinder in memory of my Mom and Dad: $100
• Anonymous: $500
• Anonymous: $100
• Ed and Dianne Barker: $300
• Smith Chevrolet Cadillac Ltd. - Staff and Management: $500
• Marilyn and Bill Martin in memory of JJ Rio: $100
• Western Karate Academy: $9,600
• Dean and Debbie Nicholson: $200
• Tanya Giles: $20
• Surander Singh: $50
• Anonymous: $300
• Olivia Hustins: $10
• Marilyn Giesbrecht: $50
• Jacques Lam and Myrah Parab: $50
• Morgan McCaskill and Ryley Harrison: $20
• Shanna Findlay: $50
• Kim and Rob Cecile: $50
• Liana Shaw: $50
• Kathleen and Cary Moffat: $50
• Lisa and Shaun Johnson: $25
• Sharon Lestage: $50
• Kelsey and Bryan Boudreau: $50
• Leah Briault: $50
• Linda and Rick Cameron: $80
• Teri and Randy Young: $200
• Christina Groves: $200
• Chris and Michelle Nagle: $100
• Nathaniel and Chantelle Jackson: $100
• Daniel and Mary Dollaire: $200
• Sid Barrie: $100
• Canadian Tire Kamloops: $1,000
• Gordon Harris and Gwen Watson: $300
• St. John Vianney Friday Bridge Group: $119.35
• In memory of Fred and Sandra: $50
• Kelly and Shirley Rowland: $200
• Mary-Jean Cameron and Kameron Elliot: $150
• Susan Peachey: $30
• On behalf of the TRU Print Services Staff: $85
• Hudson's Bay Social Club: $670
• Golds' Golden Gals: $666
• Audrey and Ken Harton: $75
• Donald Wilson: $400
• Fiona Clare: $100
• Geoff and Judy Gibbard: $50
• Anonymous: $50
• Phyllis Ring: $100
• Anonymous: $200
• Rick Maureen Nakashimada: $100
• Joan Lyons: $150
• Valerie Owen: $500
• Anonymous: $100
• Kathy Costerton: $150
• Marie Kabus: $100
• Helen Ferguson in memory of Andrew Liddy: $20
• Helen Ferguson in memory of Pat Liddy: $20
• Colin and Katy James: $100
• Findlay Quinn: $500
• Anonymous: $1,000
• Rachel Long: $100
• International Business Systems Christmas Party: $1,857.45
• Free Radicals Hockey Club: $7,840
• Barry Manderson and Kathy Bassett: $100
• Patricia and Calvin Moulton: $100
• BC Hydro Employees
(Kamloops): $467
TOTAL TO DATE: $55,395.80