Christmas is behind us and we have survived the holiday season. We made it through Black Friday and Cyber Monday, dinner with the in-laws and the weird uncles and getting everything under the tree without putting too much stress on the credit cards.
But if you've been reading this space since November, you know there are people in the community for whom surviving the holidays means much more — such as having a roof over their heads and making sure they can feed the family.
This is the focus of charities sponsored by the KTW Christmas Cheer Fund: The Mustard Seed, the Y Women's Emergency Shelter, the Kamloops Brain Injury Association and Out of the Cold shelter.
Out of the Cold had perhaps the biggest struggle with this season, with the program desperately looking for a new home for its homeless shelter through November and December.
Thankfully, just last week, organizers were able to announce the location of the shelter, which is at the Canadian Mental Health Association building, downtown at 857 Seymour St.
The shelter will operate on Wednesday and Sunday nights until the end of March, with this Sunday being the tentative opening day.
Out of the Cold is looking for volunteers, who can call 250-299-6699 for more information.
As always, we're proud to be able to help groups like these with the Christmas Cheer Fund and we're grateful to everyone who donated over the last two months, from the biggest fundraisers to the smallest gift.
It just takes a quick glance at the number of names in our donor list on page A5 to see just how many generous folk are willing to give at this time of year.
At the moment, are total sits at almost $50,000, which will go a long way toward helping these groups. While donations will likely continue to trickle in over the next week or two, this is, for all intents and purposes, the end of the KTW Christmas Cheer Fund program for 2019.
From all of us at KTW, thank you for your support, for your generosity and for your willingness to help those in need.
You have done your part in making this season better for others.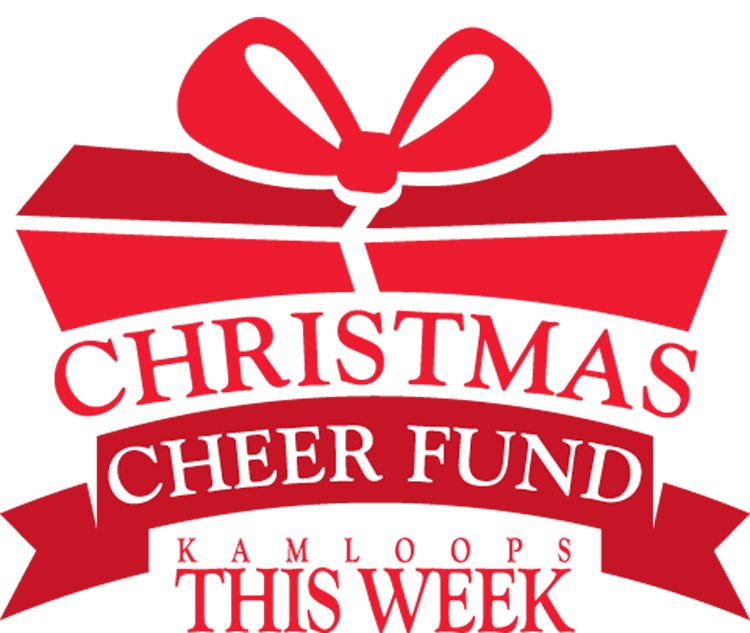 TO DONATE, GO ONLINE TO KAMLOOPSTHISWEEK.COM/CHEER OR DROP BY THE KTW OFFICE AT 1365B DALHOUSIE DR. IN SOUTHGATE (JUST SOUTH OF THE NOTRE DAME DRIVE/DALHOUSIE DRIVE INTERSECTION). WE ARE OPEN WEEKDAYS FROM 8 A.M. TO 4:30 P.M.
THANK YOU, DONORS!
• Denise Upshaw: $200
• Sherry Jones: $200
• In memory of Mike & Quaylen Jules: $100
• In memory of Ryan Skoglund: $25
• Dita Aronowski: $20
• Allen Hyslop: $100
• Preceptor Delta, Beta Sigma Phi: $120
• G.B. Jesten: $100
• Dale & Noeline Kerr: $100
• In memory of Stan & Jack Tash: $50
• Eleanor Nicoll: $500
• Mel & Wilda Boonken: $100
• Marie & Norio Sakaki: 50
• Alexis' Christmas Party: $160
• Kamloops Aberdeen Lions Club: $105
• BC Hydro employees: $679
• Rod & Joan: $100
• In memory of our parents, Tom & Gloria Stout and Muriel & Norman Cooper: $100
• John & Joanne Soberlak: $100
• Mary Pilatzke: $50
• Andy & Lorraine Davidowski: $50
• Rivercity Cycle staff: $100
• Kamloops This Week Social Club: $200
• Leanne Pentney: $15
• Donna Stevenson: $50
• Nolan Pastoor Personal Real Estate Corporation: $1,000
• Rick & Maureen Nakashimada: $100
• Anonymous: $50
• In memory of Julianne Lion: $50
• Greg Duncan: $100
• Anonymous: $100
• Brian & Kathie Andriashyk: $50
• Cathy Newman: $20
• David Smith: $150
• Anonymous: $100
• Ron & Barb Newson: $100
• Lynn Littlejohns: $100
• Anonymous: $150
• Don & Marlene Pattern: $50
• Anonymous: $75
• Colin & Katy James: $100
• Anonymous: $500
• Anonymous: $25
• Dearborn Motors: $1,000
• Sharon, in memory of Sharon & David Frampton: $100
• Ken & Audrey Harton: $100
• Kathie & Jim Ayotte: $200
• Kamloops This Week Social Club: $60
• Anne-Marie & Doug Jury: $100
• Kathy Adams: $80
• Sylvia Olson: $100
• Shirley Brown: $100
• Paula Vollrath: $50
• The Hausers: $100
• In memory of Dave and Sandy: $100
• H. Chave: $100
• Merry Christmas to family and friends: $700
• Lois Crown: $100
• In memory of Brad Gardner: $500
• Rachel Long: $100
• Moneca Jantzen: 800 pesos ($52.20)
• Kamloops Courthouse staff bottle return fund: $250
• Hudson's Bay Social Club: $446
• In loving memory of George McIntosh: $100
• Nina Marchese: $25
• Elaine Bonderud, in memory of my sister Trina: $50
• Free Radicals Hockey Club: $8,960
• Lianna Shaw: $50
• Shanna Findlay: $50
• Daniel & Catherine Dallaire: $250
• IG Wealth Management, Kamloops office: $500
• Marco & Carly Coyle: $500
• Surander Singh & Jas Rai: $50
• A. Robert Nichol: $100
• Anonymous: $400
• Tanya Giles: $20
• Nathaniel & Chantelle Jackson: $100
• Dean & Debbie Nicholson: $250
• Kristina (Tina) Sykes: $100
• Kelsey & Bryan Boudreau: $50
• Karin Sykes: $100
• Cristina Groves: $100
• Kathleen & Cary Moffat: $50
• Jacques Lam: $50
• Chris & Michelle Nagle: $100
• Marilyn Giesbrecht: $100
• Teri & Randy Young: $250
• IG Wealth Management matching gift program: $1,550
• Anonymous: $100
• Daryl Shinkewski: $100
• Anonymous: $50
• Taya Berkhout: $250
• Anonymous: $50
• Anonymous: $50
• Anonymous: $75
• Spencer & Janet Bryson: $200
• Anonymous: $100
• City Centre Auto Service: $500
• Anonymous: $100
• Don & Debby Erickson: $100
• Jo Ann & Peter Hall: $200
• Don Blake: $100
• Sandy Osborne: $100
• Marie Kabus: $100
• Patti Willis: $100
• Shirley Smith: $50
• Tony & Kaz Dufficy: $100
• M. & D. Hegarty: $100
• Evan & Wendy Lichlyter: $100
• Anonymous: $100
• Anonymous, in memory of Harold Bedard: $100
• Tina Lange: $100
• Patsy Schell: $100
• Sue Turner: $200
• Gary & Carol Bacon: $100
• Sharon LeStage: $50
• Anonymous: $200
• Barbara Humphrey: $100
• Janeen Asfeldt, in memory of husband Dr. Johs Asfeldt
• Noreen Rozek, in memory of Pat Rozek: $100
• From the Needlemania Ladies: $25
• Libby Davies: $20
• Ruth Silver: $20
• Gunny & Carmen: $25
• Verita & Case Van Diemen: $500
• In memory of Brett and Bob: $100
• Western Karate Academy: $6,275
• Gold's Golden Gals: $1,029.05
• Susan Peachey: $50
• Lillian Francis & family, in memory of Harry Francis: $100
• Lorna McMillan & Robin Johnson: $50
• Jim, in memory of Betty Jean Carnegie: $25
• Linda Jackson, in memory of George Wilmot: $100
• Anonymous: $100
• Anonymous: $20
• Anonymous: $50
• Anonymous: $25
• J.R. Mason: $100
• Rosemary Anderson: $100
• In memory of Noel Kirby from family: $100
• Edward & Hazel Hakansson: $100
• Anonymous: $100
• Anonymous: $35
• Wayne & Twink Murphy: $25
• Margaret Sandulak: $100
• Roy Simmonds: $50
• Bill & Carol Greenhalgh: $400
• Anonymous: $300
• In memory of Nail Dorais: $200
• In memory of my mom and dad, Ole & Minnie Cook: $200
• Anonymous: $100
• Chris & Angela de Haan: $300
• Len Knight: $25
• J. Manville: $50
• Jane & Buzz Osterloh: $100
• Ed & Dianne Barker: $100
• Gerald & Wendy Patrick: $100
• Judy & Tom Edwards: $50
• Kenneth & Diana Sharman: $200
• Richard & Terry Taylor: $100
• Muriel Botham: $100
• Anonymous: $250
• Anonymous: $50
• Gladys & Ken Klepachek: $50
• Wally & Wendy Reddeman: $100
• Wesley, Vanessa & Christina Mah: $150
• Mavis Paravantes, in memory of Teddy: $25
• Anonymous: $20
• Sandra Never, in memory of mom Pat Swaine: $50
• Anonymous: $50
• Kamloops This Week fundraising
dinner at the Commodore: $1251.50
• Anne Wade: $75
• Anonymous: $40
• Libby Denbigh, in memory of David & Rachel: $50
• Teresa & Colman Byrne: $200
• Kamloops Seniors Village: $250
• Anonymous: $100
• Bingley, Nek and Smidge: $75
• Ms. Bea Smith: $25
• Anonymous: $50
• Anonymous: $100
• A. & G. Morrissette: $200
• Lisa Michie: $100
• Anonymous: $100
• Shirlee Ezowski: $100
• McGowan Park elementary Grade 5 class: $175
• Cathy & Phil Holman: $100
• Ken & Marylyne House: $50
• Anonymous: $250
• Jerry Neigel: $300
• In memory of Wilf Schmidt: $200
• Anonymous: $100
• Colleen Stainton: $200
• Cal & Pat Moulton: $100
• In memory of Douglas: $150
• Lynne Totten: $100
• Anonymous, in memory of Peter Howard: $100
• Don Whyte & Gail Cameron: $150
• Gordon Harris & Gwen Watson: $400
• Sharon Cooley, in memory of Ruth Cooley: $50
• Wendy & Kim, in memory of Peter Basson & John Healy: $25
• Staff at Country Auto Sales: $600
• Tom & Sharon Moore: $100
• Rick Bennett: $50
• Anonymous: $500
• Anonymous: $25
• In memory of Sam and Teresa Bruno: $100
• St. John Vianney Bridge Club: $225
• Tim Shoults, Tara Holmes & Ken Christian: $20
• Brenda & Ken Christian: $100
• Music Lovers: $72.35
• Ladies of the Lake: $325
• In memory of James F. Maloney: $500
• Donna Sharpe: $50
• Anonymous: $100
• Evelyn Meyer: $60
• Lois McAlary, in memory of Sarah McAlary: $100
• Anonymous: $200
• Jo-Mary Hunter: $200
• Vic & Sally Mowbray: $100
• Amy Regen: $100
• The Posse: $200
• Passion for the Fashion Show: $194.85
• Anonymous: $125
• Anonymous: $20
• Anonymous: $100
• Marg Clements: $100
• Darren, Sharlene & Kyle McIlwain: $158
• John and Val Kemp: $100
• In memory of my brothers, Andrew and Joe Liddy: $20
• In memory of Pat Liddy: $20
• Ron and Susan Durant: $100
• BC Old Time Fiddlers' Association: $100
TOTAL TO DATE: $49,962.95