During reconstruction on West Victoria Street, an archeological and ancestral burial site were found under the asphalt at the edge of the road.
It's a reminder that this city has been occupied for millennia and that Kamloops imposed itself on unceded land — including all the heritage sites created before settlers arrived.
As a community, we need to start to talk about what that looked like.
First, a review:
There's good archeological and oral historical evidence that Kamloops and the entire Thompson Valley have been occupied since the last Ice Age.
The area along the river from Kamloops to Chase has been called "the cradle of Secwepemc culture" — cultural traits that first appeared here are found through Secwépemcúl'ecw.
During that 500-plus-generation-long occupation, Kamloops became a pre-colonial hub that left a dense material record.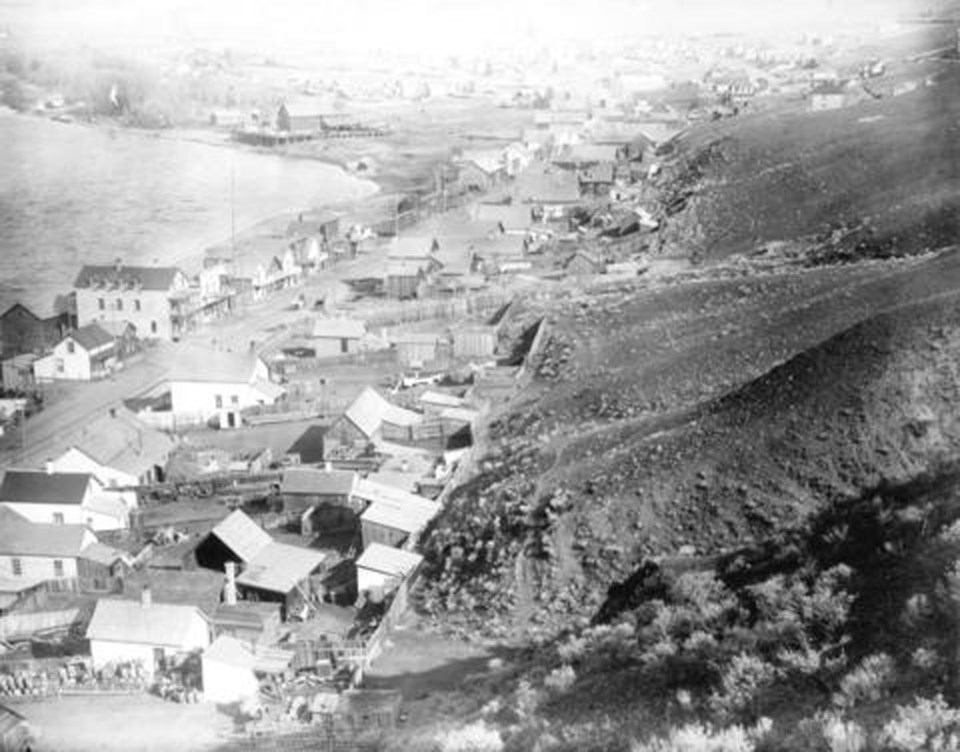 Among B.C. cities, Kamloops is second only to Victoria in number of known archeological sites within 10 kilometres of the city centre.
So, what happened? How did this land go from cradling Secwepemc to an urban swath of Euro-Canadian settlement?
Let's go to that spot on West Victoria Street, where the ancestral burial site was found.
By around 1880, all the land around there, what would become Kamloops, had been taken up under a series of colonial land ordinances.
Under these new land laws, white settlers could "pre-empt" — or occupy — free on promise of improvement, up to 320 acres of land. None of that land had been ceded to colonial authorities by treaty, sale or military force.
Secwepemc were unilaterally dispossessed of their homelands by pen strokes.
The pre-emption scheme was forbidden to Indigenous people, who were being relegated to the first Indian reserves in this period.
By about 1876, when the Indian Act was passed, all the prime land in the Thompson Valleys was claimed or settled by whites.
There's some crucial context here about the transfer of land from Secwepemc to seme7 (settlers).
First, deadly epidemics threw Indigenous communities into crisis. The 1862-1863 smallpox bout was particularly brutal, killing more than two-thirds of Secwepemc around Kamloops.
By 1910, reduced populations were all confined to Indian reserves and federal Indian Agents controlled every aspect of Indigenous life.
Permission was needed to leave reserves, fish or gather in groups. Permission was needed to live.
Residential schools were a part of Indigenous population control, too, freeing up future land. By the 1930s, two entire generations of Secwepemc (and Nlaka'pamux and Syilx and other) kids had been stolen and raised at the Kamloops Industrial School.
All the while, Kamloops grew.
Tk'emlups families that had owned and occupied this land for millennia became all but invisible.
But the archeological sites remain.
Those sites are still here, under West Victoria, downtown, Sagebrush, Aberdeen, Brocklehurst and Valleyview. There is no neighbourhood in Kamloops that was not Tk'emlups first.
It's an uncomfortable truth that the racist laws of a colonial state allowed a new Kamloops to flourish without impediment.
But every square inch has been built on lands that belonged to another nation.
When ancient bones or stones are uncovered in the city, when we're confronted with material evidence of the Secwepemc past, we should not allow ourselves to be surprised by that.
To imagine these sites are rare, one-offs or exceptions is a denial of our history that comes at the expense of Indigenous rights.
Secwepemc heritage is embedded in the landscape in Kamloops.
We will continue to find sites as we dig and build. Many have been destroyed, but more are still there, under malls and lanes and schools and parks of Kamloops.
This is the reality of colonial occupation.
The question is: How is Kamloops going to reconcile this past with the future we want to make?
Joanne Hammond is a Kamloops-based archeologist. Interested in more? Go online to republicofarchaeology.ca. Dig It is KTW's regularly published column on the history beneath our feet in the Kamloops region. A group of nine archeologists working in the area contribute columns to KTW's print edition and online at kamloopsthisweek.com.