James West is swashbuckling into 2021, a metal fabricator who believes his dreams, once razed in fire, are about to rise from the ashes and materialize on national TV.
"I honestly feel like this is going to be the biggest opportunity of my life, so I am grasping it wholeheartedly," said West, who owns Dubs Kustoms, the metalwork, fabrication and welding shop on Salish Road on the Tk'emlups te Secwépemc First Nation.
The 42-year-old Kamloops resident will feature prominently in Season 3 of Rust Valley Restorers, the Tappen-based vehicle restoration show that unlocked a worldwide audience when Netflix acquired streaming rights in 2019.
Episode 1 of the History channel offering will air at 9 p.m. on Thursday, Feb. 18, giving viewers a chance to catch up with Mike Hall, Connor Hall and Avery Shoaf, the stars who carry the series.
West, who appeared sparingly in Season 2, will hit the small screen in most of this season's 12 episodes, billed as a metal magician and master fabricator fighting to keep his business afloat amid the pandemic.
Central to his narrative is a 1952 Mercury pickup truck fused with a Corvette frame, a Frankentruck build that doubles as a money pit.
"This truck is the sickest truck on the planet," West told KTW. "And I don't say that lightly. It's absolutely amazing and it's going to blow people away. It's an extreme custom. I've absolutely cut this thing into probably about 40 pieces and welded it back together."
West was living in Quesnel in 2009 when his shop burned to the ground.
"The whole thing lit up on fire," said West, noting the ill-advised placement of a water boiler and frigid temperatures led to the blaze.
"I ended up running in and saving what I could, but it ended up putting me in the hospital for the day. It was literally one of the worst days of my life."
The 1952 Merc was salvaged.
"When the fire erupted, I was able to run over and push that out and save it," West said. "I was able to save that truck and one welder. Everything else was a complete loss. I lost all my tools. I had no insurance for them. It took me another 10 years after my shop burned down to get to the point where I could try to go after my dream again."
That dream — to run a hot rod shop and build custom cars — began to take shape after a move to Kamloops about seven years ago.
"When I rented this building, I started painting signs, putting them on the outside, getting the look I wanted before I even had any customers walking through the door," West said.
"With a five-foot spider crawling down the wall and all that, people take notice. One day a fellow come in the door and he had some involvement in the show."
The fellow is Matt Shewchuk, who runs Burnaby-based Mayhem Entertainment, along with Tyson Hepburn. They are the creators and executive producers of Rust Valley Restorers.
"It kind of snowballed from there," West said.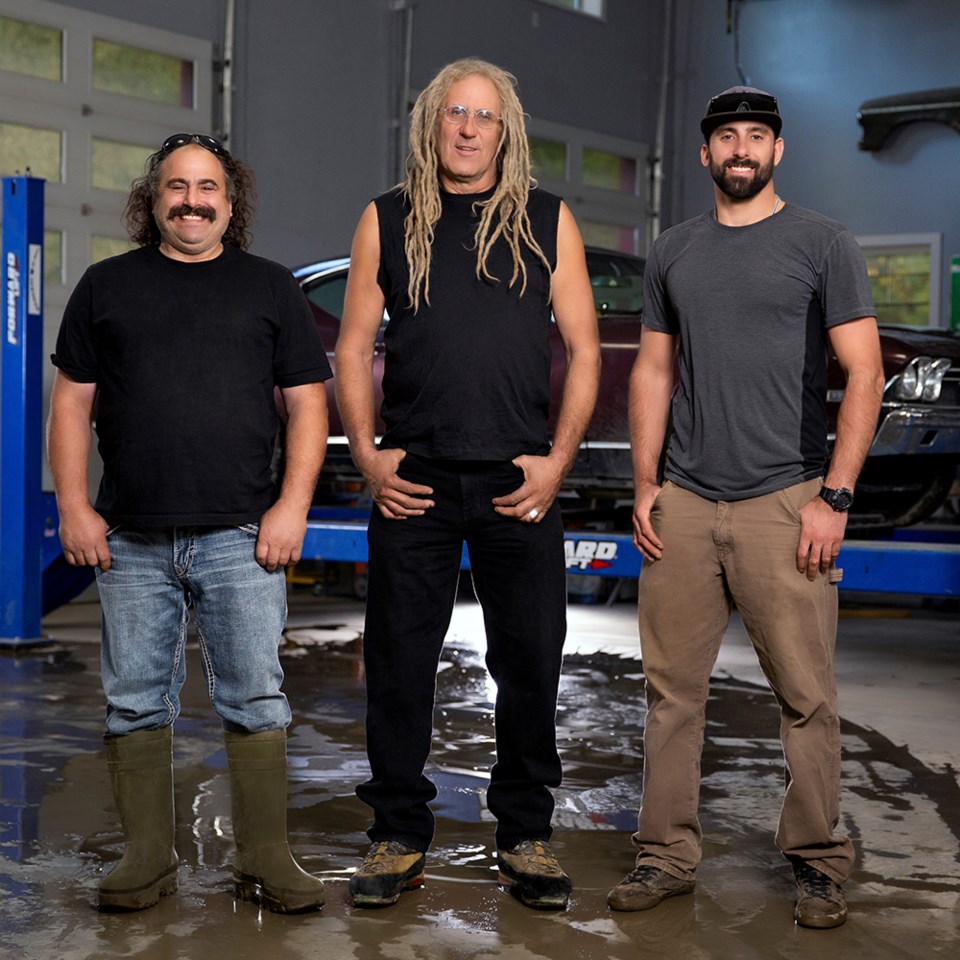 Hepburn said the decision to increase the spotlight on Dubs Kustoms in Season 3 should attract a new audience among car lovers.
"Mike's preference is the stock, original kind of car," Hepburn said. "Connor likes to do resto-rods, souped-up cars, but basically they look like they used to when they were built. James' creations are totally one-off. You'll never see another one like it in the world. That was a big draw for us."
Corus Entertainment and History executives will decide whether the show is picked up for a fourth season. Netflix brass will make a similar decision on Season 3.
"It's been a pretty wild ride," said Mike Hall, who grew up in Kamloops and whose son, Connor, lives in the Tournament Capital.
"I don't have a say on whether the show continues. It's up to the fans and the network. If they want to do it again, we'll keep doing it."
West is confident the Dubs Kustoms builds, including a 1947 custom gasser Willys pick-up truck, will help push the ratings needle in the right direction.
"The anticipation is killing me, to be honest with you," West said. "This season is going to be absolutely epic and I just can't wait for the world to see it."