Kamloops' newest mural was unveiled at the Versatile Petro-Canada's Kamloops Travel Centre on June 20, which was National Indigenous Peoples Day.
The work of art greets motorists at 1522 Versatile Dr. in west Kamloops and is a bright, colourful statement by Gitxsan artist Michelle Stoney.
The mural is called Majagalee, which is the word for children/flower in the Gitxsan language. It wraps around two sides of the building's exterior.
"We wanted to make some of the sites space available for Indigenous artists in various ways to tell their stories about their culture, their cultural journey,' said Suncor general manager of wholesale operations and sales Steve Duke. "It's important for us, it's important for the people in the communities we operate in and we thought what better way — we've got these blank slates across the country that we could make available to Indigenous artists to tell their story."
Canadian cities now telling their stories with art murals include Kamloops, Calgary, Winnipeg, Toronto, Ottawa and Montreal.
"When we talked with each artist, we said, 'Do you have a story to tell us around truth and reconciliation that we can then share on our platforms to Canadians?'" said Lynsey Mason, Suncor Petro-Canada's advisor of brand management.
Mason said each mural is different, but all are within the same theme of reconciliation and what that means to the artists.
Mason said the project is less about Suncor and Petro-Canada and much more about the artists' own stories.
"This is a really special project … to have an opportunity to work with Michelle personally, it's really touching," Mason said.
For artist Michelle Stoney, being chosen to create the mural was a welcome opportunity.
Standing beside Stoney, as drummers from the Tk'emlúps community performed the Honour Song, were her aunt and uncle, having made the road trip from their Hazelton home to offer their support.
They, along with others from within Stoney's own family, had returned home from residential schools.
"This is really to honour residential school survivors," Stoney said. "Our history and culture is still striving, even though they tried to take it away from us."
After probable unmarked burial sites were identified in Kamloops in 2021, Stoney created the orange Every Child Matters hand sign — a combination of trees, mountains, flowers and feathers.
In that design, the mountains and trees represent the Gitxsan Nation, the flowers represent children and the feathers represent the children who were lost in residential schools.
Stoney explained the Majagalee mural in Kamloops is based on her orange hand design incorporating some of the same elements and their meanings.
"I got to use my earlier work and combine it with elements from the orange hand design," Stoney said.
"I wanted to re-work the hand and have something different for people — to show people what I would do if it was coloured. The mountain [in the mural] represents community to me. The cedar tree represents the children that left, but came back and built their roots where their culture is still striving."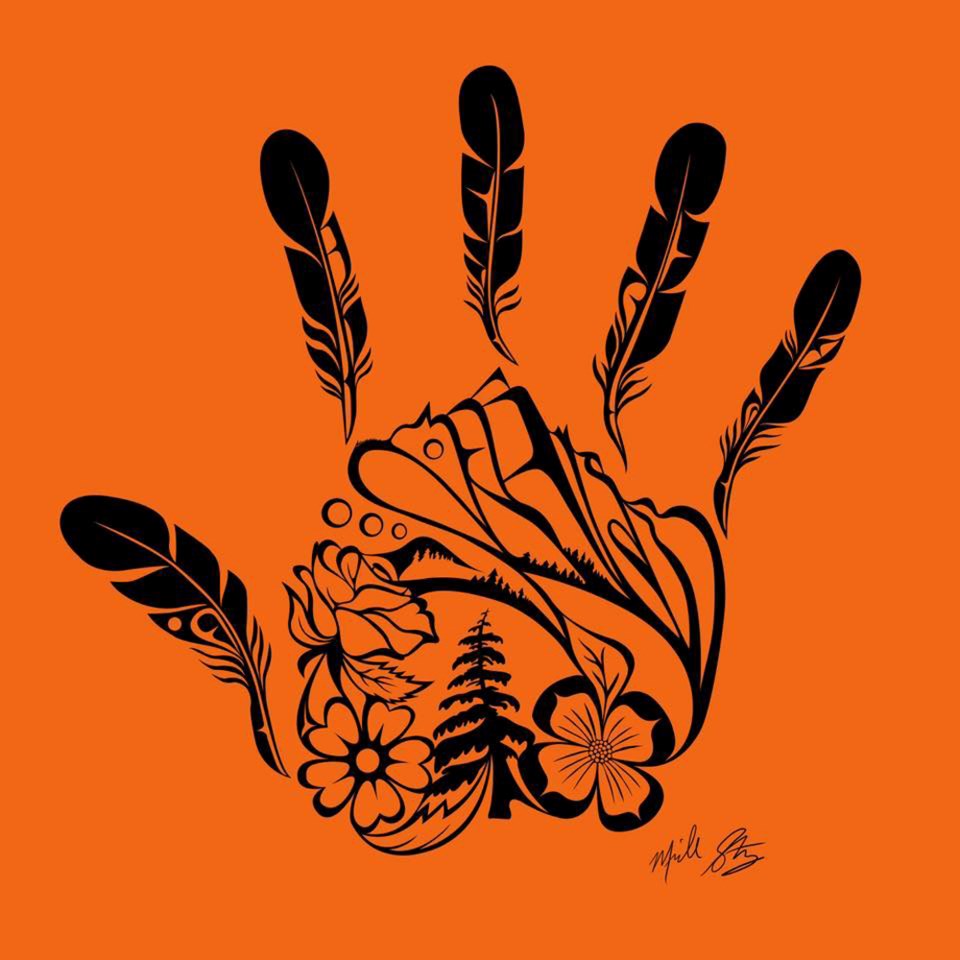 Stoney was raised in Gitxsan territory, in the House of Delgamuukw, and comes from a family of Gitxsan artists. Her grandpa, the late Victor Mowatt, was a master carver and her grandmother's brother, Earl Muldow a world-renowned sculptor and jeweller.
Stoney's accomplishments are substantial in their own right and she works mainly in the medium of acrylic painting and metal sculpture.
Stoney's unique style takes from the traditions of her two distinct First Nations cultures: bright colours with black outlines from her Cree heritage and form line from her Gitxsan heritage.
In 2012, Stoney received a bachelor of fine arts degree from the Emily Carr University of Art and Design. She received the YVR Art Foundation Award in 2009 and had her work selected in the YVR Banner Contest in 2013.
Stoney is now a full-time artist living in Hazelton, where she keeps busy with painting and jewelry studios, manages an Etsy shop and takes on commissioned work throughout Canada. Stoney regularly collaborates with her brother, photographer Alex Stoney, and together they create prints, a calendar and public art projects.
Asked what she attributes her success to, Stoney said one of the biggest reasons is her community.
Stoney said she is honouring "the trees" in her community, like her uncle, who returned home from residential schools.
By carrying on their traditions, Stoney is making her own mark on First Nations art in B.C. and across Canada — broadening understanding of its meaning and place within Canada's history.
You can learn more about Stoney on her website at michellestoney.com, on Facebook at facebook.com/mstoneyart and on Etsy at storeoutetsy.com/ca/shop/Mstoneyart.