Logan Lake's road to FireSmart recognition began well before the 2021 fire season.
In fact, the journey began in 2003, when then-mayor Ella Brown, along with Dirk Werring, the town's then-fire chief, began the slow, but steady process to create a FireSmart community.
At the time, Logan Lake secondary teacher Steve Sorochan and his forestry class students initially did work demonstrating the positive results of fuel mitigation within the town.
Don Brown, himself a recognized forester, volunteered as an adopted forester, offering information and advice to Sorochan and his students.
The following year, pastor Harry Holmquist from Church on the Hill applied for work grants to hire students, to create much-needed youth employment and to continue the work of creating a FireSmart perimeter within the community to help avert a potential threat.
Tom Lacey of Merritt took on a major role in helping council to create a plan and, through his strong belief in Logan Lake and its ability to achieve its goal of becoming a FireSmart community.
He devised a variety of plans, including selective logging and building more trails for residents to use while working tirelessly to gain the FireSmart designation.
Logan Lake fire chiefs who were involved in the effort included Dirk Werring, Dan Leighton and Doug Wilson.
But, as Wilson clearly pointed out, it was Leighton, during his time in Logan Lake from 2008 to 2020, who did a majority of the crucial work.
Among those who valiantly fought for Logan Lake during the August evacuation were Wade Achibald, the town's public works supervisor who was constantly on the job.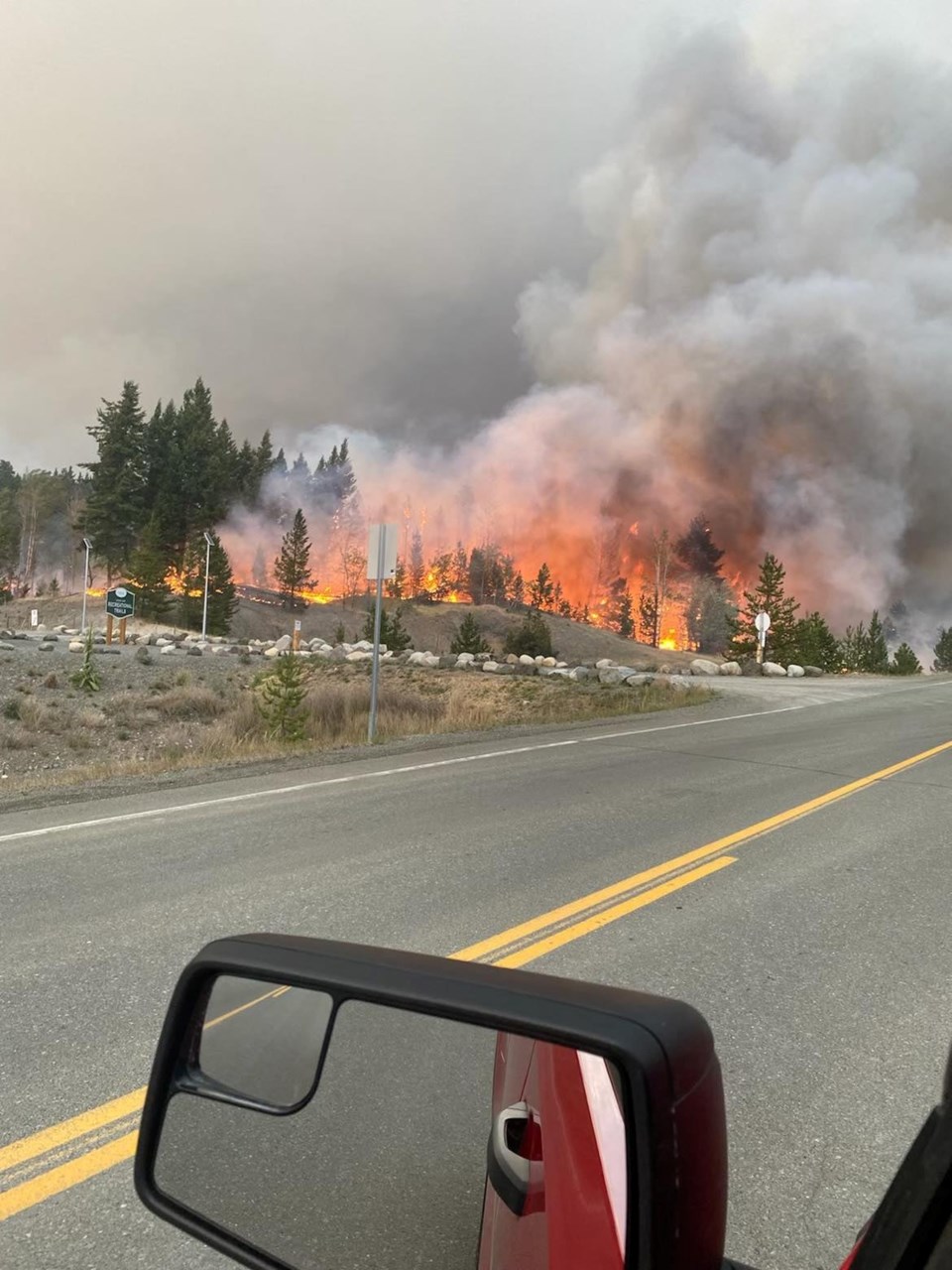 Note that firefighters Chris Candy and Neil Rideout together manned the laundry room at the fire hall, washing/drying/folding clean clothes to be returned to their owners, some of whom had been wearing the same gear for more than eight days.
And we can't forget to acknowledge the 14 regular members of the Logan Lake Fire Department.
The owner of Highland Valley Foods, Karan Singh, gave the key to the store to Wilson to enable him to access food, meat, vegetables and other store snack products, which helped keep the Country Cafe operating. Many of those doing the cooking, serving and cleaning were the partners of Logan Lake firefighters.
In addition, Panago Pizza in Merritt supplied pizzas to evacuees in that city while personally delivering pizzas to folks fighting the fire in Logan Lake.
Another local hero is the owner of the Petro-Can gas station, who released his staff to evacuate, but kept the station open every day to provide fuel to vehicles involved in the fight. This act of kindness meant he'd been unable to attend his father's funeral at an out-of-town location.
With the evacuation notice, those with mobility issues or who didn't have access to a vehicle were able to leave town by bus.
This had been arranged by Wilson and by another community hero, Highland Valley Copper, which donated a bus and driver to safely move this special group of residents.
Also, during the evacuation several residents using technology, kept in touch with the fire chief, giving him passcodes to enable him to access home freezers, gardens, greenhouses, chicken eggs and equipment that might be needed.
Mayor Robin Smith, who initially stayed behind after the notice to leave was issued, proudly noted, there wasn't much to be changed in the way the fire was handled by the local crew.
As well, Smith noted the excellent efforts of wildfire crews from 36 other communities in B.C. and Alberta.
In hindsight, Smith said residents were very well looked after, with many neighbours knocking on the doors of others, advising of the order to leave.
Smith was also very vocal about the quality of service offered by the structural protection company that improved water sprinklers and/or put them on roofs that had none.
Noting, they used garbage cans and plugging holes in structures to prevent damage while monitoring the entire community.
As well, the mayor was very clear in stating firefighting that was done was all in attack, rather than defensive mode.
Finally, late on Friday, Aug.13, with the strong advice of the fire chief, Smith, even though she found it hard to leave, did so knowing Logan Lake's needs were being met.
While there was a welcome home event for Logan Lakers on Aug. 22, mayor and council are planning on hosting a larger community gathering in the future, when current health restrictions are eased.
At that time, Smith is hoping some form of special recognition for their early and ongoing Fire Smart contributions will be given to Lacey and Holmquist, who have both left this earth.