Lovers of curling and theatre will have plenty to enjoy as Western Canada Theatre's latest production is set to coincide with a major curling tournament in Kamloops.
Playwright Kristen Da Silva's comedy Hurry Hard will premiere on Feb. 23, overlapping with the 2023 Scotties Tournament of Hearts national women's curling championship, which is at Sandman Centre through Feb. 26.
The latest production by Western Canada Theatre features a host of local talent, including Kirk Smith, Terri Runnalls and Rem Murray, and other professional actors from elsewhere, including Toronto's Timothy Mooney and Vancouver's Yumi Ogawa.
The play follows a curling team that split up at the same time as Bill and Sandy's marriage. Now, years later, the team finds itself in need of another member and Sandy quickly becomes the only option on the eve of the big regional bonspiel.
Director Catriona Leger said at its core, the play is really about love, but it's also full of belly laughs.
"I really come at it from a place of love and, knowing that curling is such a revered sport, I think we're very lucky that Kristen Da Silva has written some very clever words in and around curling that we get to play with," Leger said.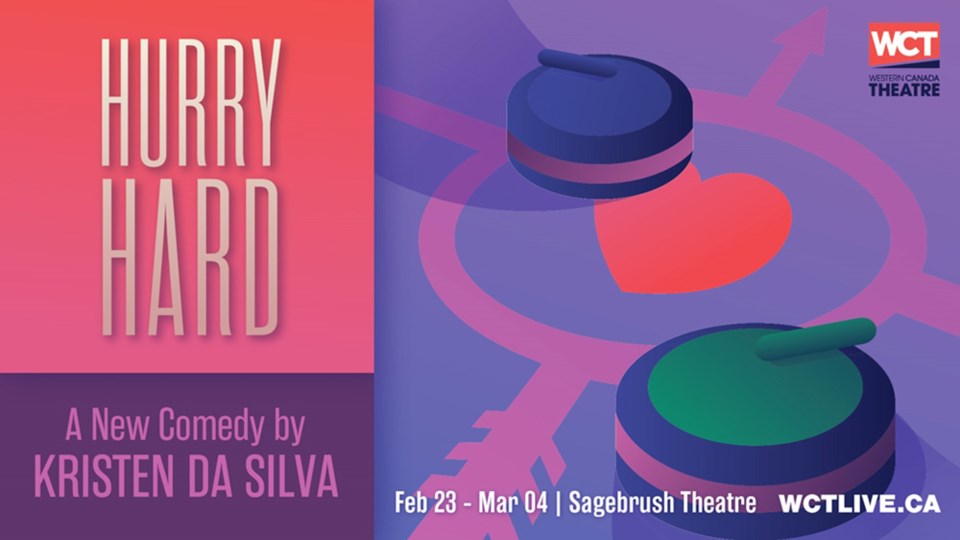 Hurry Hard won the Stage West Award for best new comedy in 2019 and Leger is excited to stage it in Kamloops.
Director Leger is no stranger to comedies, but most of them have been from the Bard. Hurry Hard, however, isn't the Shakespeare she is used to, admitting its style is a bit of a departure for her.
"What's great is the language is so accessible. We don't have to translate from Shakespeare — but like Shakespeare, it's got its own rhythm, its own pace," she said.
Leger moved to Kamloops in 2019 and has been working as a theatre instructor at Thompson Rivers University ever since. Her career has spanned 25 years, directing, acting and teaching across Canada. Hurry Hard will Leger's first big stage play in Kamloops.
"One thing I really love about this play is that everybody is funny," she said. "Sometimes in comedy, the men are funny and the women are there as vehicles for the men to be funny, but here, I love that everyone is funny and human in their own right and that so much of the comedy just comes from identifiable human truths."
Leger was quick to credit those who cast the play, as well as playwright Da Silva, but her own past work in physical comedy will also be apparent on the stage.
"It's such a wonderful cast we're working with and everyone is so uniquely funny ... You'll see some farcical moves on the stage, as well, some physical hijinks," she said.
Hurry Hard is on stage at Sagebrush Theatre from Thursday, Feb. 23, to Saturday March 4. Sagebrush Theatre is in the Sagebrush neighbourhood, adjacent to South Kamloops secondary, at Munro Street and Ninth Avenue.
For tickets and more information, go online to wctlive.ca/hurryhard.