Sew the Curve Kamloops has made and distributed 13,792 masks, 1,331 scrub caps, 1,225 scrub bags, 718 head bands (with buttons for masks) and 1,300 ear savers to front-line health-care workers, community service groups and vulnerable people in the Kamloops area since the start of its mask-making campaign on March 23.
"We have provided more than 3,000 masks to seniors homes and services that support seniors in their homes" said Tamara Vukusic of Sew the Curve Kamloops. "We have seen how devastating COVID-19 has been to seniors and their caregivers in facilities across Canada. We created a list of every seniors home and service we could find on-line and we called them. We are grateful they let us provide."
A growing group of seamsters — now at 289 — has been behind the effort, hailing from Kamloops, Logan Lake, 100 Mile House, Pinantan Lake, Chase and other regional communities.
Vukusic said masks have been distributed in those communities and to First Nations communities across the B.C. Interior and beyond.
Sew the Curve Kamloops member Nat Anfield has tended to the more than 70,000 Facebook posts and comments, while the Facebook page has grown to house 1,550 members strong.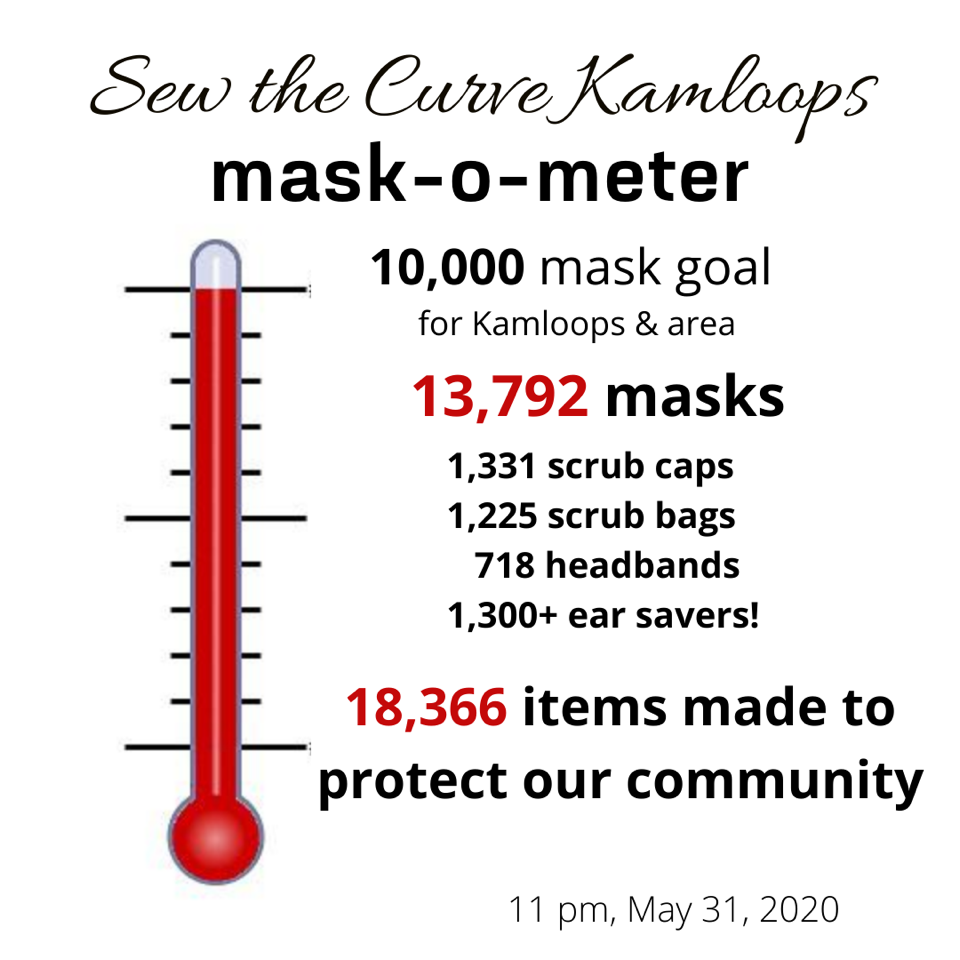 "People post about everything from advice and tips on what patterns and fabric they are using, to a link to the album they are listening to while they sew," Anfield said. "We have people from as far away as New York City and Australia chiming in looking for patterns, inspiration and exchanging sewing tips."
More than 300 organizations have received masks and other personal protective equipment, including Royal Inland Hospital, physician offices, clinics, the Kamloops Hospice Association, seniors homes, Thompson Rivers University and Sprott-Shaw College nursing students, Interior Health home health and day cares. This year, students graduating from the TRU and Sprott-Shaw nursing programs each received a scrub cap and scrub bag made by Sew the Curve Kamloops seamsters. In September, the TRU Nursing Department will receive 400 masks for student lab work.
Said Sew the Curve Kamloops member Paul de Zeeuw: "I have made friends here. I found structure and purpose here. I chose action over fear and fought a pandemic here. In many ways, this was our frontline. And I learned to sew. I'm not sure how it happened, but I received much more than I gave."