Tara Holmes is a Kamloops woman who is well known for her matchmaking business and the massive amount of volunteer work she does.
To say the least, this powerhouse is always juggling a busy schedule, which is why her life mantra is "Stop and smell the roses." She often reminds herself to appreciate the present moment.
Holmes is owner of Holmes is Where the Heart is Matchmaking Ltd, a company that connects single people of all ages. She is also promotions co-ordinator at Kamloops This Week, host of Tourism Kamloops Luv'n the Loops tours and is a co-ordinator of the Operation Red Nose program.
When she isn't working, Holmes de-stresses and re-energizes by trail running, skiing, paddle boarding and playing pickleball.
I asked Tara to talk about her various volunteer activities.
"I have volunteered every December for many years for Operation Red Nose," she said. "Not only is it important to have this vital service to keep impaired drivers off the road, it is also so much fun. Meeting new people I otherwise wouldn't is great and the volunteers continue to come back every year and it feels like family. I recently took on the role of a co-coordinator of Red Nose, but still make it a priority to volunteer for them as well."
In addition, Holmes has volunteered for 15 years for RunClub as a coach. She said when she joined RunClub as a beginner, coaches were helpful in guiding her along, so she felt it was important to give back.
Holmes also volunteers annually at the Canadian Mental Health Association's Ride Don't Hide event.
"It is so inspiring to see people who have so much courage to share their stories and give hope to those who are struggling," Holmes said.
The whirlwind is also emcee at the Terry Fox Run every year and this September's event is the 40th anniversary of Terry's Marathon of Hope.
"He is the ultimate Canadian Hero. He ran a marathon every day while fighting cancer and continues to raise awareness and funds with the legacy he has left behind," she said.
Having worked in the radio business for 30 years, emceeing and announcing is a natural fit for her volunteer skills. She is the voice at the Boogie The Bridge finish line and has emceed the Junior Achievement Economics for Success event, the BC Interior Community Foundation Gala, the Kamloops Therapeutic Riding Association gala, the Western Canada Theatre Women's Day Talent Show, The Habitat for Humanity House Party, the People in Motion Comedy Tour, the ICCHA Wish Foundation gala and the SPCA Fur Ball. Holmes also volunteers each year at the Kamloops International Film Festival.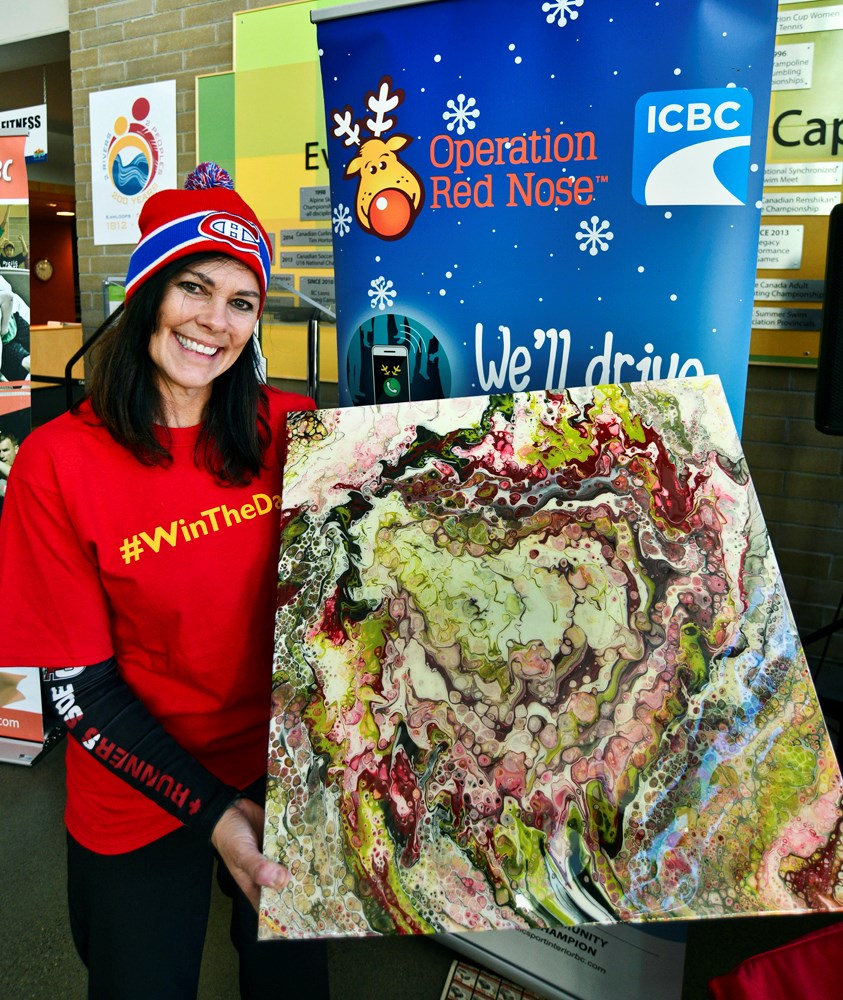 Last year, Holmes mentored a team in the Junior Dragons Den competition, organized by Community Futures Thompson Country. Once the teams of finalists were chosen, mentors worked with them to bring their concept to market and present it in the finals to the Dragons. Holmes also emceed the event.
One of the most impactful volunteer events Holmes took part in last year was competing in the Mx. Judged Pageant for the ASK Wellness Society.
"We had to change genders and be in character all night in a full pageant with evening wear, talent and skill-testing questions," she said. "This was far more challenging than I realized it would be and it had a profound effect on me in understanding more about how difficult it must be for people who are living every day uncomfortably. Acceptance and tolerance are so needed in today's society."
While she does spend a lot of time volunteering, Holmes said it is fulfilling.
"There are people who volunteer way more than I do," she said. "I see them everywhere, and one thing seems to be consistent — quite often, it's the busy people who volunteer. The rewards of volunteering are amazing. Giving back is vital and, no matter how old you are, whether you are 12 or 82, there is a place to volunteer.
"I think one thing that may hold people back from volunteering is fear. I totally get it, that stepping out of your comfort zone can be scary, but that's why you should do it. Once you start volunteering, you will meet so many new people and you will feel great. I honestly think it is our obligation as citizens of whatever city we live in to give back in some way. If everyone could just volunteer a little bit, imagine the difference that can be made? "
Holmes emcees the Kamloops This Week Timeraiser every November and said the event is perfect for new volunteers. Timeraiser is an art show at which you bid on local artist's pieces. If you have the winning bid, you don't pay money; you volunteer time during the year, upon completion of which you receive your artwork.
Go online to ktwtimeraiser.ca to learn more about it.
For those thinking about volunteering, contact Volunteer Kamloops, which has a plethora of options available. Volunteer Kamloops is online at volunteerkamloops.org and can be reached by phone at 250-372-8313. Its office is downtown at 705 Seymour St.