After a child's bicycle was stolen from Arthur Stevenson elementary in Westsyde, the family of five was disappointed to learn the licence plate number of the van used in the theft could not be seen in photos taken after the crime.
However, about two weeks after the Feb. 22 theft, not only did 12-year-old Jacob Paauwe receive a new ride from the District Bicycle Company — his four siblings also got new wheels.
The gift was courtesy The Lords of the Pipeline, a group of Trans Mountain Pipeline Expansion Project employees from Spread 5A who help families in the communities where they work with acts of kindness for various causes.
"They came in here to get an idea of what they wanted," said Jack Congreve, sales manager at the District Bicycle Company in the Summit Shopping Centre. "We put together a price for everything."
The Lords of the Pipeline learned of the bike theft via a post on social media.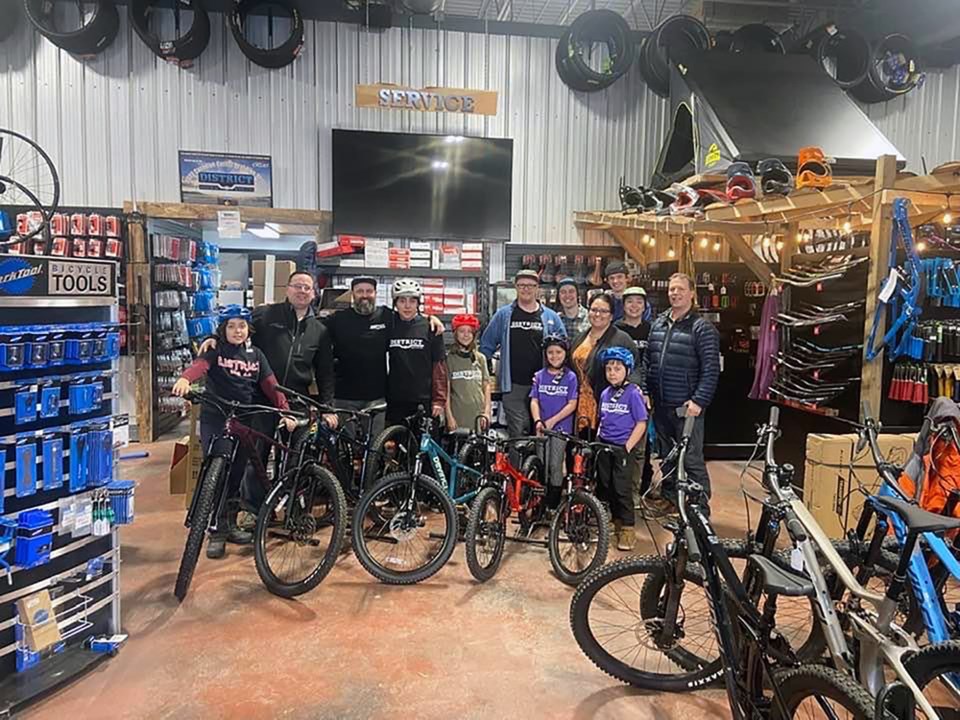 "My wife, being the Mama Bear that she is, put a post up on Facebook calling out the people who had done this and how it broke Jacob's heart. It was his most prized possession," said Brenton Paauwe, father of Jacob. "The community really rallied around us. We had lots of people sending messages, wanting to replace the bike, buy him a new bike, and people were sending small donations to help cover the cost."
Paauwe said one person in particular — Derek Pickford of the pipeline crew — reached out to the family and spoke with Paauwe.
At that point, Pickford told Brenton about The Lords of the Pipeline.
"He didn't know how much it would cost, so he told me to go shopping and figure out how much it would cost," Paauwe said.
So, Paauwe shopped around, visiting numerous bike shops in town. He said he chose District because staff there didn't push anything fancy and did not upsell.
From there, District staff connected with The Lords of the Pipeline to arrange replacement of Jacob's stolen bike.
However, when the family went to the District Bicycle Company store, they were shocked to find new bikes for all five kids, along with helmets, shirts and tickets to the movies for a night out as a family.
The bikes were under tarps at the store. When Jacob unveiled his new bike, staff told his siblings to look under the other tarps — which is when they made their exciting discovery.
"I've tried my best to make sure all of our kids have reliable bikes," Paauwe said. "I ride mountain bikes and I wanted to encourage the kids to go in that direction. I would go on marketplace to find good, modern bikes that wouldn't break. I would find and refurbish them so they would have really nice bikes that they could be proud of, but it's used bikes. For them to finally have these brand new, beautiful bikes, it was more than I could ever afford for them."
"When you hear a bad story, you have to make it into a really good story," Pickford said in a post on Facebook as he described his crew's $5,000 donation for the family's bikes, helmets and shirts.