Imagine visiting Paris and ignoring Montmartre.
Would you miss Chinatown when visiting San Francisco, pass on New York's Greenwich Village, Boston's North End, or London's West End?
It's no different when visiting South American cities.
Like me, many visitors to the major cities on this varied and complex continent arrive on a cruise — or will be after COVID-19 is finally over.
So, often there's limited time to explore.
Yes, every city has individual highlights.
In Buenos Aries it's Eva Peron's gravesite and a visit to La Boca — a working-class barrio where the Tango was born.
In Rio de Janeiro, take the tram up Corcovado and photograph the Christ The Redeemer statue.
And in Lima, a must-see site is the pre-Inca temple Hauca Pucllana, about 900 years older than the more famous Temple of the Sun at Machu Piccu.
But, for a glimpse into the heart and soul of a city, there are must-see neighbourhoods that make each city visit memorable.
And in Santiago — Chile's capital, financial centre and a major South American cruise embarkation point — that must-see neighbourhood is Bellavista.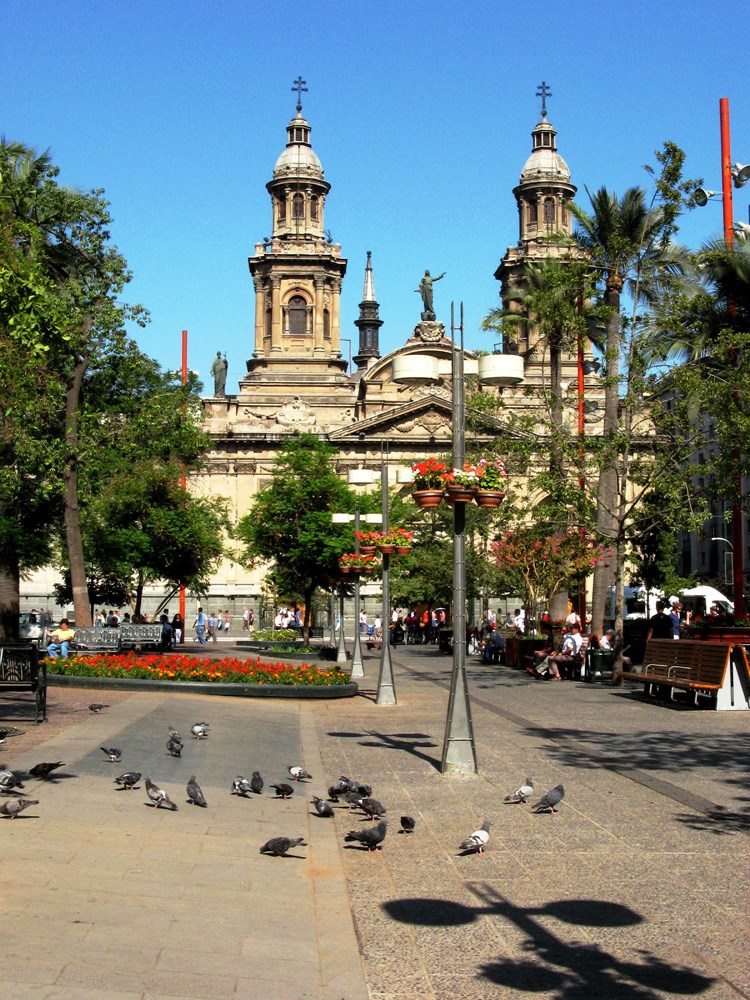 Santiago offers a wide range of cultural attractions and communities that will keep you busy for days.
It boasts of two symphony orchestras, one of South America's finest opera companies, contemporary and traditional art galleries, 16 major museums and 33 public and private universities.
But, with a just a day or two before your cruise ship leaves from nearby Valparaiso — a 90-minute bus ride from downtown Santiago — using your time to explore is precious.
The barrio may be a relatively small enclave in a city of 6-million inhabitants, yet it defines the character and heart of Santiago itself.
It's just below the funicular to Cerro San Cristobal (San Cristobal Hill) a major tourist site that's home to the statue of the Virgin of the Immaculate Conception, the city's landmark.
This bohemian-like neighbourhood, with its French influences in architecture, culture and feel, has streets lined with trees and a variety of colourful old homes, many of which have been converted into restaurants and studios for artists and musicians.
It's where you want to be day or evening, eating inside or out at one of the many cozy bistros.
Evening fun begins sometime around 10 p.m., and lasts well into the early morning, as pubs and nightclubs close around 4 a.m.
Usually the only people dining between 6 p.m. to 9 p.m. are North American and European tourists.
Between Calle Constitucion and Pio Nono is Patio Bellavista, an enclosed, modern plaza. It's the usual drop-off point for taxis.
Locals eat, shop and explore the stores selling anything from clothing to wine, featuring Chilean whites, reds and champagne-method wines that you won't find back home.
Along Calle Dardignac, the area's trendiest street, dozens of restaurants and bars stand side-by-side.
One of my favourites, is the Cava de Dardignac, located at Dardignac 0191.
It's renowned for having pioneered the "tabla" — a local version of smorgasbord that makes ideal nibbling while sipping your glass of Cabernet Sauvignon.
When you've tired of eating and shopping, explore La Chascona, the home once owned by Chile's Nobel Prize-winning poet, Pablo Neruda.
The home was built to resemble a ship and its unusually shaped rooms wind around a compact courtyard. The building is now headquarters for the Fundación Pablo Neruda, the organization that provides guided tours.
If you're short on time and want an atmospheric neighborhood similar to Bellavista, head south of the downtown plaza to Barrio Paris-Londres.
You'll find an intimate and atmospheric neighbourhood that captures the spirit of Left Bank Paris, with narrow, cobblestone streets and offbeat shops and galleries.
Most of the houses were built in the 1920s, with streets now vehicle-restricted, it has given rise to artist studios, hotels and restaurants.
The possibilities for exploring in Santiago are endless.
Travel Writers' Tales is an independent travel article syndicate. For more, go online to travelwriterstales.com.