A construction-style "ribbon cutting" with a hand-saw and plank of wood on Wednesday, Aug. 11, marked the start of construction of the 2022 Training House project in Tobiano.
 This year marks the 32nd Training House, a private-public partnership between the Central Interior branch of the Canadian Home Builders' Association and Thompson Rivers University's School of Trades and Technology department.
Once completed, the house is sold to the Kamloops YMCA/YWCA and becomes the grand prize in the annual Kamloops Y Dream Home Lottery, draws of which are held in late June or early July.
"This program would not be possible without the enthusiasm and co-operation of everyone," CHBA-Central Interior president Jere Lorenz said.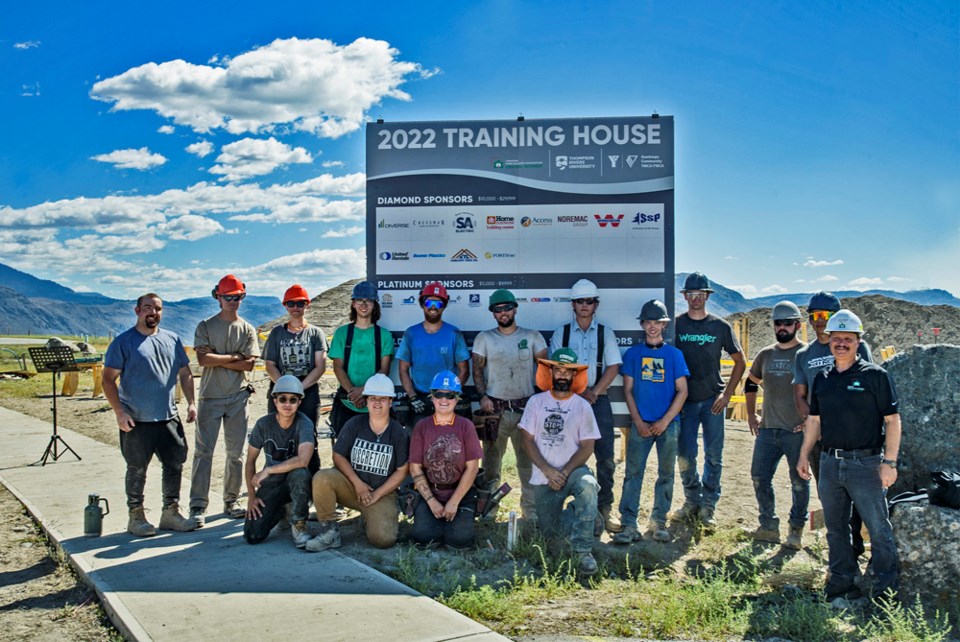 Lorenz works closely with TRU dean of trades and technology Baldev Pooni and instructor Bryce Coombs on the project. 
This year's Training House project manager is Doug Steel of Cressman Homes. He will be overlooking the entire build and working with all the sponsors.
The Training House site is located on 362 Rue Chevel Noir Rue, which is part of Diverse Properties Ltd.'s development in the growing lakefront community about 15 minutes west of Kamloops, along Highway 1. 
"I would like to recognize and thank Doug Steel of Cressman Homes for being the project manager for this year's project," Lorenz said. "A big thanks to Diverse Properties Ltd. for having the 2022 Training House here in this development, and all the sponsoring companies who are here. You are the most important, along with the students, in making this annual project a success."
Using what they learn in the classroom and applying it to real-life scenarios, the TRU carpentry students get a hands-on experience under the guidance of instructor Coombs. They learn how to build a foundation and frame the Training House.