Two magical works, one curious work and an old favourite ended the Kamloops Symphony Orchestra's 2020-2021 season.
Well, not quite. We have been promised another free chamber concert, on June 13.
The first work of magic, le Bal Masqué, was composed by Francis Poulenc in 1932 using poems of Max Jacob, written in 1921.
The dates are important in that they reflect the general reactionism of the 1920s and the particular reaction in France that preferred charm, delicacy, fun and wit — as the program notes tell us — to the prevailing Romanticism.
Alan Corbishley wonderfully expresses the almost ridiculous lyrics. His performance and the opportunity to watch the orchestra principals in action is enjoyment enough. However, the excellent program notes and presentation of the lyrics offer much more to explore.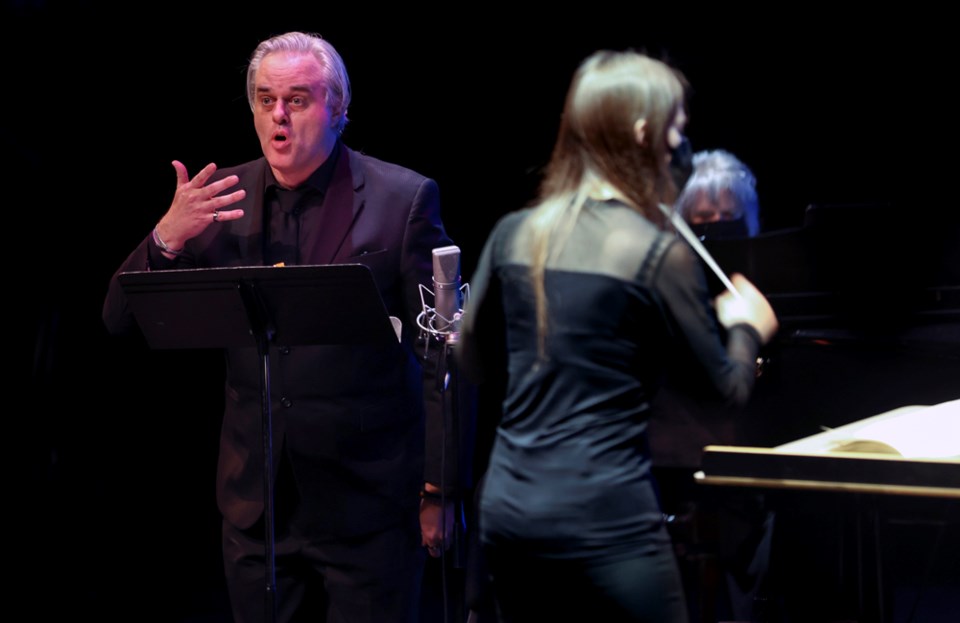 The magic of the second piece is in Csetkwe's songs. They were the inspiration for Katia Makdissi-Warren's composition, Whispers of the Mountain, in which we are fortunate to hear Csetkwe sing and drum.
The opening is serene, woodsy and perhaps whispery. The drum and voice enter, blending with the instruments.
The next song is the upward climb. We are drawn into an explosion of energy. Csetkwe's voice rises from deep within her chest with a tone and power of its own.
The ending is a quiet exhale
This piece acts as a bridge from the last live performance to (fingers crossed) the 2021-2022 season live.
What a treat it will be to choose where our eyes and ears want to be.
Still, by former Kamloopsian Stacey Brown, begins a four-year long project of commissions entitled Minutes to Midnight.
The old favourite, Aaron Copeland's Appalachian Spring in the original chamber version, made for a fine ending.
Tickets to T(w)o New Heights are available online at kamloopslive.ca until June 19.