Western Canada Theatre will make its triumphant return to Sagebrush Theatre with a spoof of a classic monster tale.
Dracula: The Bloody Truth depicts Professor Abraham van Helsing's attempts to convince his audience that Bram Stoker's Dracula was no work of fiction. In fact, the professor himself knows the titular bloody truth and has staged a production for all to see.
Van Helsing, portrayed by actor Christopher Hunt, leads the audience through his version of events, taking them on a journey from the Transylvanian mountains to the English coast, often becoming frustrated with his cast and the numerous characters he has them play.
"I'm angry and cranky and pissed off and not having a lot of fun — and I don't want the audience to have fun. I want it to be serious. It's not theatre, it's not entertainment. They're there to be educated," Hunt told KTW.
"It's fun because the more serious I am, the more things go wrong. It's a good thing to butt up against," he said.
Officially, the play has just four roles — Van Helsing and his three actors. But within the professor's production, each actor brings a number of characters to the table.
In one scene, actor Kirk Smith even accompanies himself in a scene, portraying "man and boy on a cliff," jokingly calling himself "the worst scene partner I've ever hard."
Smith also takes on the titular role of Dracula and about a half-dozen others, and Kamloops audiences might remember as Buddy in WCT's production of Elf – The Musical, staged in 2018.
If keeping that many characters in his head wasn't already a daunting task, Smith and fellow cast member Christy Bruce are also playing catch-up, joining the production after its first run by Calgary's Vertigo Theatre nearly one year ago, with Hunt and fellow actor Natascha Girgis a part of that production.
"It's been really quick," Smith said. "Last week was our first week and it was just a breakneck speed right out of the gate."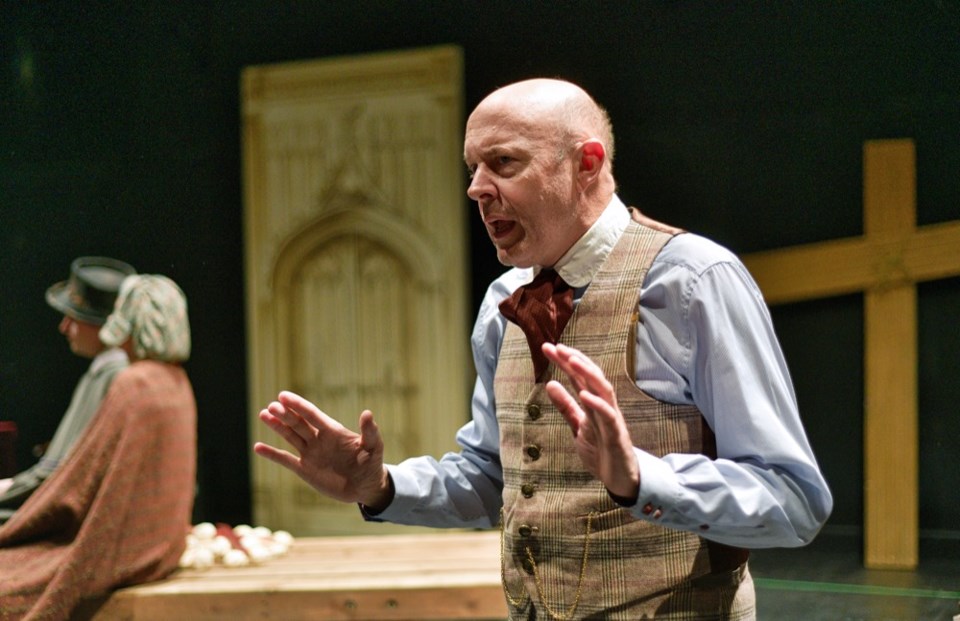 The play is the product of Exeter, U.K.-based theatre company Le Navet Bete and John Nicholson. The company specializes in physical comedy and turning the sentimental or serious to silly.
"Some of the plays we do are dramatic and seemingly important and feature modern social issues, and some are more on the silly and fun end of things — and this is definitely that," Hunt told KTW.
The play within the play, Hunt said, is remarkably true to Bram Stoker's Dracula, the source of the famous Count — a character that has lived on in various iterations, such as Bruce's favourite, the horrific Nosferatu, or Smith's, the educational and silly Count von Count of Sesame Street.
The farcical haunt will run from Oct. 10 to Oct. 19 at Sagebrush Theatre, 1300 Ninth St. Tickets are available at the Kamloops Live box office, 250-374-5483, 1025 Lorne St. or online at kamloopslive.ca.
The Bloody Truth cast
Christy Bruce's last WCT production was in Blind Date in 2014. Along with her theatre work and regular improv performances, her career also includes TV appearances on shows like Schitt's Creek, The Handmaid's Tale, New Eden, Suits, Orphan Black and more.
Natascha Girgis is making her WCT debut, but has a long work history in theatre, including with Calgary's The Shakespeare Company, Vertigo Theatre, the Royal Manitoba Theatre Company and about a dozen others across Western Canada.
Christopher Hunt has a long history with WCT, performing in Still Desire You (2007), Cornflower Blue (1993), The Idler (1988) and Village of Idiots (1985). He has also performed with Berkeley Street Theatre in Toronto and The Shakespeare Company in Calgary and also works as a director, adjudicator and writer.
Kirk Smith's most recent WCT appearance was as Buddy in last season's Elf – The Musical, but his past work also includes A Christmas Carol, Don't Dress for Dinner, The 39 Steps, Boeing Boeing, Les Miserables, Fiddler on the Roof and more.