Chimera Theatre has a new artistic director — Jessica Buchanan — an actor and comedian who has brought big city experience back to Kamloops, with plans to stage sketch and improv comedy performances.
The theatre company was started in 2014 by Andrew G. Cooper, along with Brittany McCarthy and Brooke Ballam. Since then, it has presented dozens of variety performances, including original stage plays.
Variety will continue to be the company's mainstay, but under Buchanan's tenure, the theatre might head more firmly in the direction of improv and sketch comedy.
Prior to her return to her hometown of Kamloops — where she graduated from TRU's Actor's Workshop Theatre program — Buchanan spent about two-and-a-half years in Toronto, where she attended the Second City Toronto training centre.
The Second City is a renowned improv comedy institution that began in Chicago and has since been established in Toronto and Los Angeles. Some of the biggest names in comedy have had their start with the some iteration of the troupe, including Tina Fey, Gilda Radner, Steve Carell, John Belushi, Chris Farley and Mike Meyers.
Buchanan's time under the conservatory program allowed her to study advanced writing and improv. She also had a chance to work at the theatre.
"But then, of course, COVID happened, and that put an end to that," she said.
Buchanan said as a result of the pandemic, she's seen a number of people leave the arts in favour of other career paths.
"If I may be so bold as to speak for every live theatre performer in the world, it's been pretty alarming to see your industry completely shut down," she said.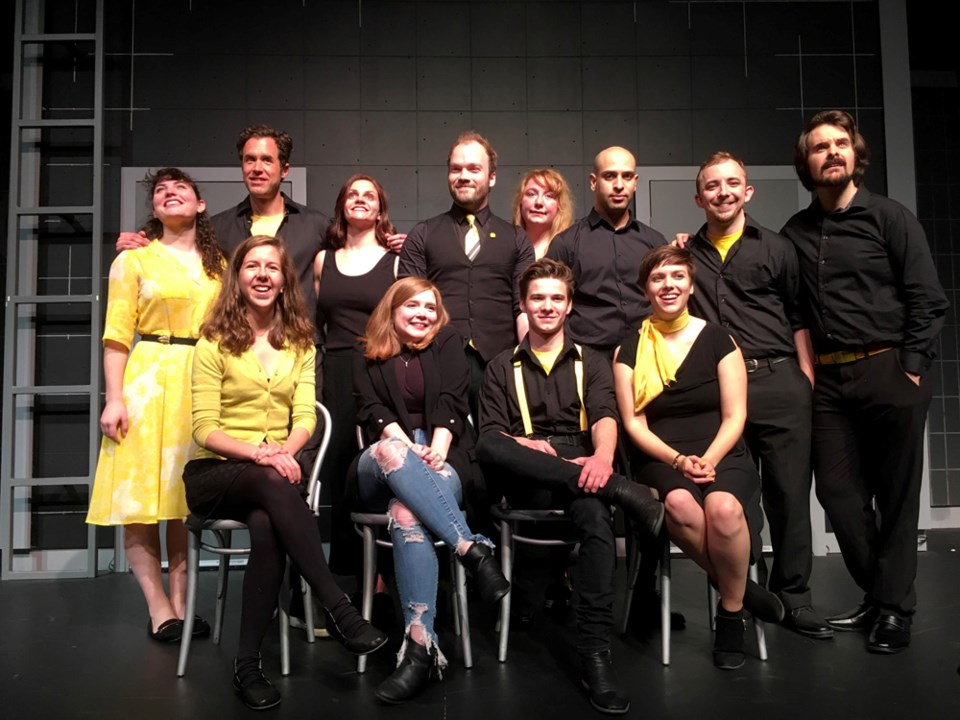 And with her return, there are still no live audience performances in Kamloops. But Buchanan is hoping that will change, and even if it happens soon, she'll be ready.
When asked what she would do if restrictions were lifted at a moment's notice, Buchanan expressed nothing but energy.
"We're going to do everything and anything. Set shows every week, improv shows every week and, well, first off, we're just going to hug each other. I think that's number one," she said.
In the interim, Buchanan is effectively planning three seasons, one for each level of whatever return to normalcy we're about to endure as COVID-19 case counts ease, vaccines take hold and the province looks towards reopening more of the economy.
Among her plans are improv shows, dinner theatre, a series of one-act plays, an original production written by TRU professor, author and playwright George M. Johnson and a new sketch comedy group featuring herself, Andrew Robertson and Dan Ondang, who are familiar faces at Chimera and its improv group The Freudian Slips.
"We're writing and rehearsing soon, but it will happen later, once restrictions are loosened up a bit," she said.
While it is yet to be seen how her experiences in Toronto will shape her career to come, Buchanan's efforts will continue to have an impact on entertainment in Kamloops.
She recalled starting an evening in bustling Toronto by performing in an improv show, catching a train and doing it all over again an hour later, emphasizing the availability of venues for comedy and other acts to take place.
"Being in Toronto was a really interesting experience," she said. "There was constantly something to do and I think that's something that can happen here."
That's a vision Buchanan has already had for Kamloops — and one that seems within reach, given how well-established arts groups like the Kamloops Symphony and Western Canada Theatre are trying to further their presence in the city by supporting projects like the proposed performing-arts centre. And that's not to mention a host of other artists — many of whom Chimera Theatre and other institutions have supported — that regularly perform in the city.
"You could have a night where you catch a film at the Paramount, then walk across the street and Jeremy Kneeshaw is playing, and then at the Pavilion, Cvetozar from the symphony is playing, and at the Blue Grotto, there are burlesque dancers," she told KTW.
But for the more immediate future, Buchanan's energy will be focused on putting forward an enteraining season for Chimera — and it's clear she has a lot to give.
"I have an uncomfortable amount of energy, so I hope that rubs off on Chimera," she said, laughing.