A new video game-themed play will soon be performed by South Kamloops secondary students at the Sagebrush Theatre — shown live to online audiences from April 28 to April 30.
Beginning in the late 1980s, the Nintendo Power Line served as a live hotline for players to get hints to help them beat their games.
That premise is now part of the story being told by local student actors.
The play was written during the pandemic by Don Zolidis, a Texas-based playwright.
Drama teacher Amy Fonseca connected with Zolidis, who she knew from an online conference and a past performance of one of his plays, and asked if he had any recommendations.
"He emailed me back within 15 minutes and said, 'Yes, check out these,'" Fonseca said, noting the play everyone loved was Power Line.
Power Line: The Story of Me, Mario and Your Mom is a romantic comedy telling the story of how a couple met in the 1980s. It has a cast of about a dozen, but many more have been involved in its production — as many as 50, according to Fonseca.
"It starts in our current time, with a flashback to 1989," she said.
That flashback is accompanied by a dance number, presumably so students can quickly change into their '80s garb. The cast, from grades 10 through 12, originally set out to perform the mystery classic Clue. But the pandemic foiled those plans and something with a little more social distancing replaced it just weeks ago.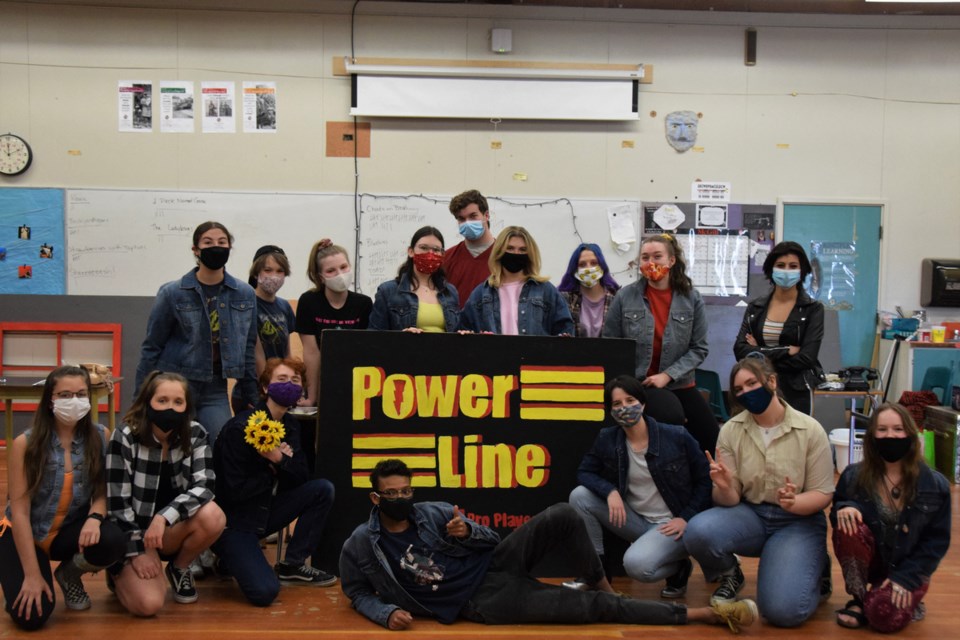 "It's been really hard putting it together during the pandemic," Fonseca said. "And I probably would have given up on it, but the students were always really excited to do it."
Among the play's cast is Milo Jackson and Lauren Fesenko — both in Grade 12.
Jackson, whose roles include the manager of the hotline call centre and a caller who is "a big Mario fan," said he is familiar with the Nintendo characters and has even done some retro gaming himself.
He's familiar with the Sagebrush stage, too, having performed there as a dancer.
Jackson can relate to the video game content of the play a bit more than his classmates, but Fesenko said it's accessible to all audiences.
"I'm personally not a huge video game player, but I don't think it really matters if you don't understand video games. It's just as entertaining," Fesenko told KTW while the class was rehearsing.
Fesenko said it's been hard work putting the play together, also serving as its producer, raising funds in a different environment.
Fesenko said students can't sell goods outside Walmart like they normally would, and have instead found other ways to fundraise, an endeavour that began in January.
The money raised will go toward staffing the Sagebrush for projects like cleaning and technical work, and toward creating sets, such as the backdrop created for the play.
Fesenko is also no stranger to the Sagebrush stage, having performed as part of Stage One Theatre School.
But she does appreciate the fact her school's performance will be one of very few over the past 14 months.
"We're so incredibly lucky to be able to have that space and perform, even if it's without an in-person audience," she said.
Tickets for the play are US$5. The show will be available via the American platform Broadway On Demand. A link to purchase can be found on the South Kamloops secondary website at skss.sd73.bc.ca.