"We're gonna find you a farmer to marry."
They are words that, to this day, resonate with Megan Perry.
Born in Royal Inland Hospital in 1927, Megan was raised in the community of Darfield, a 20-minute drive up the Yellowhead Highway, just north of the city.
There, she experienced rural life and the chores that come with it, including learning to bale hay and ride horses.
She tells the story of when, as a teen, she heard those words uttered by her father, stating rather matter-of-factly that "his daughter was to find a good ol' country boy and settle down."
But Megan had plans of her own.
Taking matters into her own hands, she moved into Kamloops to experience city life as a young woman, in the early 1940s.
"I lived in the country and so I moved to Kamloops because I didn't want to marry a farmer," Megan said.
It was at a box social in the Co-operative Commonwealth Federation (CCF) Hall on Victoria Street where Megan first met the young man who would become her lifelong partner.
(For those under a certain age, a box social is a social event providing an opportunity for youths to meet, usually in a hall, organized by parents. Women decorate a cardboard box, filling it with a lunch or dinner for two. The young men bid on the women's boxes, anticipating a meal with the woman whose box it is, not knowing whose box belongs to which woman).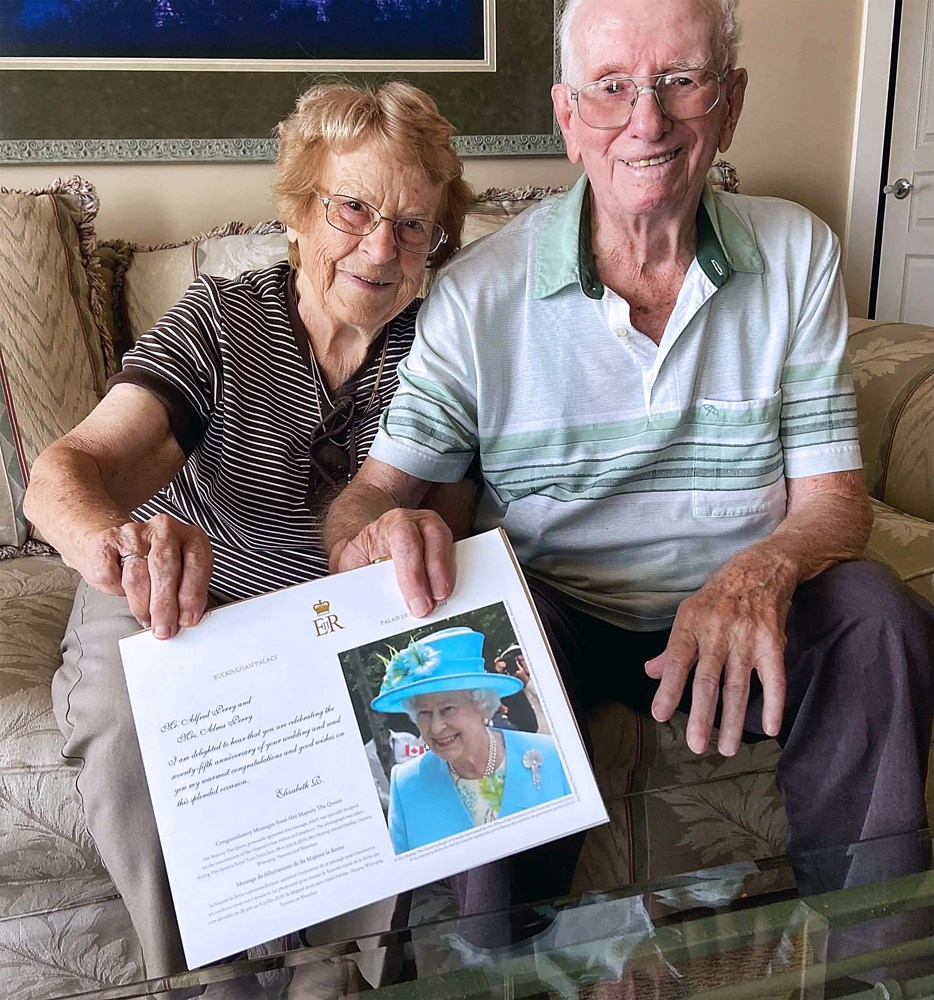 So, on that day, a sporting gentleman named Al Perry bid on and purchased Megan's specially prepared box.
With his car in the repair shop, Al was quick to offer to walk Megan home afterward and she graciously accepted.
Megan, now 94, recalls that day with fondness.
"We first met — and that was it," she said.
Quick to interject, Al, now 99, quips, "Been going with her ever since."
Their courtship blossomed over the next three years and they found themselves with hands clasped, reciting their wedding vows in the Anglican Church.
That day was Sept. 11, 1945. North Kamloops had yet to become incorporated as a village.
Japan had just surrendered in the Pacific several weeks earlier to mark the end of the Second World War.
Al had joined in the Allied war effort, enlisting in the Canadian Army at the age of 15.
For Al and his new bride, Megan, Kamloops became the perfect community in which to live and work and raise their two sons.
Al enjoyed a successful 32-year career with Overwaitea Foods, spending more than 50 years in the grocery business. It allowed Megan to make the choice to remain at home and build their life together.
Over the years, Al and Megan enjoyed family holidays, renting a cabin each summer at the Copper Island Resort. It became a family tradition, with waterskiing, swimming and other fun making for lasting family memories.
"She used to take me waterskiing after supper and I'd ski for an hour. I skied [non-stop] from Kamloops to Salmon Arm," Al said.
Recently, this marathon-married couple was forced to stay put in their suite at Kamloops Seniors Village due to pandemic restrictions.
For 18 months, they had meals brought to their room and regularly exercised together, three times a week.
With health restrictions loosened, they've been able to celebrate their 76th wedding anniversary with friends and family.
When asked how they have managed to be successfully married for more than three-quarters of a century, their answers are straightforward and simple.
"Honestly, we've always got along," Al said.
Megan pulls no punches with her response, stating, "We've got no scars."
And, with a soft smile, she added, "We take every day as it comes along."