As smoke from wildfires continues to permeate the skies above the city, Kamloops residents took to the streets on Thursday (July 29) to demand climate action from area politicians.
On Thursday morning, about 60 people gathered outside the Kamloops Art Gallery at Victoria Street and Fifth Avenue to rally for action before marching to Kamloops-Thompson-Cariboo MP Cathy McLeod's office a short distance away, at Seymour Street and Second Avenue.
The rally, organized as part of 350.org's Canada On Fire day of action, encouraged participants to implore elected officials to sign a climate pledge.
The pledge demands "real, emergency-level action on the climate crisis," according to 350.org, the climate change activism group that promoted events across Canada.
Rally organizer Margaret Huff said she doesn't normally take part such events, but felt compelled to organize and speak at the event due to the state of the world.
"I want to make people a little more conscious and our politicians aware that we are facing some tough times," Huff told KTW.
Huff said the pledge she hopes McLeod will make is to enact an immediate moratorium on fossil fuel expansion and to stop any projects in motion, such as the Trans Mountain pipeline expansion project that runs through Kamloops.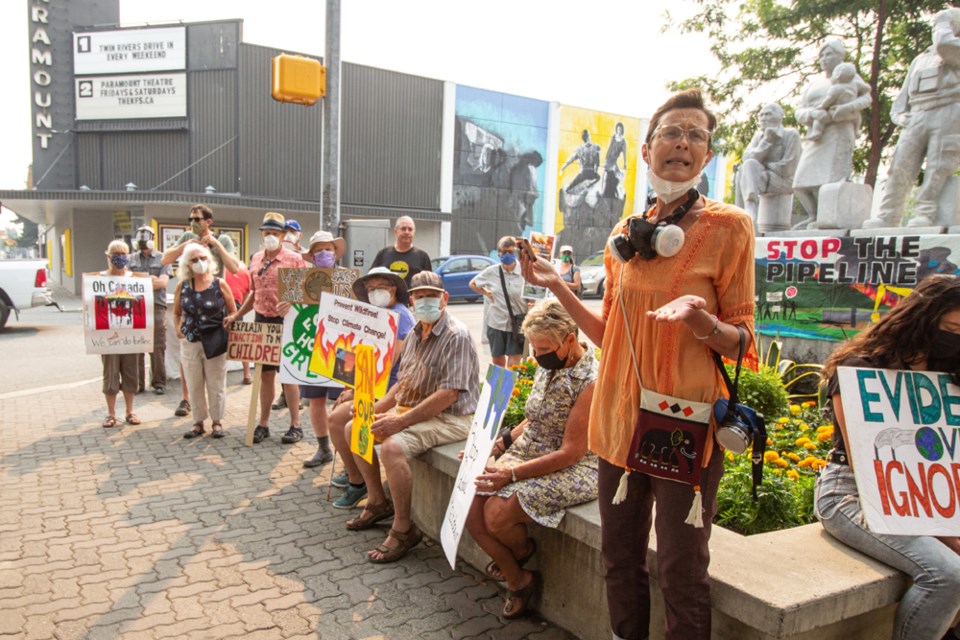 With a federal election likely coming in the fall, Huff said she wanted to "strike while the iron is hot."
The backdrop to Thursday's event — densely smoky skies — also served as an anchor for the event, with many among those gathered calling for climate action to prevent more wildfires.
To date this year, the province has seen more than 1,254 wildfires, with several large blazes near Kamloops. Smoky conditions have persisted for weeks in some parts of the province, including locally.
Among rally participants was Kamloops city councillor Denis Walsh, who said everyone needs to "amp up" awareness on the matter.
"We've known for over 30 years. And to me, it's not just a climate crisis, it's a crisis of leadership, and we've done very little, if anything, to prevent this," he said.
Walsh said that from a council perspective, the matter has often been dismissed as "too big of a mountain to climb right now," by some.
"My fear is that it'll be too late before we realize what we could have done or should have done," he said.
Walsh's ideas on how to ease the climate crisis mostly revolve around harnessing Kamloops' own environment and capitalizing on renewable energy to benefit residents and businesses in the city.
"We have sunny days and wind up in Knutsford. We should be getting off the grid," he said, adding that he thinks projects such as these should have started more than a decade ago.