A fundraiser in October aims to raise money to help parents and caregivers of children who have been traumatized access therapy so they can better deal with their children's pain.
A Toast to You has been organized by Thrive Clinical Counselling and Consulting, with proceeds going to Big Bear Child and Youth Advocacy Centre.
Big Bear is a non-profit agency that accepts referrals from Kamloops RCMP, Ministry of Children and Family Development, Secwépemc Child and Family Services, Interior Health, City of Kamloops, Lii Michif Otipemisiwak Family and Community Services and School District 73 to provide a wrap-around service to children who have suffered traumatic events, including abuse and neglect.
Big Bear connects families to supports, including therapy, that promote long-term healing and cultural well being. Another aspect of Big Bear is that it has a warm and inviting Kamloops office where various agencies can work with families, away from the more stark environs of their institutions.
A Toast to You is envisioned to be a night in which people can acknowledge individuals and agencies that help children and families, offering toasts by donation. Proceeds from the gala, which includes a silent auction, will go to connecting parents and caregivers with counsellors.
"When children are struggling, parents often get triggered and can't give the best response to that child because now they're trying to regulate themselves, as well," said Susie McCabe, a clinical counsellor at Thrive. "And, so, any kind of therapy that we can provide to that parent to normalize their feelings and also acknowledge their own past hurts and how that's coming up for them right now — even that can help that parent go back in with their child and be more attuned and feeling a little bit more secure in their ability to parent throughout this crisis."
McCabe noted that many people who come to therapy carry with them traumatic experiences as children that still impact them today. In order to help change the trajectory for children, parents need help healing.
"The clients that I have worked with in my career talk about what their parents said and what their parents did when they needed them the most," McCabe said.
"If the response is helpful, the child comes out of difficult experiences feeling safe and cared for. What we hear the most is parents doing the best they could and, unfortunately, that might mean withdrawing, shutting down, becoming upset and angry themselves. If that pattern continues when children are scared and in crisis, emotional development may be delayed and self-esteem may break down. And the worst case is relationships break down during these crisis when the children and parents need each other the most."
So, she noted, it stands to reason that if children do not have stable caregivers and a stable environment, the likelihood of them coming out of a crisis or a traumatic event in like any kind of healthy fashion is low.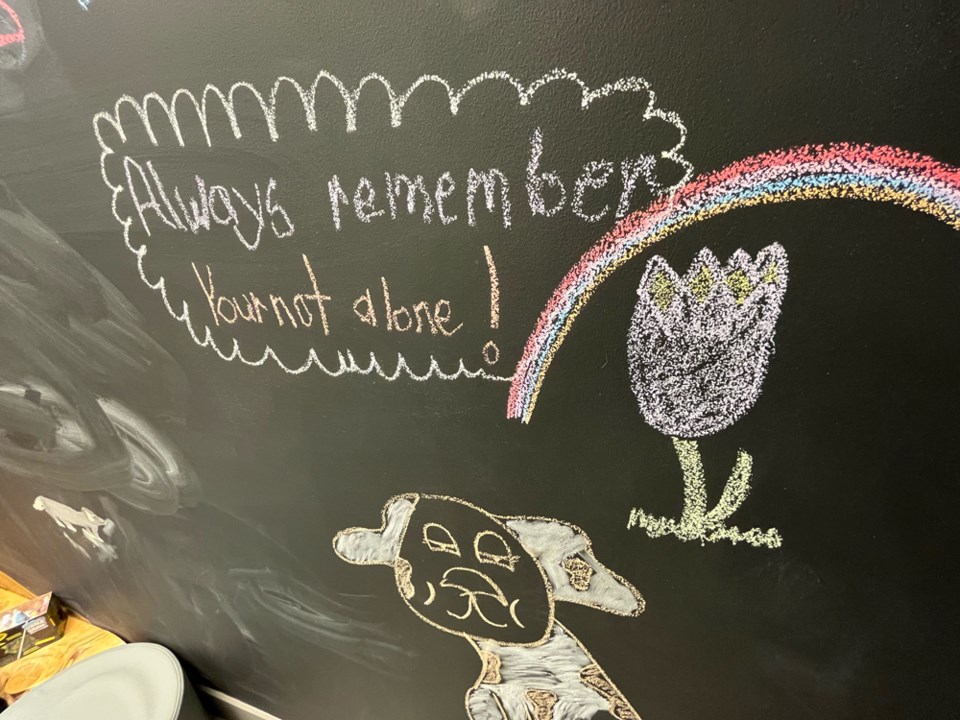 Big Bear executive director Tara Ettinger said the goal is to have the agency's downtown location serve as an all-in-one place for families to come. For example, Big Bear recently opened its remote testimony room so children do not need to go to the courthouse if their testimony is needed in a trial. The last stage is to have the SCAN (suspected child abuse and neglect) clinic move from Royal Inland Hospital to Big Bear's office.
"So, literally, it is a one-stop place where kids and families can come to. Instead of going to the police station, child-protection agencies, the courthouse, the hospital, everything can be done at Big Bear, where we have family advocates that support the kids right from the get-go," Ettinger said.
Each case that comes to Big Bear is assigned to a family advocate, who works with the family through the entire process and beyond, if necessary.
"Things change with ages and stages. If the abuse happened when they were seven, they may interpret things differently now that they're 10 or 14 and that can impact the family, as well."
The family advocate, Etttinger said, is that "steady person" that helps prevent people from falling through the cracks.
"You can really change the trajectory for a lot of children and families just by that ongoing support," she said.
Ettinger said the child and youth advocacy centre concept started as experts learned more about trauma.
"And what we've learned over the years is that actually being involved in the system after, potentially, a child has been abused, the system creates a lot of secondary trauma," Ettinger said, noting her work as a therapist with abused children often involved addressing trauma from being involved in the criminal-justice system. "We had to work through that experience before I could even help them with the trauma of why they got into the system in the first place."
While there are services locally to which Big Bear refers families, Ettinger said many parents and caregivers have expressed a need for private counselling.
"It's overwhelming, being involved in the child-protection system, the justice system," she said. "And privacy is really what they're seeking. What's great about Big Bear is we only have one family in at the centre at a time to respect people's privacy. But they're also seeking that through counselling. "So, this is an amazing project that Thrive thought of."
FOR HER, THERAPY WAS LIFE-CHANGING
She fled to Kamloops two-and-a-half years ago with her young son, seeking refuge from a violent partner who was abusing her and her child.
"We came to Kamloops because we have family here and so this was our escape plan, I guess you could say," she told KTW. "So we took him here and we were starting to try and get settled."
She was connected with a social worker and found other resources.
"But they weren't really working for us. I wasn't really getting much of a call back and then I picked up a pamphlet for Big Bear," she said.
That pamphlet led to help that was life-changing — and life-saving.
From the first phone call to subsequent meetings, she said Big Bear staff were "extremely understanding.
"It actually makes me want to cry. She [Big Bear staffer] knew what she needed to do to help me. And it was such a burden lifted off my shoulders because she got me in touch with my own support worker at Big Bear," she said.
The support worker helped her navigate the system and was always there to help during good and bad days. And a bad day arrived a few weeks after she was connected to Big Bear.
"I was having, like, a nervous breakdown a bit because of what had I had just gone through. And so I called in and I'm like, 'I just don't know what to do. I can't handle this. Like, it's too much. And I'm so stressed out."
The support worker saw the need and managed to fund much-needed therapy sessions with a clinical counsellor at Thrive Clinical Counselling and Consulting.
"She was life-changing," she said in reference to her counsellor. "It was the very first person in this town that made me feel like everything's, you know, going to be OK and help me navigate through what's going on in my head at the time," she said.
"And, you know, the guilt and the shame and the fear— she helped me help myself. And to have that resource and to have that offering, I don't even know how to say it. I don't know what I would have done without it. You know, when you're going through something so horrible in your life and then there's this program that you randomly find and they're the greatest thing ever and help you in such a time of crisis."
Her son is now six, a victim of domestic violence and a child with special needs. He continues his therapy and she is taking what she has learned and using it to help her son with his trauma.
She has learned a lot thorough counselling and is using that knowledge daily.
"What I'm going through isn't my fault and what I'm going through isn't my responsibility — I think that was one of the biggest things I learned," she said. "It's not my fault, you know, because being an abused person, you take on this guilt and shame that you don't need to carry because it's not your fault. And that was one of the biggest things she taught me, was that it's OK, what I'm going through is OK and the emotions that I'm going through is OK. I don't want to repeat myself, but, yeah, like it's not my fault, it's not."
Another insight that came to her is the fact abuse can happen in any home, which is why she feels the A Toast to You fundraiser is so important.
"You could be supporting somebody that you don't even know is already going through this. You know, we cover up our wounds and our tears. We cover it up really well as victims, so helping out can be helping anybody."
ABOUT JULIA'S JOURNEY BURSARY AND THE OCT. 21 GALA
In Kamloops, there are different agencies and services for children who struggle with mental health and the detrimental effects of trauma and abuse. For the parents and caregivers struggling with the same elements, there are limited services and longer wait times. Responses from parents to their children have the biggest impact on development, self-esteem and future success.
When children are in crisis, they need their parents the most. It is difficult for the staff at Big Bear CYAC to connect parents with timely trauma therapy to promote healing.
In 2022, Big Bear CYAC is introducing the new bursary, In Honour of Julie's Journey, that will provide parents with the necessary funding for the therapy they need when they need it.
Julie was a daughter, sister, friend and a mother to four daughters. Beginning as a small child, she experienced countless adverse experiences that permanently altered her life. These traumatic experiences impacted Julie's mental health and left her vulnerable to substance use as a coping mechanism. Julie lost her life in her late 40s to substance use during a challenging mental-health period. Less than six years later, her youngest daughter followed a very similar path and joined her, at only 20 years of age. Trauma does not discriminate against who it impacts. Julie was a survivor who fought her entire life to overcome the hardships she was inexplicably dealt. Every day, she embodied kindness and respect for everyone.
The Oct. 21 A Toast to You fundraising gala at Thompson Rivers University's Grand Hall is raising money for the bursary, with proceeds from the evening's activities going to the In Honour of Julie's Journey bursary. To buy tickets to the event, go online to eventbrite.com and search "A Toast to You."
***
Big Bear Child and Youth Advocacy Centre is putting out the call to qualified counselling agencies interested in being added to the referral list to provide trauma counselling to parents/caregivers. Call 778-470-8888 or email info@bigbearcyac.ca for more information. Those wishing to help the cause can donate online at bigbearcyac.ca. Donations of $100 or more will be acknowledged on a bear paw plaque in the centre.
Beginning Oct. 1, all donations of $100 or more will be recognized on the Big Bear website as a light on a tree, with the donor's name and amount highlighted. Donors should indicate if the donation is for Big Bear programming in general or for the In Honour of Julie's Journey bursary specifically.