More questions about spending at the Thompson-Nicola Regional District under former CAO Sukh Gill have arisen — including awarding of contracts and donations to a religious organization using taxpayer dollars.
A janitorial company contracted to clean the Thompson-Nicola Regional District Building in downtown Kamloops for nearly 20 years — about the same tenure of former CAO Sukh Gill — did not go through a typical procurement process, Kamloops This Week has learned. KTW obtained all contracts between the TNRD and the company, Gentle Janitorial.
The first agreement dates back to 2001, two years after Gill became TNRD finance director.
Beginning on Aug. 1 of that year, the company was contracted for five years' worth of labour, cleaning supplies and equipment for day-to-day maintenance of the TNRD Building. It is unclear how that contract was procured — if at all — as a request for documents linked to the solicitation method and evaluation of the contract produced no such records.
The TNRD's finance director, Doug Rae, said he does not know how Gentle Janitorial was initially hired, as it predated his employment at the regional district.
Upon expiration of the contract in 2006, no additional contracts could be provided until March of 2010, when an agreement was drawn up for the company to be paid more money to also clean and dust the Kamloops Library, located inside the TNRD Building.
A reference letter was written by Gill in support of Gentle Janitorial dated March 20, 2006.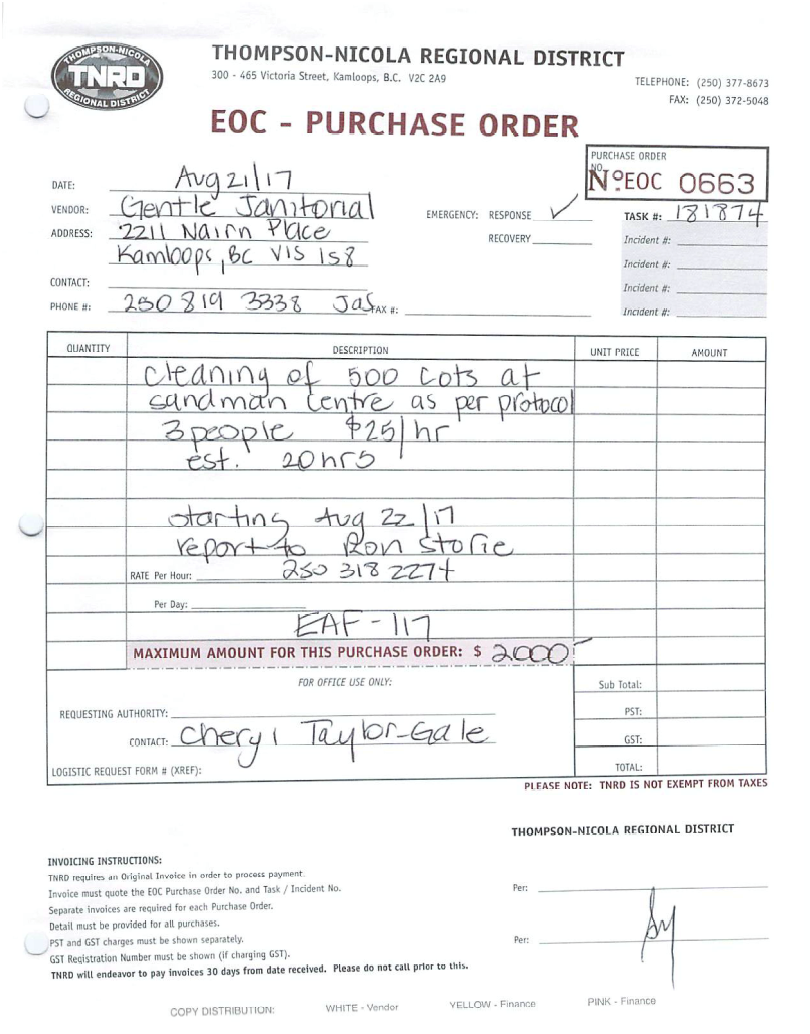 No additional contracts could be provided until 2016 and 2019, both of which were listed as "sole source" contracts for renewal and not going to tender. Sole source contracts are typically reserved for situations in which a vendor or company is the only one uniquely capable of performing a contract.
If it is determined more than one vendor can meet the needs of a specific bid, it is required at a certain dollar figure to undertake a formal request for proposal (RFP).
Asked why the janitorial contract did not go to RFP, Rae said: "Because it was under the dollar threshold that required that."
The TNRD's procurement policy at the time stated general purchases less than $75,000 were approved by the CAO and department head.
Purchases between $75,000 and $250,000 required board chair approval. Spending of more than $250,000 required authority from the board of directors.
Goods and service agreements for a one-year term up to $100,000, for a two-year term up to $200,000 or three-, four- or five-year terms up to $250,000 required approval from the CAO and director of finance, with documents executed by the board chair and corporate officer.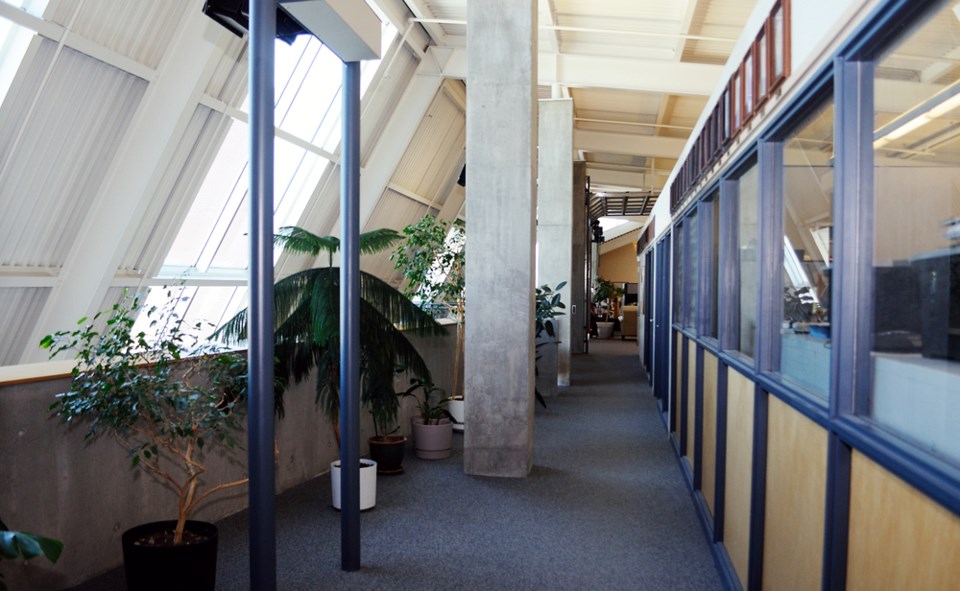 The 2016 janitorial contract shows Gentle Janitorial would be paid about $6,000 per month, or about $72,000 per year, falling just beneath the lowest approval thresholds.
More recent contract renewal and procurement documents were signed by Gill, as well as Rae, then-board chair John Ranta, current board chair Ken Gillis and then-corporate officer Carolyn Black.
One former TNRD staffer told KTW they raised concerns with management about the procurement process, while three other former staff cited the contract as a concern when speaking to KTW.
KTW reached out to longtime Gentle Janitorial owner Sukhwinder Bains, who said his son, Jeeven Bains, took over the business in 2019. He referred queries to Jeeven Bains.
Asked of the family's connection to Gill, Jeeven said:
"The problem with Kamloops, you can say, especially such a tight community, my parents obviously know Sukh Gill. I used to go to school with his daughters, I think, like preschool. Again, we've lost touch with them. At least, I've lost touch with them. I have no idea. I don't even see them at church that often anymore."
Gillis said he heard from staff concerns about ties between Gentle Janitorial and Gill, but not until after Gill was gone. It did not inform Gill's departure, he said.
"I don't think I'm prepared to discuss my conversations with staff," he said.
After Gill and the TNRD parted ways in February 2020, the regional district opted for another janitorial company.
In May 2020, the regional district issued a request for proposals, prompting 11 bids, including one from Gentle Janitorial.
Gentle Janitorial was the least expensive choice, but the regional district went with Spotless and Sorted Holdings Inc., at a cost of $130,000 per year.
"This represents an increase in price of approximately $58,420 in the first year as compared to the lowest proposed cost received," stated a report to the board in July 2020 on the choice to go with Spotless.
"However, it is expected that the dependability and quality of service will likewise be that much better, meeting the service level expectations of our patrons."
Meanwhile, a September 2019 memorandum written by TNRD facilities manager Ian Dalgleish discussing Gentle Janitorial's new contract showed no indication quality or dependability were of concern.
In fact, the company was lauded for its experience, responsiveness and local connection, with a recommendation to enter into a one-year contract, with an option for two more one-year renewals.
The memorandum was signed by then-CAO Gill, finance director Rae, chair Gillis and vice-chair Bill Kershaw.
Documents obtained by KTW show the TNRD paid $1.2 million to Gentle Janitorial over nearly two decades. Business licensing records show the company is also listed as Ajax Cleaning Service.
An online search brings up cleaning and landscaping services similar in name, including one tied to Richmond. One regional address is at 6240 Trans Canada Hwy. in Cherry Creek, a property that is owned by Sukhwinder Bains. The property boasts a large mansion on 20 acres and was listed for sale in 2020 for $2.15 million, below its assessed value at the time of $2.35 million. It is currently assessed at more than $2.5 million.
Nandi Spolia's former restaurant, Nandi's Flavours of India, also catered often for the TNRD, according to sources and Gill's credit card receipts from 2015 to 2020.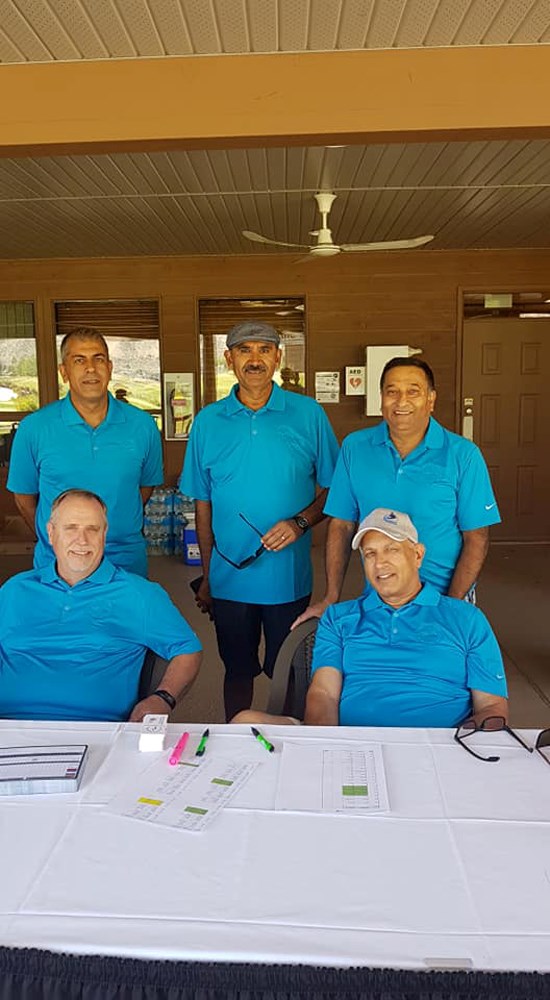 Corporate events, appreciation dinners, Christmas parties or staff retirements were often held at the West Columbia Street Indian restaurant overlooking Kamloops.
Spolia and Gill have longtime membership ties to the Aurora Rotary Club and together organize the IndoCan Links Golf Tournament, an annual charity event.
A source said that during the 2017 floods, food was purchased from Nandi's. A state of emergency was declared in May of that year and Gill's credit card expenses show several charges at the restaurant around that time, much of which was tied to the emergency operations centre and funded by the province.
"Always Nandi's," a source said. "And everyone was always like, 'Aw, what if we don't like Indian food?'"
According to annual financial reports, the TNRD paid Nandi's about $45,000 in 2018. Five years' worth of purchases on Gill's TNRD credit card show about $24,000 charged at the restaurant, most often on a Thursday or Friday night and including both TNRD staff and board directors.
The finance director and recent board chairs dined there, as did some Kamloops politicians. TNRD board members past and present that attended included Linda Brown, Ken Christian, Dieter Dudy, Ken Gillis, Jessoa Lightfoot, Willow MacDonald, Peter Milobar, John Ranta, Steven Rice, Carol Schaffer and Sally Watson.
Gill expensed on his TNRD credit card the most at the restaurant in his final year at the regional district — about $8,800 in 2019.
It included the 2019 TNRD Christmas party — $3,850, the largest expense by Gill at the restaurant on his credit card in five years.
In early 2020, just before his departure from the TNRD, Gill charged his final Nandi's expense of $136.22.
Diners included Gill, Nandi Spolia, his wife, Sumita Spolia, and two other undisclosed people — suggesting Gill dined with his friend at his friend's own restaurant and billed taxpayers for the meal.
Nandi Spolia's name came up a handful of times when KTW analyzed Gill's receipts and Gill also picked up tabs with taxpayer dollars for other members of the IndoCan Links organizing committee, including Mike Forbes, Ken Dhaliwal and Sukhi Chouhan.
A request for TNRD contracts with the restaurant over the last 20 years produced no records.
Gillis said he did not become aware of the volume of transactions between the regional district and Nandi's Flavours of India until Gill was dismissed and interim CAO Randy Diehl began reviewing Gill's expenses.
Gillis said the TNRD-Nandi's connection stood out and surprised him.
Diehl told KTW before he left the regional district that he heard a complaint when he arrived about the regional district's use of Nandi's and implemented a list of caterers to be used on a rotating basis.
Asked if the janitorial contract and use of Nandi's led to Gill's departure, Diehl said he didn't know if that was the case.
"I know that there was talk about the kinds of things you're talking about, which may have influenced certain politicians that way, but it certainly wasn't — when I first came here I said, I don't want to know what happened. I don't care what happened. I want to move forward, guys …"
Spolia sold Nandi's Flavours of India in 2020, an announcement that came during the COVID-19 pandemic and after Gill's tenure as TNRD CAO ended.
Of five years' worth of Gill's TNRD credit card expenses analyzed by KTW, Nandi's Flavours of India and Goldie's Flavours of India (its former name) reflected among the most restaurant transactions, at 69 transactions over the five years out of 552 instances, equating to 13 per cent of Gill's restaurant transactions in that time.
The restaurant combined for the most dollars spent, at about $24,000.
Different iterations of eateries at Hotel 540 (now called the Delta Kamloops) reflected the most restaurant transactions — slightly more than Nandi's, at 71, but were smaller in value, totalling about $10,000.
Terra restaurant had 25 charges valued at $22,000. Terra has since closed, but at the time was considered among the finer dining establishments in Kamloops.
Hotel 540 and Terra were within walking distance, a couple of blocks from the TNRD Building, while Nandi's was located on West Columbia Street, 2.5 kilometres from the TNRD Building downtown.
Asked if the spending would be included in a forensic audit currently being undertaken by the regional district, Gillis said: "I hope so," but noted the board remains at arm's length from the forensic audit being done by BDO Canada.
Since Gill's departure:
• The TNRD undertook a request for proposals process for its janitorial contract and hired a new company, despite the new contractor costing more;
• The TNRD was reviewing its grant and sponsorship policy, including exclusion of religious organizations;
• Nandi's Flavours of India has been sold;
• The TNRD's facilities and IT managers no longer report directly to the CAO;
• The TNRD has a new catering and dining policy, which requires rotating different food and beverage providers for in- and out-of-office functions.
KTW has reached out to Sukh Gill for comment and has not heard back.