What was once dubbed Canada's largest hop farm is no longer in operation.
Hops should be in full bloom this time of year on 220 acres of land across from Westsyde, where the Tk'emlups te Secwepemc had been growing the flowering plants commonly used in beer brewing, but the site now sits empty.
Tk'emlups Chief Fred Seymour told KTW the band has shut down its hop farm venture because it wasn't making money.
"It's all over, said and done with," he said.
Seymour refused to provide further details regarding what went wrong with the business.
In 2016, Tk'emlups Coun. Howard Campbell, whose portfolio is business development, told KTW the band saw a long-term revenue stream in the hop farm, which employed about 10 people year-round and 15 to 20 people seasonally.
According to a 2015 study done for the provincial and federal agriculture ministries, the demand for hops is exploding, lit by the seemingly limitless growth of craft beer.
"It's like any other business. It doesn't come to fruition, we got to look at other options," Seymour said, noting the band is now exploring other avenues for that tract of land. "We need infrastructure for sure on there."
About three years ago, Tk'emlups partnered with Hops Canada, a brokerage company that buys and resells hops.
Hops Canada was headed by Joey Bedard. He sold two-thirds of Hops Canada to Tk'emlups, which in turn provided capital to develop the farm.
In 2016, Bedard said the operation was expected to produce an estimated $3-million worth of hops by the time the plants reached peak production in three years. Bedard, however, appeared to have left the operation last year.
His LinkedIn profile stated he worked as the managing director of Hops Canada from April 2014 until April 2017.
"I was originally the owner and sole operator of Hops Canada," Bedard explained in his profile. "In our first year of business, we sold almost $1 million dollars in hops. In spring 2015, I reached a deal with the Kamloops Indian Band to set up the largest hops farm in Canada as craft beer was booming."
The post goes on to state the farm consisted of 170 kilometres of drip tube, two-million feet of wire and more than seven kilometres of underground irrigation.
"The farm is now set up and being run by Kamloops Indian band," the post reads.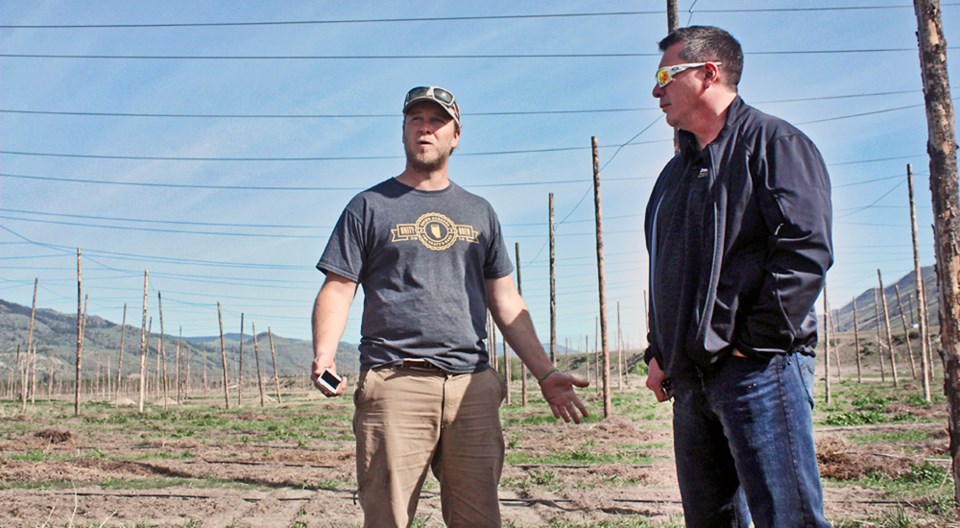 Ian Matthew, who was the hop farm's operations manager, told KTW he hasn't worked at the hop farm in more than a month and wasn't at liberty to discuss band business as he signed a non-disclosure agreement.
Red Collar Brewery bookkeeper Adam Trudel said that at one point between the fall of 2016 and the spring of 2017, Tk'emlups reached out to the downtown Kamloops brewery to determine if it had any outstanding balances.
Trudel said the brewery only had one transaction with Hops Canada — a batch of hops that were unlabelled. Trudel said when Red Collar asked Bedard for the hops' origins, he didn't return their calls.
Trudel said the brewery had plans to make the Tk'emlups hop farm a consistent supplier if a regular crop could be produced.
"It was great to hear about because it's an agricultural component of an exploding industry," Trudel said. "Having a hop farm or a malting facility in Kamloops is big news. I mean, craft beer is just getting bigger and bigger, so that would have been good for our economy."
Trudel said he never had contact with Tk'emlups specifically and communicated only with Bedard.
Maeghan Summers, The Noble Pig Brewhouse's operations manager, said the local craft brewery last purchased fresh hops from Hops Canada about 18 months ago.
She said the hops weren't pelletized — the preferred form amongst brewers — so she didn't use as many as the The Noble Pig hoped to. The equipment needed to pelletize hops is expensive and the process is painstaking, but it was "the next phase" for the hop farm, according to Campbell in 2016.
Media coverage shows hops were being harvested at the property as late as the fall of 2016.
Before the short-lived hop farm, the 220 acres alongside the North Thompson River was fallow and had no history of agricultural production other than hay.
Multiple calls from KTW to Campbell and Michael Eibl, Tk'emlups' economic business-development manager, were not returned.
According to social-media posts, Bedard appears to be living in Barriere, where he was selling baked goods as of last fall.