When nobody shows up, Carrie McAstocker sleeps in her wheelchair.
On those days, the 59-year-old quadriplegic woman — who lives with her cat Loulou in a North Kamloops apartment and receives at-home care as a person with disabilities — may get an hour's worth of shut-eye.
The next day is awful, due to exhaustion and body spasms. Worse still, she said, is the response from health authorities, suggesting if she doesn't like it, she should give up her independence.
"They want me to break and say, 'OK, I'll go into a home,'" McAstocker told KTW. "But I'm not going in no home."
McAstocker is paralyzed from the chest down, the result of an accident in 2007, when she fell down stairs and fractured her neck.
She is an incomplete quadriplegic, meaning she has some limited function in her arms, but can't close her fingers. She moved to Kamloops in recent years to be closer to her sister, but her sibling cannot care for her.
McAstocker receives publicly funded at-home care through Interior Health, through which a rotating roster of care-aids is supposed to attend her apartment four times daily — once at each meal time and a fourth time to lift her into bed.
Lately, however, McAstocker said care-aids have not been showing up for various visits.
It happens unexpectedly a few times per week, she said, with as little as a half-hour's notice.
As a result, when McAstocker's bedtime visit is cancelled, she has nobody to help her get into bed, forcing her to sleep in her chair. When meal time is cancelled, she is told she can order delivery, though she can't afford to do so regularly on $800 disability assistance.
McAstocker said she was told the cancellations are due to staffing issues and was advised of her option to go into long-term care. But she doesn't want to go, calling such facilities "depressing," and alluding to them as a place for seniors that strip one of independence.
Despite the need for help at meal time and before bed, McAstocker said she remains independent, paying her own bills, shopping for her own groceries, sweeping her own floor and making her own bed.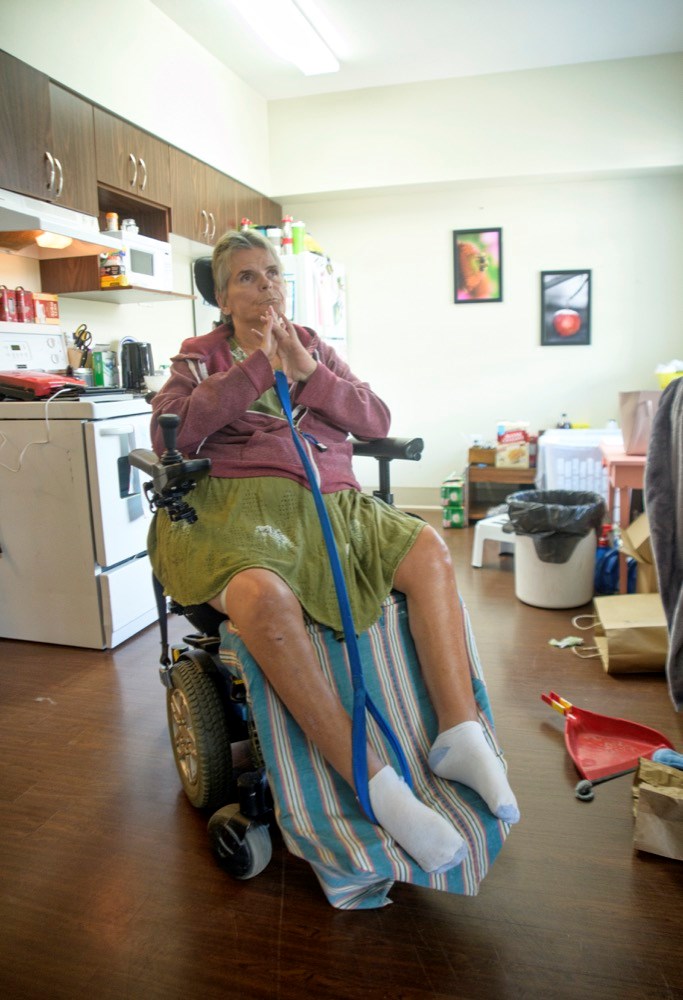 In addition, McAstocker said moving into a long-term care facility would take away her privacy and, potentially, her pet.
She has had Loulou, a part-Maine coon kitty, since the cat was five weeks of age and describes her as her "baby."
"I've had her for so long, I'm not going to give her away," she said.
Instead of edging her out of her home, McAstocker said Interior Health should fix its staffing issue by backfilling vacancies with contractors, such as Nurse Next Door or Comfort Keepers.
She said she once forked over $200 of her own money for Nurse Next Door staff to help her into bed on a day when she was too sore to sleep in her chair.
McAstocker believes other people receiving at-home care are too afraid to speak up about problems they are experiencing.
McAstocker is blunt — she won't be bullied and has had enough.
It's not the first time she has taken a government institution to task, previously speaking with the Prince George Citizen and questioning why the Ministry of Social Development would not cover her moving costs from Prince George to Kamloops to be closer to family.
"What I want is to be treated fairly," she said. "I don't want to be public enemy No. 1, how they treat me. And because there's not enough staff, I would rather them contract me out instead of me missing all these hours."
Asked about the care-aid staffing situation in Kamloops, how often people who receive at-home care are having appointments cancelled and why it was suggested McAstocker consider trading independent living for long-term care, Interior Health provided the following statement to KTW:
"Interior Health's priority is to ensure that all clients receive timely, regular home support visits.
"If appointments are missed for reasons on the part of Interior Health or the client, rescheduling occurs as quickly as possible. Where clients have ongoing concerns, we encourage them to speak to their case manager or the patient care quality office.
"Though we cannot speak to a current client's specific circumstances due to privacy, case managers will discuss options for higher levels of care when the client's care needs can no longer be met in the community."