As Danielle Reddick waited stuck in traffic last Thursday night (July 1) fleeing fire near her home — kids ages nine, seven and five in tow, her husband in a vehicle behind — a thought occurred to her: she has in the past run down Highland Road. She could do it again if fire drew near. Her family would flee on foot.
"At this point, you were just in go mode," Reddick, an East Juniper resident, told KTW. "My throat was so dry. Then you're thinking, you're watching everyone else, really. At one point, if I'm seeing smoke close to me, I'm getting out and running. … I knew I could do it and I knew my kids could do it."
Vehicular congestion led the Reddick family to endure a 90-minute drive out of Juniper Ridge as they escaped a fire sparked by lightning on Canada Day in the hills between their neighbourhood and Valleyview.
They weren't the only ones caught in traffic. Kamloops-South Thompson MLA Todd Stone lives in East Juniper and said his was one of hundreds of families evacuated. He said it took little more than an hour to get to Valleyview Drive — a distance of about five kilometres.
Residents were forced to wait as they tried to back out of driveways and lined up to get down Highland Road, the only paved way out of the neighbourhood. Some waited up to two hours, Stone said.
Madyson Cavaliere sits on the board of the Juniper Ridge Community Association and lives on Bella Coola Court. She loaded children, cats and chickens into her van after a neighbour pointed out visible flames. It took 10 minutes to get everyone together — but it took another hour to get down Highland Road.
"It was bumper to bumper going down the hill, then you have the four-way stop at the end of Highland," Cavaliere said. "When we got down to the end of Highland, there were people trying to leave Valleyview Drive because the fire had gone down to Valleyview Drive, so it blocked off all those exits. … The one road down was pretty congested."
Stone said the Juniper bottleneck was caused by emergency egress locations locked in Juniper West and a single lane of traffic flowing down Highland Road. He said the fire should not have come as a surprise, given tinder dry conditions and lightning in the forecast. He said egress gates should have been opened in advance.
Kamloops area MLAs, the Juniper Ridge Community Association, Kamloops This Week letter writers, online commenters and a Change.org petition are all calling for improvements in the wake of the fire. Although no homes burned and nobody was killed, the situation was seen as a close call, with firefighters and well-timed rain to thank.
"Kamloops Fire and Rescue has said the situation would have been or could have been catastrophic," Stone said, citing 15 minutes of downpour that helped douse flames as they encroached on homes.
As smoke clears, questions are being raised about evacuation communication and protocols, including access in and out of the growing suburban neighbourhood nestled on a mountain top in east Kamloops.
As of Tuesday morning (July 6), the Change.org petition had garnered nearly 6,300 signatures calling for improvements to emergency access.
Current vehicular access in and out of Juniper includes:
• The main paved Highland Road, situated in the middle of Juniper, with two lanes up and one lane down. It also has a bike lane, which is separated via barricades, but appears wide enough for a small vehicle. One resident told KTW that, if the barricades had been removed, two lanes could have been used for traffic going down Highland Road.
• Two dirt/gravel emergency gated access roads in Juniper West connect to neighbouring hilltop neighbourhood Rose Hill. They are located at the end of Galore Crescent (connecting to Rose Hill Road) and at the end of Coldwater Drive (connecting to High Canada Place).
The Galore exit was reportedly temporarily blocked by construction machinery on the night of the fire as new homes are being built in the area. Stone said he heard it remained closed for about an hour. On the Rose Hill side of that exit, the gate off Rose Hill Road appeared to be cut and remained open on Monday, with chains and locks on the ground.
Further up into Rose Hill, a chain-link fence blocks Juniper traffic from entering High Canada Place from Coldwater Drive, which is a higher elevation area in Juniper West promoting lots available for sale in a new neighbourhood called Trail Side. The gated connection between the two areas appeared overgrown on Monday, with some squished-down vegetation, but many waist-high plants.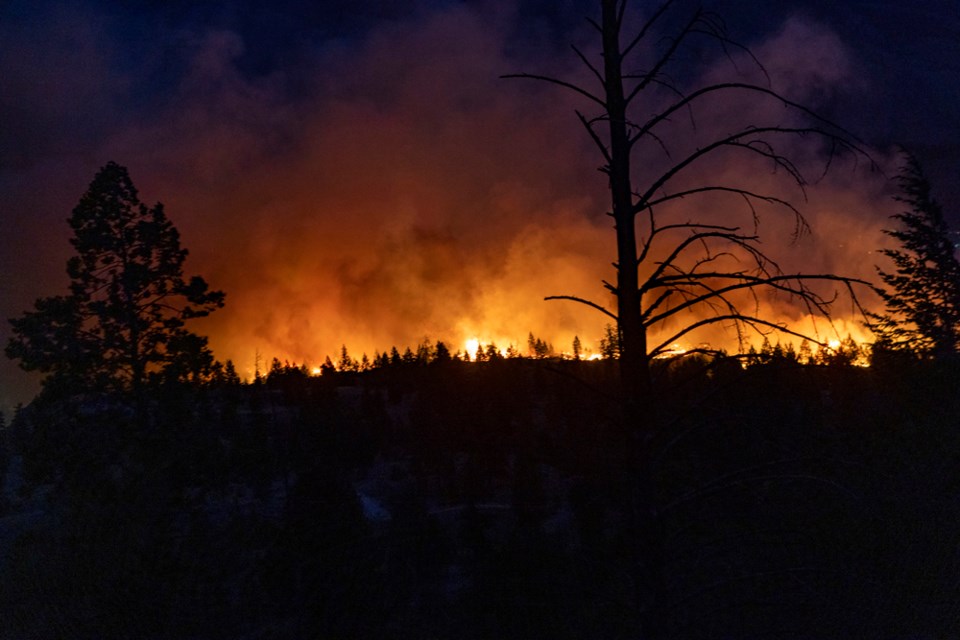 That connection was a point of contention for some Rose Hill residents at a recent city public hearing, which decided the fate of development in Juniper.
Rose Hill residents called for a guarantee the connection would never become a through road. Amendments to the city's Transportation Master Plan followed at a May 4 council meeting, including specification that the Coldwater Drive and High Canada Place connection would remain a gated emergency access only.
Asked why that should remain gated, Deputy Mayor Arjun Singh told KTW the road width is too small for a permanent road in that location and Rose Hill lanes are too narrow for through traffic.
The Galore Crescent to Rose Hill Road route was also identified in the Transportation Master Plan as a gated emergency access or limited access route in the future. Reddick said she learned of the Galore emergency exit to Rose Hill by listening to Radio NL as she sat in traffic, trying to escape the flames. It allowed her a safe way out in a matter of minutes, as opposed to her alternate plan of running down Highland Road with her children.
Cavaliere said the community association wants gates on Coldwater Drive and Galore Crescent to remain unlocked in the future.
"Especially during fire season, so this doesn't happen," she said.
Another resident who spoke to KTW recommended increased promotion of emergency exits to residents, noting not everyone is aware of the escape routes. The association also wants the two roads to be paved.
The city does have plans for a completed connection from Juniper to Rose Hill, via an extension off Qu'Appelle Boulevard. However, the road is intended to be built sometime in the next decade as development continues in the area.
In addition to addressing Juniper West egress issues, the community association wants more than one lane going down Highland Road during emergencies and egress from East Juniper — the side of the community where the fire encroached, which also includes Juniper Ridge elementary — to Highway 1.
When visiting the area on Monday, KTW found a locked gate located in Stone Ridge Estates in East Juniper, but it is unclear how far down an overgrown road behind that gate carries on toward Valleyview or whether it could have made a difference, with last week's fire burning below in Valleview, near Orchards Walk.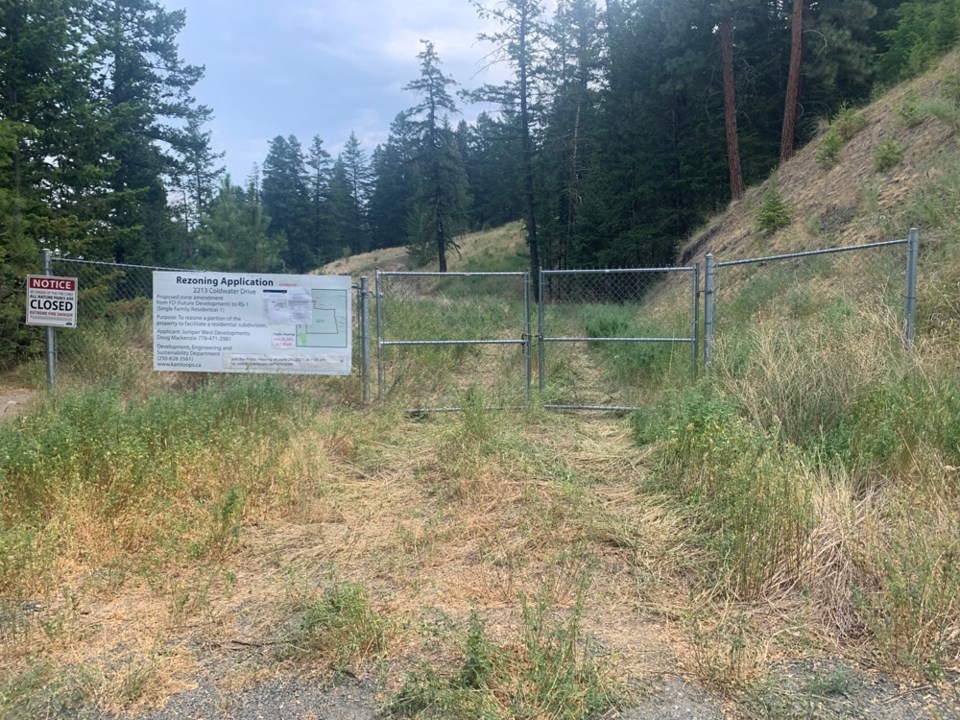 Stone also criticized city communication. He said the first official communication came too late after the fire broke out, arguing residents needed information sooner. Questions have also arisen about a lack of immediate social media presence on the part of the city, including exit strategies or emergency information.
Signs promoting emergency access could neither be found when KTW visited the Juniper West exits. Suggested by Stone is an alert app, such as Voyent Alert, utilized by the Thompson-Nicola Regional District. Stone urged mayor and council to communicate how it intends to improve the situation going forward to ensure confidence of residents who went through a traumatic experience last week.
Singh said he watched the fire from his house in Sahali and understands residents are feeling anxious. He said the city is committed to making safety improvements and council has discussed the matter. He said there is potentially provincial or federal money available for weather-related disaster mitigation efforts.
However, Singh added proper due diligence is required, including a review of what happened.
Asked if he would support keeping the Juniper-to-Rose Hill gates open, building East Juniper egress, adding another lane to Highland Road and fast-tracking the new Juniper Ridge-Rose Hill connection, Singh was non-committal.
Nothing, however, is off the table, he said.
"There is going to be a very strong consideration, if not very quick action of things that we can do," Singh told KTW. "None of this stuff happens overnight, but we are obviously cognizant of what happened with the fire, how fast it moves, how it just really was a very scary experience for so many people."
Asked for timelines, he replied: "Soon."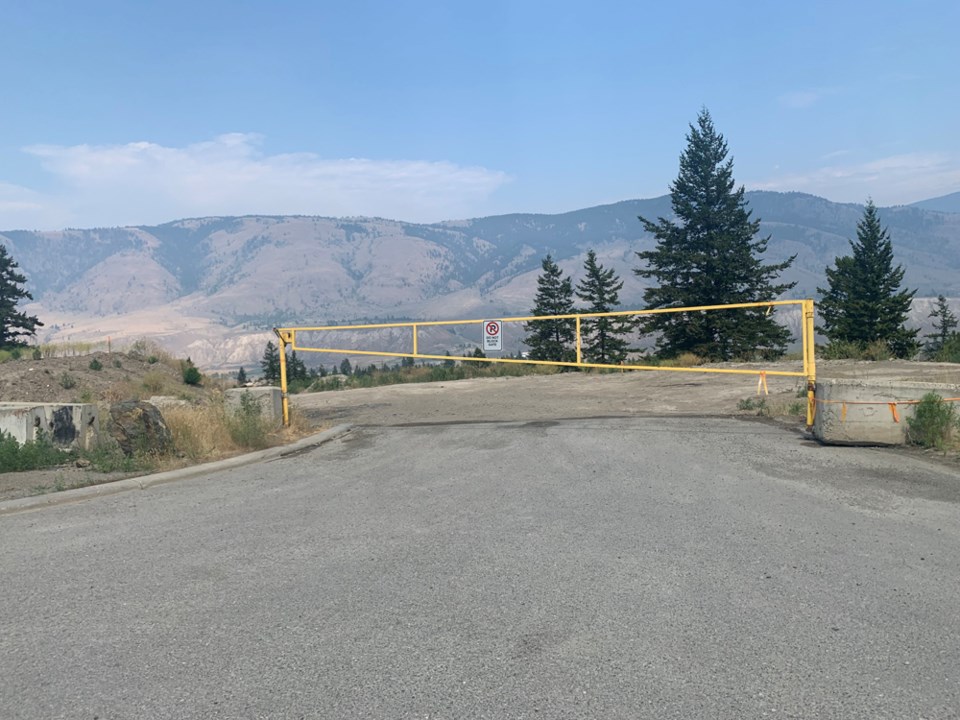 Soon, however, may not be soon enough — with more extreme weather in the forecast. Stone said it is early in the fire season and lessons learned in Juniper apply to neighbourhoods around Kamloops.
"They [residents] need to hear from their mayor, they need to hear from their council," Stone said. "They need a statement of reassurance: that the city council, that they've met, that they're on it, that they're prioritizing actions and that they will actually implement some changes to how they do what they do when it comes to evacuations. That needs to happen, like, today — not a week from now or two weeks from now. So that would be my strongest advice to councillor Singh and the mayor and every member of council."
Singh said he was covering for Mayor Ken Christian, who was on vacation. Christian lives in Juniper Ridge and was among the residents evacuated during the fire.
KTW reached out to the mayor for comment and is awaiting a response.
The city is holding a press conference on Tuesday, July 6, at 11:30 a.m. to discuss response to the Canada Day fire.