UPDATE: With only mail-in ballots yet to be counted, here are the results in Kamloops-Thompson-Cariboo as of Tuesday morning (Sept. 21):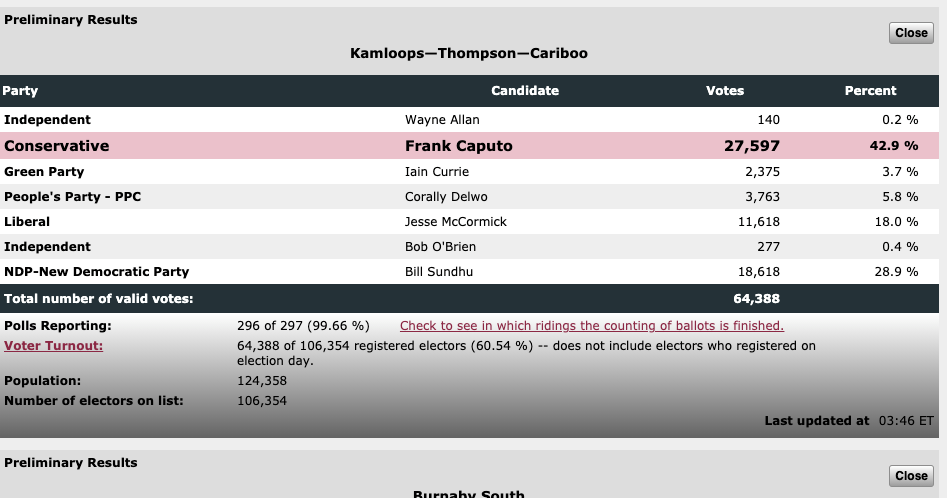 It appears as though Frank Caputo has won the election in Kamloops-Thompson-Cariboo, as the Canadian Press has declared him the victor.
With 54 per cent of the ballots counted as of 9:20 p.m., the Conservative candidate had a commanding 2,000-plus-vote lead over Bill Sundhu of the NDP — 9,931 votes to 7,319 votes.
The remaining candidates were well back.
Kamloops-Thompson-Cariboo has 297 polling stations and a population of 124,358, of whom 106,354 are eligible to vote.
Caputo will succeed Cathy McLeod as MP as the four-term MP, who was first elected as a Conservative in 2008, decided against seeking re-election.
Caputo's victory means Kamloops-Thompson-Cariboo voters have elected Conservative/Canadian Alliance candidates this entire century, a streak that followed a 20-year reign of NDP MP Nelson Riis.
Caputo, told KTW he still felt it early in the night and wanted to see more polls return before he allows the projected victory to permeate.
He noted the 2000 stalemate election in the U.S. between Al Gore and George Bush as to why he's hesitant to celebrate too early.
As it was his first campaign, Caputo said it was all a learning experience and one he will cherish forever.
"This is an emotional process no matter what. I feel all the candidates ran very good, stellar races and we'll just have to wait and see where the remainder of the votes fall," Caputo said.
Looking at the nationally projected Liberal minority government, Caputo said voters have spoken and the Conservatives' job in opposition will be to ensure Canadians have the safest, most prosperous future possible, bearing in mind key issues such as COVID-19 recovery, reconciliation with Indigenous peoples and climate change action.
Asked what his priorities will be as a first term opposition MP, Caputo said he needed to see a few more polls come in before commenting.
Caputo spoke to a small group of reporters outside his campaign office on Seymour street as the night's results became more concrete and was also visited by Green candidate and fellow lawyer Iain Currie, who stopped in to congratulate him.
He said he'd be spending the remainder of the night watching the polls returns with his family and friends.
Liberal candidate Jesse McCormick, who placed third, said he hadn't been watching his own numbers closely, but rather the national numbers and is happy to see the Liberal government return.
"It's projected for minorities, but we'll see where things end up at the end of the night," McCormick said.
As for his own numbers, McCormick said there were a lot of strong candidates in the riding, and he has respect for everyone who put in time on the various campaigns, and he's excited to see where things end up locally by the end of the night.
During this campaign, one thing that surprised him was the amount of people who raised issues of not just climate change, but reconciliation with Indigenous peoples.
"To know that interest and desire is out there and it's influencing how people are voting in the election is something that means a lot to me as a candidate," McCormick said.
McCormick said he felt the minority government outcome was a positive one, musing that having a "dance partner" in one of the conservatives, NDP or Bloc will make for an effective Parliament moving progressive legislation that will serve the needs of Canadians.
"I think this is a really positive outcome for Canada," McCormick said.
Asked if this election outcome should be considered a loss for the Liberals in not securing a majority, McCormick said there are many ways to evaluate the outcomes of an election, noting that the issues that were focused on in the campaign gives the Liberals a clear mandate on important policy to move forward on.
Sundhu's campaign manager, Ryan Painter, told KTW Sundhu will not be speaking to the media tonight and will remain at home with his wife, watching the election results come in.
Currie said he was disappointed with the results and the return to the status quo.
"The results tonight are disappointing, particularly because Justin Trudeau and the Liberal government are going to see their reward, once again, for breaking their promise to deliver electoral reform," he said.
Currie's second bid to represent Kamloops-Thompson-Cariboo differed greatly from his first, which was just two years ago, due to the pandemic. He said the conditions for campaigning factored into the disappointing results.
His wife, Royal Inland Hospital physician Dr. Lisa Steele, agreed.
"I was 100 per cent against door-knocking in this fourth wave of COVID. That is the most irresponsible thing I think could be done," she said.
Currie was on his way to concede to Conservative victor Frank Caputo when KTW contacted him Monday evening.
In addition to tonight's counting of votes cast on election day and in advance polls, mail-in ballots from people residing in the riding still need to be tabulated, a process that will take place on Tuesday, Sept. 21.