Ronald Hof chews on ice chips all day and relies on the kindness of others to beat the heat on days the mercury soars.
The 53-year-old could be found wearing sunglasses under a tent at The Loop drop-in centre in North Kamloops on Wednesday (June 23).
He's called Kamloops home for the past five years and been homeless for all of them.
Kamloops is in the midst of a heat wave, with temperatures currently in the mid-30s, potentially flirting with record highs in the 40 C range by the weekend.
As a person living on the street, Hof said many people help him during times of extreme heat, noting he's been allowed to sit in a waiting room at a local pharmacy to escape the sun. Staff at a couple of restaurants let him take as much ice as he wants.
"I chew on ice pretty well all day long — seems to help," Hof said.
Chelan Hamilton could also be found at The Loop on Wednesday.
She is staying at a friend's place, but has experienced homelessness in the past, noting the summertime heat isn't as bad as cold winter conditions.
Hamilton said she makes sure to drink cold water, seek shade, wear sunscreen, watch for signs of sunstroke and stay indoors during peak daytime hours to beat the heat. 
Hof also tries to find as much shade as possible throughout the day. He will also go down to a beach and jump into the river to cool off or venture over to the Mustard Seed downtown to take advantage of its services.
During hot summer nights, Hof looks for places with good circulation to sleep, opting to camp out in a park or again visit the Mustard Seed.
When it comes to managing the heat as a homeless person, one of the biggest challenges is the mosquitoes, he said.
"Some years, it's so ridiculous you wouldn't believe it," he said.
Another challenge is other people.
"I got my stuff ripped off completely three times in the last week. I don't know why homeless are stealing off other homeless, It doesn't make any sense," Hof said, noting dehydration from the heat can have adverse effects on people's state of mind.
While he has seen some hot days in the past, the current Kamloops heat wave is one of the hottest Hof has experienced.
Asked what he will do if the temperature reaches the forecast 40 C mark this weekend, Hof replied, "I just play it as I go."
Social agencies in Kamloops have taken note of the extreme heat and the danger it can pose for street-entrenched people as cooling centres have ramped up on the North Shore and downtown.
The Canadian Mental Health Association has converted its Memorial Arena location, where it has a 50-bed shelter, into a cooling centre.
CMHA executive director Alfred Achoba told KTW the facility will be operating as a cooling centre until temperatures decline, noting four commercial air conditioners have been installed in the space.
"There's an area where people can come indoors, watch TV, have a meal — it's an opportunity for our folks who've decided to stay outside to come in and get refreshed," Achoba said.
He said the hope is to connect the people who come in for the cooling centre with a full-time shelter bed, which has the case for a couple of people already this week.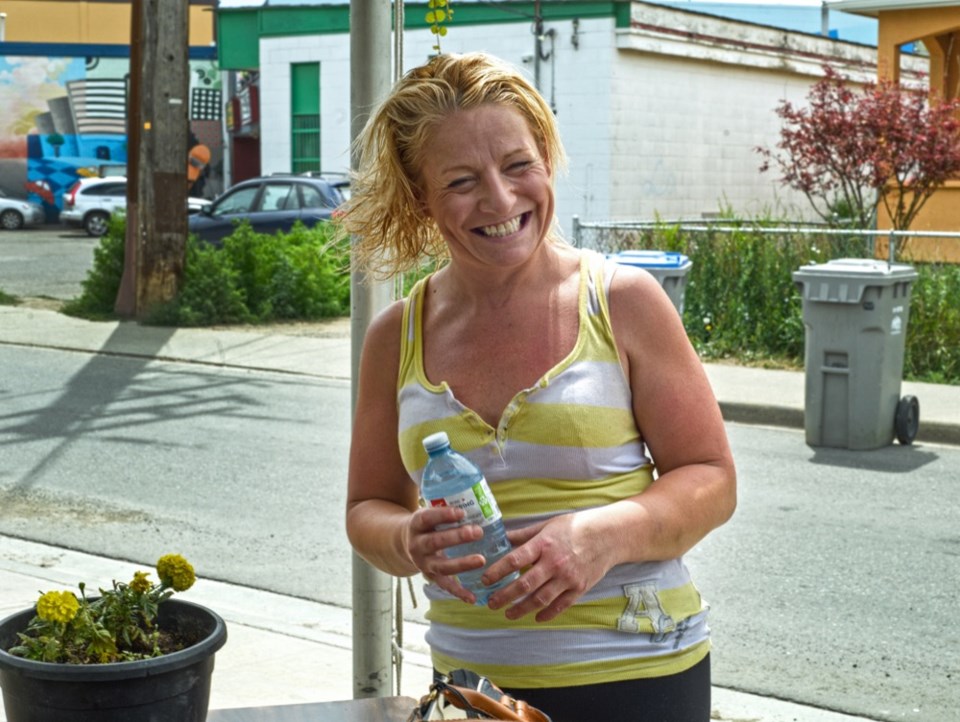 The Loop, at Tranquille Road and MacKenzie Avenue, is another facility homeless people can go to cool off.
Glenn Hilke, who manages the drop-in centre, said staff have seen an increase in visitors amidst the heat, noting over the past few days, the facility has averaged about 80 visits from 40 different people.
The Loop is open from 9 a.m. to 10 p.m. seven days a week and can accommodate up to 16 guests in the air-conditioned building.
Hilke said he is hoping to keep the centre open into July, but that will depend on funding from the City of Kamloops and the federal government.
Over at the Mustard Seed, the air-conditioned day room is being used for those looking to cool off.
Managing director Kelly Thomson said due to COVID-19 restrictions, only 20 people can be in the room at one time, so they are allowing rotating groups one-hour sessions in the space to ensure as many people as possible have a chance to get out of the heat.
He said staff will also monitor those hanging around outside the building, giving out water and short-sleeved shirts.
Thompson said they also connect people to other shelters in town to get them out of the heat.
"We're all working together to make sure our [homeless] population stays as good as they can and avoid heat exhaustion and [heat]stroke," Thomson said.

Water needed at the Mustard Seed
The Mustard Seed is requesting donations of reusable water containers, bottled water, hats and sunscreen amidst a heat wave in Kamloops.
"Those are key as we move through this," Thomson said.
On Wednesday, the Mustard Seed put out an urgent request for bottled water, having run out of its supply.
"With temperatures reaching close to 40 degrees over the next week, those individuals out all day on the street are about to face another heatwave. Please donate water bottles for relief from dehydration, heat exhaustion, heatstroke, or worse," a press release from the agency read.
Thomson told KTW on Wednesday afternoon that the agency has already received some 15 to 20 flats of bottled water donations since issuing the request and thanked the community for its compassion.
"It just shows the generosity of Kamloops and how caring we are," Thomson said.
Those wishing to donate more bottled water can do so by visiting the Mustard Seed's outreach centre at 181 Victoria St. W. or its Thrift Store at 342 Seymour St. from 9 a.m. to 5 p.m.