For mayor (one to be elected)
Hamer-Jackson ☑️
7,298
Singh
2,932
Dudy
5,650
Dhaliwal
2,629
Hunter
4,578
For council (eight to be elected)
Neustaeter ☑️
11,583
Bass ☑️
8,245
Sarai ☑️
10,737
Karpuk ☑️
8,122
O'Reilly ☑️
10,626
Bepple ☑️
7,745
Hall ☑️
9,544
Sunderman
6,927
Middleton ☑️
8,560
King
6,743
For trustee (five to be elected)
O'Fee ☑️
11,580
Hickson ☑️
8,980
K. Karpuk ☑️
10,812
Kang ☑️
6,675
Grieve ☑️
9,821
Anderberg
6,213
The latest from City Hall and candidates' headquarters
9:07 p.m. — The final polls are in, with Hamer-Jackson growing his lead over Dudy to win the race with 7,298 votes to Dudy's 5,650.
If the final unofficial results stand, Hamer-Jackson will serve alongside councillors Neustaeter, Sarai, O'Reilly, Hall, Middleton, Bass, S. Karpuk and Bepple.
Headed to the SD73 school board will be O'Fee, K. Karpuk, Grieve, Hickson and Kang.
9:05 p.m. — Just two polls left, and with 19/21 reporting, Hamer-Jackson is ahead by nearly 900 votes over Dudy.
Jo Kang has reclaimed fifth spot in the trustee race, now leading by about 270 votes over Anderberg in sixth place.
9:01 p.m. — Marian Anderberg has pulled ahead in the trustee race, taking fifth spot from Jo Kang. The top five is now O'Fee, Karpuk, Grieve, Hickson and Anderberg. Kang trails by 20 votes.
8:59 p.m. — 18/21 polls are now reporting, with Hamer-Jackson holding his lead by about 500 votes over Dudy.
The council race remains in the same order, with Neustaeter, O'Reilly, Sarai, Hall, Middleton, Bass, Karpuk and Bepple in the top eight. Sunderman trails the top eight by about 500 votes.
8:53 p.m. — Dudy movies closer to Hamer-Jackson, but still trails by about 350 votes, with 14 of 21 polls reporting. Polls from Aberdeen and Dallas are expected next.
8:45 p.m. — Three further polls have reported (9 of 21). The mayor's race has grown closer, but the order remains the same, with Hamer-Jackson showing a 550 vote lead over Dieter Dudy.
In the council race, Randy Sunderman now trails in ninth place, with King and Giesbrecht dropping in spots.
Trustees remain in the same order.
8:35 p.m. — With 6/21 polls reporting, Reid Hamer-Jackson has pulled ahead with 1,073 votes. Trailing him are Dieter Dudy (777 votes), Sadie Hunter (697), Arjun Singh (434) and Ray Dhaliwal (310).
For council, Katie Neustaeter, Mike O'Reilly, Bill Sarai, Kelly Hall, Margot Middleton, Nancy Bepple, Dale Bass and Stephen Karpuk are currently in electable positions in the race, with Dennis Giesbrecht and Caroline King trailing.
In the trustee race, John O'Fee, Kathleen Karpuk, Heather Grieve, Cole Hickson and Jo Kang make up the top five.
8:20 p.m. — Council candidate Stephen Karpuk is running for the third time. He said he's "cautiously optimistic" because he put in more effort during this campaign. Karpuk received 6,334 votes in 2018 and was two spots out of one of eight council seats. He said he did more doorknocking this time and handed out more flyers. He said he worked on Saturday and plans to take down campaign signs after the results come in, even if he wins. He told incumbent Bill Sarai, an incumbent councillor seeking re-election, that he will grab a chocolate milk to celebrate if he wins because he doesn't drink alcohol. Sarai apparently suggested an orange juice.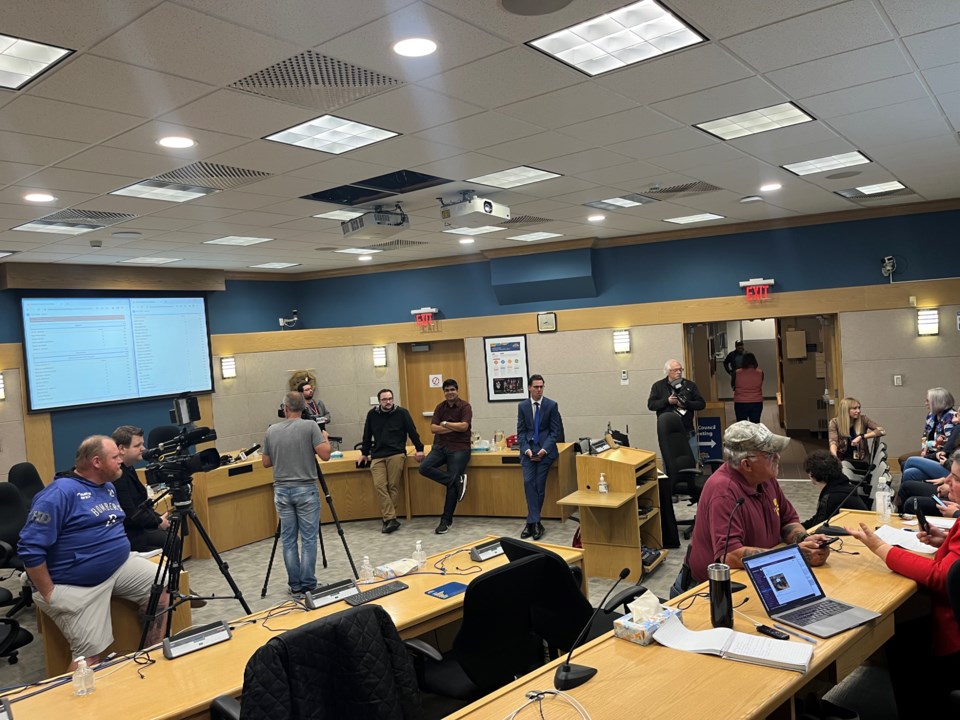 8:15 p.m. — Incumbent Coun. Mike O'Reilly attended City Hall just before 8 p.m. He said he took his son to the Farmers' Market on Saturday and tried to treat the day like any other. He is encouraged by advanced voter turnout and said this election is different for him because he is running for the first time with a four-year resume, as an incumbent. At the top of his resume? The patio expansion program, record-setting business licenses, new playgrounds built and more. O'Reilly would not speculate as to who would win tonight. Asked what the council dynamic could look like if he were to become one of the most experienced people on council, he said: "At the end of the day, this is a team approach." O'Reilly said competitors during the campaign will become team mates.
8:06 p.m. — Katie Neustaeter is running for council. She is hosting a campaign event for her team at Bright Eye Brewing tonight and popped into City Hall ahead of the election results. Neustaeter has run an energetic election campaign, beginning from her campaign kickoff event. Neustaeter said she spent 16 to 20 hours doorknocking during the campaign and attended up to four events per day. She also attended all of the forums and filled out all of the questionnaires.
"I feel confident in Kamloops," she said.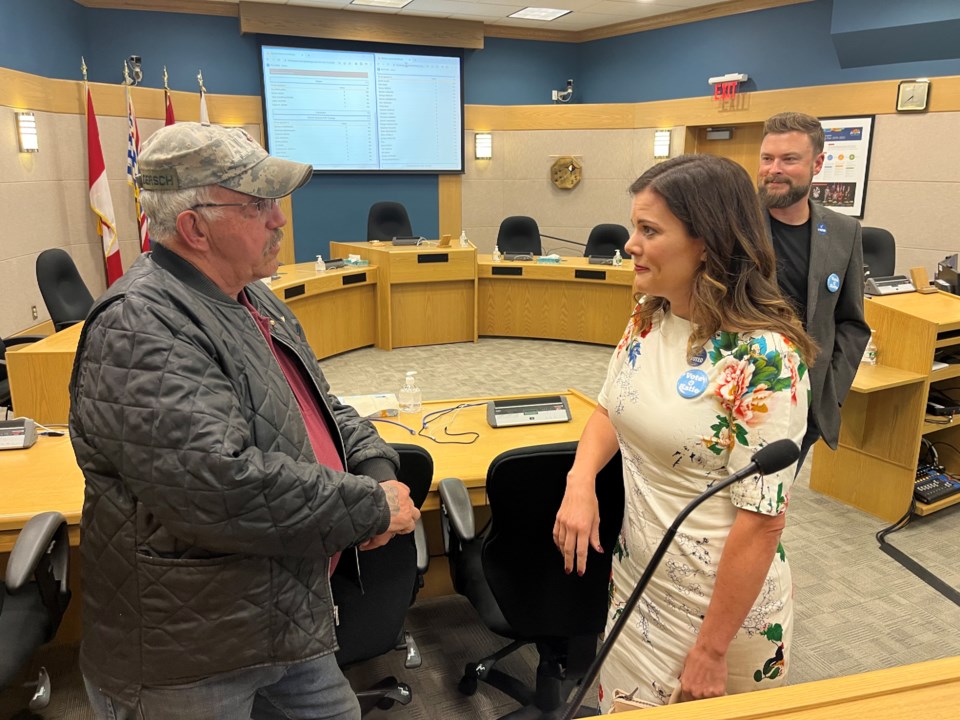 8:00 p.m. — The polls have officially closed.
7:55 p.m. — With five minutes until the polls close, candidate for mayor Arjun Singh is at St. Andrews on the Square, posted up not far from City Hall in downtown Kamloops. Fewer than 20 people are in attendance, at this point, with music being played from the stage.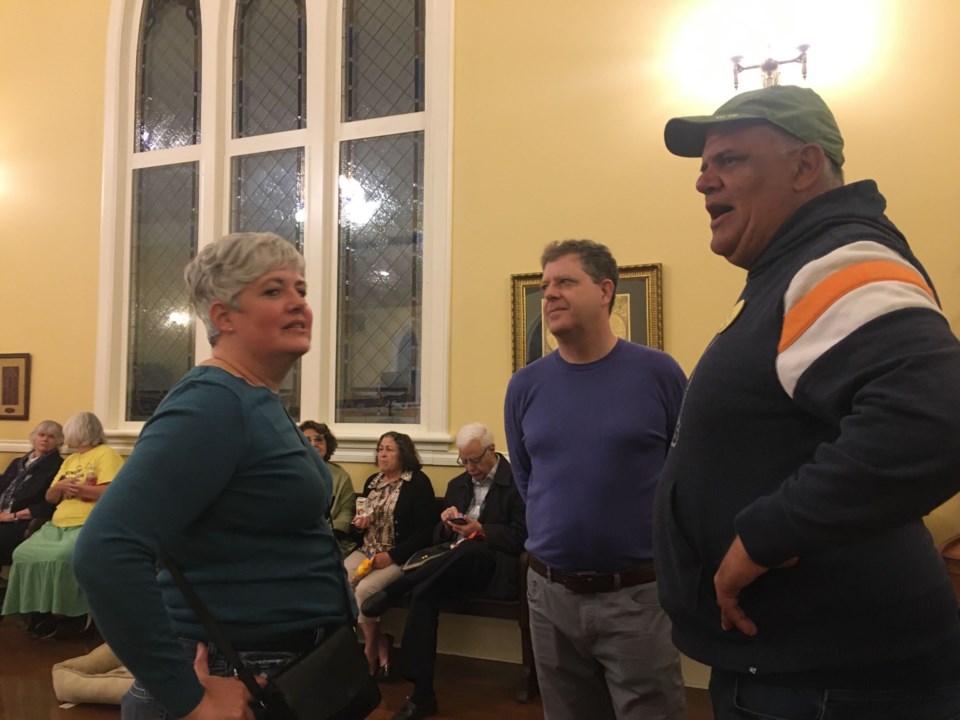 7:50 p.m. — George Dersch and Sgt. Pip, his service dog, are in council chambers. Sgt. Pip was laying on the floor in behind the chairs of senior city management.
"Win, lose, draw — it doesn't matter," Dersch said. "It's going to be fun." Dersch, who is a veteran, said he hopes whoever gets elected will "do the citizens proud."
7:41 p.m. — Candidates have begun trickling into City Hall ahead of the election results, set to begin arriving just after 8 p.m. They include council candidates Katie Neustaeter and George Dersch, along with his service dog, Sgt. Pip.
7:31 p.m. — Mayoral candidate Reid Hamer-Jackson is hosting an election night get together at the Mount Paul Golf Course clubhouse. About 40 are in attendance, including council candidates Caroline King, Dennis Giesbrecht and Darpan Sharma, but Hamer-Jackson is not yet among them.
7:20 p.m. — Media, city staff and a lone citizen are currently in council chambers awaiting results on election night. Dakoda Kelm, a NorKam secondary Grade 11 IB student, has come to watch the election results.
"I like politics. I like understanding about that kind of thing," he said. Kelm voted in the NorKam secondary mock mayoral election. The results will not be available until next week. He said he voted for Arjun Singh but he thinks it will be a tight race tonight.
7:08 p.m. — At a Coast Kamloops Hotel ballroom, Ray Dhaliwal says he's excited and nervous. About 50 in attendance, with music playing on the loudspeakers.
7:00 p.m. — Welcome to KTW's coverage of the 2022 civic elections. Tonight, one mayor, eight councillors and five school trustees will be elected in Kamloops. Leading candidates will be listed above as the ballots are counted, with final results expected after the polls close at 8 p.m.
KTW reporters Jessica Wallace and Michael Potestio are in the field, ready to hear from the candidates as results come in.