Excavation of probable burial sites of children on the grounds of the former Kamloops Indian Residential School has not yet been undertaken as Tk'emlúps te Secwépemc continues working on various issues surrounding the site.
"We've done non-invasive work to date," Tk'emlúps spokesperson Racelle Kooy said at a press conference on Friday (Sept. 17).
"But between the confirmation of the knowing of the witnesses — the Indian residential school survivors — to the past work, discovering of the juvenile tooth and the rib bone, to the work that Dr. Sarah Beauluia has done for us, we still stand with that knowing that it is indeed a sacred space of unmarked graves."
On May 27, Tk'emlúps te Secwépemc announced it had conducted a ground-penetrating radar (GPR) survey indicating the presence of 215 unmarked graves on the grounds of the former school.
On July 15, the band revealed more details on the survey, as well as its plans moving forward.
Ground-penetrating radar expert Dr. Sarah Beaulieu of the University of the Fraser Valley led the search south of the school building, not far from the South Thompson River.
She said the search found signs of 200 probable graves.
"With ground-penetrating radar, we can never say definitely they are human remains until you excavate, which is why we need to pull back a little bit and say they are probable burials, they are targets of interest," Beaulieu said at the time. "They have multiple signatures that present as burials, but because of that, we have to say they are probable until one excavates."
Also adding to the likelihood that burial sites with the remains of children exist are previous discoveries in the area of a juvenile rib bone (found by a tourist and brought to the band in the early 2000s, later being identified as human) and a child's tooth (excavated from a shovel test pit in the area during an impact assessment by Simon Fraser University's archaeological department in the late 1990s or early 2000s).
"A juvenile tooth is not an indicator of loss of life, but given both discoveries, the possibility should not be discounted," Beaulieu said at the July press conference.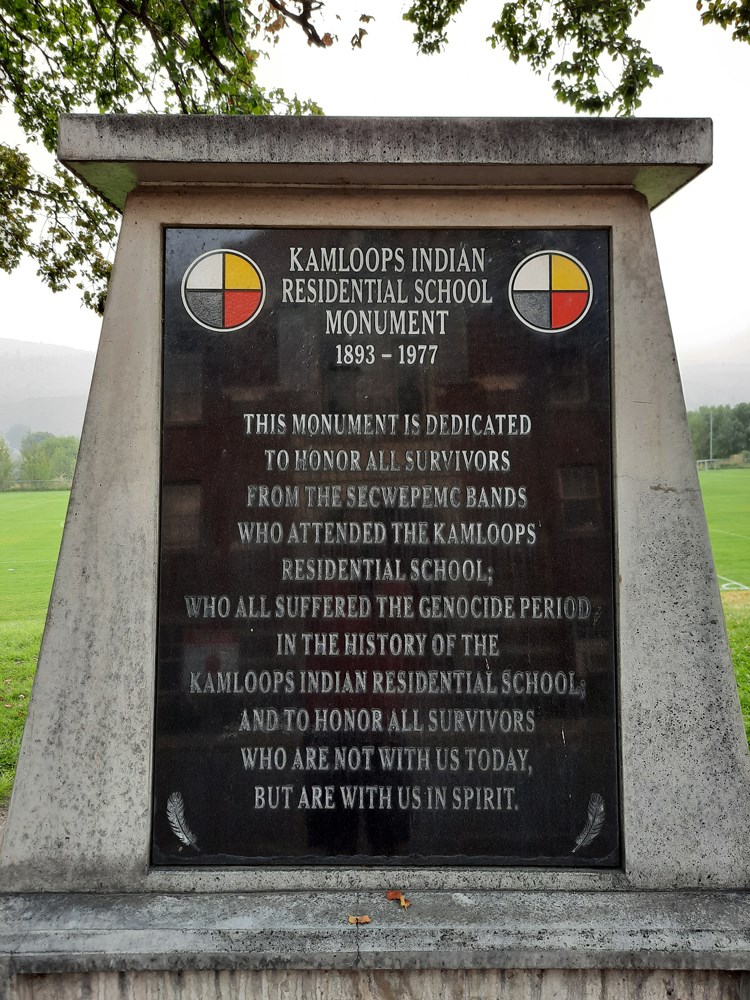 When the band broke the news in May, it said there were remains of children as young as three years of age.
In July, Beaulieu told KTW that notion came from residential school survivors who told of people as young as three being taken to the school. The GPR survey can't indicate age, she said, but showed signs of smaller anomalies in shallower areas that could track with those accounts.
At Friday's press conference, Tk'emlups Chief Rosanne Casimir said there has been "a lot of movement" since that July 15 press conference.
"We know that there is a lot of work when it comes to the archaeological processes," Casimir said, noting Tk'emlups has laws in place with respect to archaeological remains,
She said Tk'emlups has spoken with the RCMP, with legal representatives and with B.C. Attorney General David Eby and federal Minister of Justice and Attorney General David Lametti in creating "that path forward."
"This has been very traumatic and this has really impacted so many, so we really want to make sure that we have a process that's moving forward, that's going to be recognizing all the law, as well as, you know, respecting our law."
Casimir said an event is planned for mid-October, at which more information is expected to be released.
"I know we have a lot of work on the go and we also have more GPF (ground-penetrating radar) work that needs to be done, and so we know that this is going to be a process that is probably going to take years to move forward on," she said.
In July, it was noted about 160 acres of land still needs to be searched with the GPR technology.
Tk'emlups is also still awaiting the federal government and the Catholic Church to release attendance records of all students who attended the Kamloops Indian Residential School, a call that was made in July.
Not everyone believes excavation should take place,
In July, elder Evelyn Camille, who attended the school, called for the probable burial sites to be left undisturbed.
The Kamloops Indian Residential School was at one point the largest in the nationwide system, with attendance in the 500-range, and had students from across B.C. as well as from parts of Alberta and the Yukon.
ELECTION TALK
With the federal election set for Monday, Sept. 20, Casimir was asked if she or the band had preference for a party to be elected that would best advance reconciliation.
Casimir said she has spoken with representatives of all political parties.
"We known that whoever is voted in, that we will be working with them, holding them to account, just as our people hold us to account, as well," she said, noting the band wants dialogue on a path forward.
"Regardless, we want to see more action. We want to be included. It's about inclusivity and it's about creating that path forward."