Flyers mimicking the overall design of genuine City of Kamloops documents are circulating around the city with false claims about the municipality's community climate action plan.
Information on the two-page document calls on residents to lobby council to end the plan.
City administration is now attempting to find out where the flyers came from. In a release, the city described the flyers as a disinformation campaign about the climate action plan's origins and intentions, giving the illusion the information is coming from or is endorsed by the city.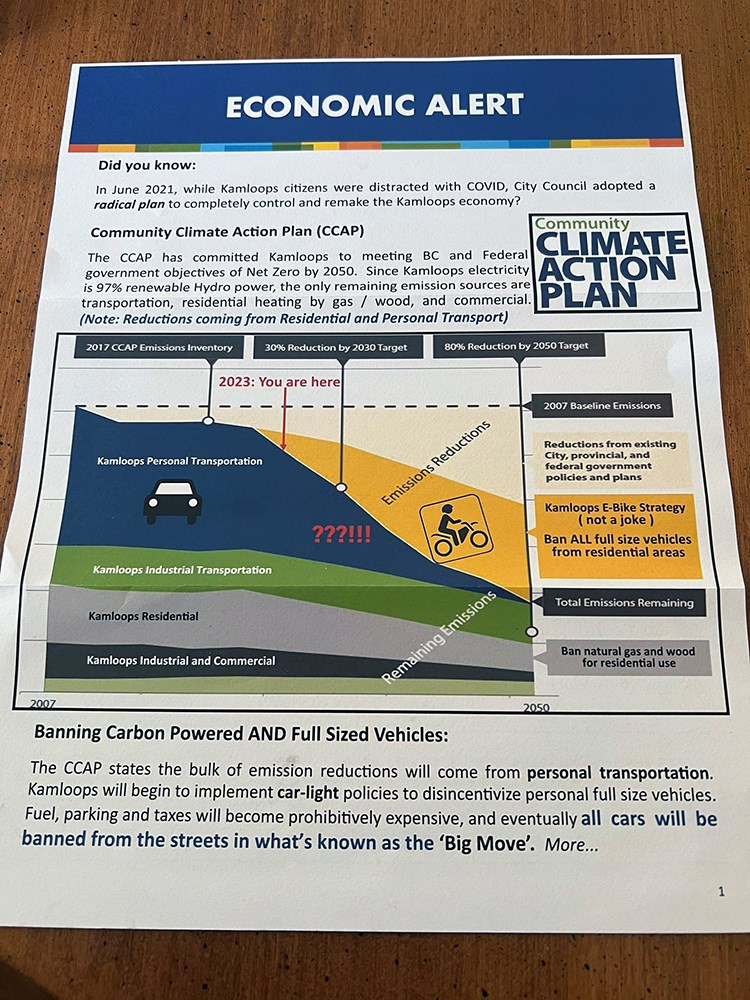 The city is planning a June 8 webinar via Zoom to present an overview of the climate action plan and take questions from residents. It will begin at 6 p.m. and can be found online at Kamloops.ca/ClimateAction.
According to the city's climate and sustainability manager, Glen Cheetham, the flyers are spreading false and misleading information about the policy — wrongly identifying its goals as rules that will be enforced.
Most concerning for Cheetham is the flyer's assertion that, under the 10-minute city strategy within the climate action plan, motorists will be forced to give up their vehicles.
"The climate action plan doesn't mention anything to do with forcing people to give up their vehicle," Cheetham said.
He said the climate action plan aims to increase access to active transportation options that could enable residents to rely less on their vehicles and therefore reduce emissions by creating town centres in each of Kamloops' sprawling neighbourhoods so residents are close to all needed amenities.
Other misleading information in the document include claims of the climate action plan's "Big Moves" strategies. The flyer falsely claims the city will dedicate road lanes to bus traffic only by 2029, blockade roads and sidewalks for housing projects and block off entire neighbourhoods to emergency vehicle access only.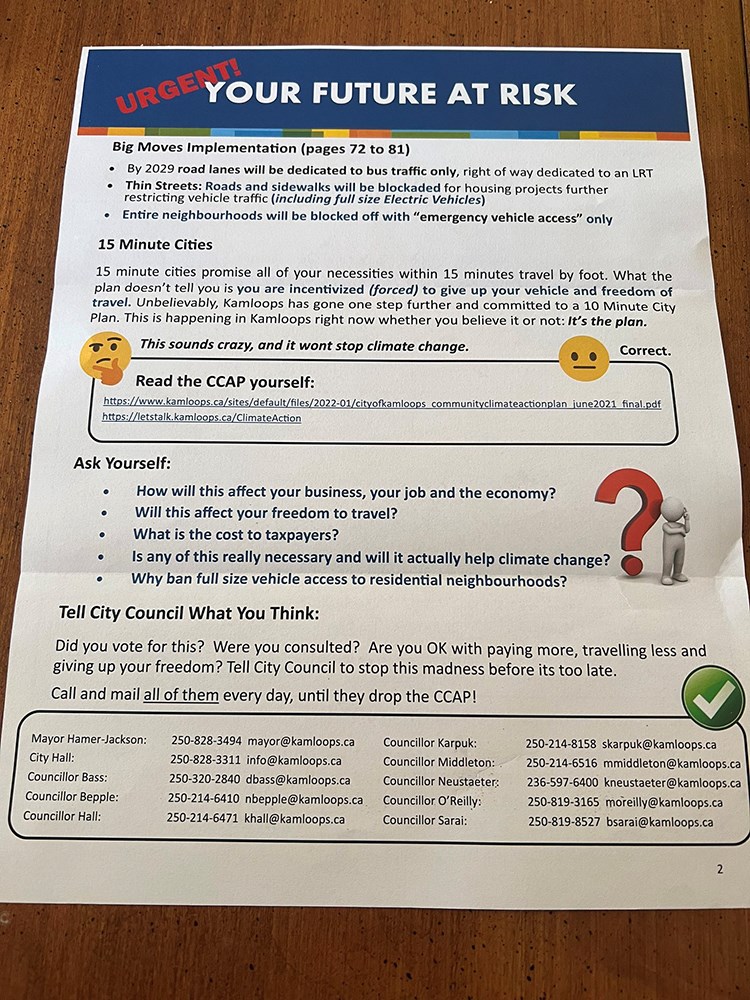 Cheetham said the climate action plan simply aspires to have 50 per cent of all trips in Kamloops be by active transportation and transit by 2050. The claim in the flyer that cars will be banned from streets is false, he said. As for claims about roadway blockades, that information is also misleading, Cheetham said, noting the climate action plan calls for implementing low-traffic neighbourhood projects to prioritize pedestrians over vehicles.
"The letter has failed to bring any clarity to what the intent of these strategies and policies are and, instead, is trying to use them to advance these unfounded conspiracy theories, in my opinion," Cheetham said.
City communications manager Kristen Rodrigue told council at its May 30 meeting staff are aware of the fake flyers, as well as unauthorized uses of the municipality's logo on social media. She said the city will take action to protect its brand from unauthorized use.
"We work hard to build trust in our brand so residents can be confident in the accuracy and authenticity of the information we distribute," Rodrigue said in a release.
The climate action plan outlines strategies and actions to reduce Kamloops' greenhouse gas emissions by 30 per cent by 2030 and 80 per cent by 2050. The document was unanimously approved by council in June 2021 following a community engagement process that began in 2020.
For more information on the Community Climate Action Plan and for details about the webinar, visit Kamloops.ca/ClimateAction.