Concerns are being raised about the City of Kamloops use of herbicides to kill unwanted weeds on sports fields, in parks, in tot lots and on hard surfaces, like sidewalks — and some residents are calling for the city to stop using the products.
Herbicides are toxic to plants and kill unwanted vegetation.
The city uses herbicides specifically to kill weeds, described as a last resort in an integrated pest management plan that also includes measures like hand pulling, over-seeding, aeration and other weed-management practices.
The city has a bylaw banning cosmetic herbicides for residential usage, but no such bylaw exists for the city in the aforementioned instances, meaning regulations set out by higher levels of government are followed by the city.
Concerns include exposure of residents who frequent the areas to cancer-causing and birth-defecting ingredients and the eradication of pollinator dandelions among those unwanted weeds in a community that is bee-friendly.
Environmental advocate and longtime area resident Bronwen Scott said she has been collecting information for three years related to the city's use of herbicides, including parsing of regulations by upper levels of government.
Scott alleges the city has used herbicides contrary to product label guidelines and reported it to the province.
She said the city has to post in its annual reports the amounts of herbicides it uses and found that in 2019, herbicides had been used in concentrations greater than advised on the product label, which she said is illegal.
City parks manager Jeff Putnam, however, said the incident was a miscommunication between the city and province on how paperwork is filled out and was not, in fact, a misuse of product. He said the city follows product directions when using herbicides and has never contravened application concentrations set out on the labels.
"That's not a question," he told KTW.
Meanwhile, Scott said several of the herbicides the city is using have been proven to cause cancer, birth defects and developmental abnormalities. One specific herbicide of concern is called Grazon XC, which Scott said residents cannot purchase over the counter.
Scott called it a "bad actor," noting it was used alongside Agent Orange by the U.S. military during the Vietnam War.
It contains hexachlorobenzene (HCB). According to the Canadian Environmental Protection Act, "In several studies, HCB has been shown to cause cancer consistently in experimental animals, although available data are inadequate to determine whether HCB causes cancer in humans. It is, therefore, considered to be a " non-threshold toxicant (i.e., a substance for which there is believed to be some chance of adverse health effect at any level of exposure)."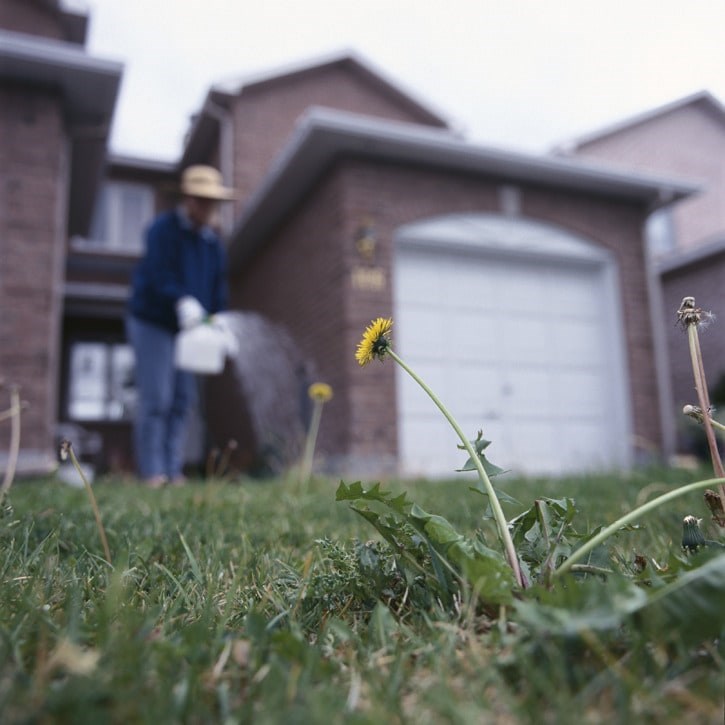 Grazon XC is used to treat McArthur Island, Albert McGowan Park, Pacific Way, Singh Bowl, Exhibition and Charles Anderson sports and baseball fields and other places in Kamloops.
In addition, Scott noted, people have been awarded monetary damages after contracting cancer following exposure to glysophate, an ingredient in Roundup Weathermax, which is used by the city to treat sidewalks, medians, bus exchanges, parking lots, lift stations, tennis courts, pool and arena areas, xeriscape areas and pollinator pathways.
Asked for context around exposure needed to be at risk of getting cancer, Scott said most of the ingredients are ones that enter a person's body and do not leave, but instead build up in a process called bioaccumulation.
"You're not going to get cancer tomorrow and you might not get it just from your exposure to 24-D and hexachlorobenzene and glyphosate throughout your childhood or from playing one game at the ball field in McArthur Island," Scott said.
"But these build up and we should keep them out of the environment and keep them out of our bodies as much as possible. And when we start children young, who live with chemical compounds that you know cause cancer and that don't leave the body, that's a really bad start."
Asked for data around links to cancer, Scott said there is sufficient knowledge about the risks of such herbicides.
Scott said she reached out to the city, writing a series of letters expressing concern about the use and toxicity of the herbicides it uses and suggesting alternatives.
In lieu of spraying dandelions — which she said are good for bees as an early springtime food and should not be killed in the first place — she suggested the city hand pick weeds on fields and elsewhere.
Putnam, however, said that if the city were to hand pick every weed, it would be too resource-intensive and run the risk of a specific weeds spreading quickly.
He said the city would need an "army of people" to hand pick weeds, noting the municipality does encourage community weed pulling through an adopt-a-trail program and events with schools.
If weeds took off at McArthur Island, for example, it would cost hundreds of thousands of dollars for the city to replace the turf, Putnam said.
"You need a higher level of intervention," he said.
Putnam stressed that the city uses herbicides as part of an integrated pest management plan, which includes not only herbicides use, but also mechanical, biological, and cultural methods to combat weeds.
He said the city is required by the province to keep invasive plant species at bay, noting herbicides are used in small amounts and only as a last resort.
Putnam said the city used seven litres of herbicide for all of its ornamental shrub beds in 2020. A spike in broadleaf weeds, including knotweed and dandelions, resulted in higher levels of herbicide use last year on sports fields, at 116 litres. Putnam said the city allows dandelions to grow elsewhere, such as on medians, for bees and includes clover in its turf.
But, he added, weeds on sports fields run the risk of injuring players.
"That's not our first choice, it's our last choice," Putnam said of herbicide use by the city.
As for concerns raised about product choice and potential health risks to the public, Putnam said the city only deals with products that are licensed by upper levels of government.
He said the city works closely with the Ministry of Environment. If it had concerns, it would be shared with the city, he said, noting that has not happened. He said products like RoundUp has been used for decades in Canada. The city has no plans to discontinue use of herbicides at this time.
"It's a balanced approach and our goal is to use as minimal as we need to reduce the overall impact, but also to maintain our parks system and natural areas," Putnam said.
Putnam noted that during budget talks, council approved hiring another parks technician, who will, in part. be working on weed management.
Putnam also said that the city has for several years worked with the Thompson-Nicola Regional District, BC Hydro and Ministry of Environment as part of the Thompson-Nicola Invasive Plant Management Committee, which together monitors and controls weeds.
However, with no plans to axe herbicides any time soon and the city kicking up its seasonal staff to maintain parks and other space for the summer, Scott said the city could, at the least, be doing more to warn the public of locations where pesticides are being sprayed, preventing residents from being unknowingly exposed. She is calling for additional signage warning the public.
Putnam said the city follows provincial regulations, with signage posted for 48 hours after treatment on sports fields, ball diamonds and areas around schools. Scott said the city should also be warning the public when spraying occurs on hard surfaces, such as sidewalks and pathways.
Putnam, however, said people don't tend to gather in those locations and maintains the city is following the rules.
"We're not required to do it and it's just very resource-intensive to put a notification for every weed you spray on, say, a two-kilometre sidewalk," Putnam said.