Madeleine Hutchison is dying of cancer.
It's in her bones, in her lungs and throughout her body — but she is not afraid.
"I'm a Christian," the 74-year-old woman told KTW. "And for Christians, there is no fear of death because we have promise of everlasting life with Jesus Christ. That is the No. 1 reason I have no fear whatsoever."
Hutchison was admitted to the Marjorie Willoughby Snowden Memorial Hospice Home on Feb. 20. KTW visited her several times. The well-spoken and well-travelled woman shared tidbits of her life, talked openly about dying and provided insight into what it's like to be a patient at the hospice house — all while her health deteriorated.
Hutchison agreed to let KTW into her room and take up her valuable time because of her experience at the palliative-care facility in Sahali.
"My prayer would be that people in Kamloops realize what a gem they have here," she said.
"Let's get together. Let's support the hospice in every which way we can."
A woman of the world, Hutchison was born in South America, grew up in the United Kingdom, launched her nursing career in Germany and eventually moved to Kamloops for good eight years ago. Families may have come to know her as a teaching assistant before she retired from School District 73, where she worked at schools across the Tournament Capital and in Chase.
In her golden years, Hutchison volunteered at the former Stuart Wood elementary, organizing lunches and supervising kids.
"Kamloops has been so good to me," she said. "Well, the fact of the matter is that is true. It gave me employment and I've met a lot of people and I love Kamloops. I absolutely love the nature around Kamloops."
Hutchison has two sons and seven grandchildren who live in Nelson and Alberta. She has several siblings.
Don't ask about her love life.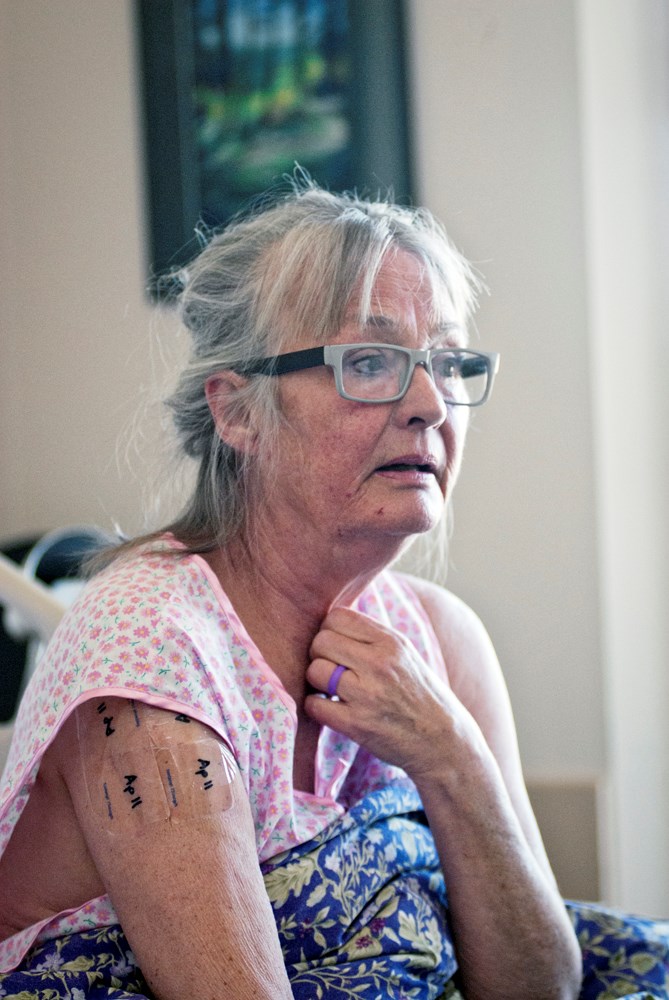 Life brought her to the hospice but, if the house on Whiteshield Crescent didn't exist, Hutchison said she would be at home trying to manage pain herself. She decided against chemotherapy.
"Or I would be in the hospital," she said. "I'm not saying anything against the hospital, but that's not the place to die as far as I'm concerned. There's the freedom here, the love here and they have the time here. This is the place to be."
The hospice is for patients and visitors, of whom Hutchison has had many in her time at the house. A queen-sized hide-a-bed in each patient room allows visitors to spend the night and a guest bathroom offers a hot shower and any toiletries left behind. Food can be stored and cooked in a family kitchen, while a dining space can be reserved for sit-down meals.
Meals are prepared by staff and volunteers for patients only, but there is always baking and coffee available for family.
One of Hutchison's sons flew from Calgary to be with her every day, sleeping in her apartment and continuing his studies courtesy an exemption from his university to finish the semester in Kamloops.
Hutchison's other son, daughter-in-law and grandchildren drove from Nelson to visit.
A colourful room down the hall is filled with toys for kids to play with, but the property, which backs onto Peterson Creek Park, beckoned her grandkids.
Hutchison already thought she had the best view in the city.
"I'm lying in my bed looking through this big window and I could watch my grandchildren hopping and skipping around on this beautiful property and it gave me such joy," she said.
It is important her family knows she is cared for, Hutchison said. It's important they see a smile on her face.
"For me, it was really important that my grandchildren see that grandma's got some life in her," she said.
Nurses, care-aides and volunteers take care of pain management, meals and bathing. Family gets quality time. Hutchison's grandkids left with cookies made fresh by a volunteer who told them "that's what grandma would have done."
"They [grandkids] even said, 'Can't we just stay here and hang out with grandma?'" Hutchison said.
Friends also visit. The hospice family dining room was booked and more than a dozen friends gathered last month.
"They brought food. We drank wine. We reminisced," Hutchison said. "It was a time of celebration and joy."
As the weeks went by, however, days have become touch and go.
On one occasion, staff advised a visitor Hutchison was not up for visitors. Hutchison told KTW to bugger off that same day.
When KTW did return, she was more forgetful, repeating stories and forgetting what she wanted to say midway through sentences.
Once known for her mobility around the house, Hutchison now requires a wheelchair. The nature of her disease means she is vulnerable to bone breaks.
"I'm now having to learn that gadget," she said, motioning toward the black chair.
She's got patches and needles and nurses to manage symptoms, but she said she has felt no pain.
Hutchison leans on her faith. She maintains she is not afraid to die — but she's still human.
"There have been a couple of times where I just start weeping," she said. "And then I think, 'OK, why am I crying?' I know where I'm going. I have no doubt about it. I'm not afraid. I guess I weep because my grandchildren and my family and my loved ones will miss me and they will be sad for a while. I cry for them, but I don't cry for myself."
Hutchison has been at the hospice longer than the average patient, who typically dies within two weeks of arriving. She was told when she arrived she had three weeks to live.
"Time doesn't matter to me," she said. "It's just one day at a time. Most of the time, I don't even know what day it is."
To that end, she requested a calendar for her room.
"There's the calendar," she said with a laugh, pointing to a cork board across from her bed. "And how odd is it that it's a Schoening Funeral Home calendar?"
Next to the calendar are photos of her grandkids, her sister, hand-drawn pictures and a painting of a plump pig jumping into a pond.
The latter was brought to her by Crystal, a friend who also cut Hutchison's hair in time for photographs with KTW.
"She deserves a crown," Hutchison said.
As she looks back, Hutchison is thankful for the opportunity to have helped kids throughout her career and for meeting so many "awesome people."
One of the more difficult realities of life, she said, is having family live far away. But she learned the value of limited time together and other profound lessons in 74 years.
"My only advice would be to live life to its fullest because you never know when it's going to end," she said.
"By that, I do not mean living a selfish life. By that I mean give to those, love those who are around you — your family, your neighbours, your friends. Because you don't know when it's going to hit you. I didn't. I had plans to go to Europe this year. You know, it was all planned to go to England. It ain't gonna happen. But it's OK. My advice is give, show love to all and don't wait until you're lying, gasping for your last breath, because by then it's too bloody late.
"I was asked a very interesting question about a year ago by a professional medical person and she said this. She said, 'Madeleine, what do you think life is all about?' … She said, 'Life is about loving and losing.' I thought about that a lot. And it is so true. We love, but we also lose in the twinkling of an eye. We can lose our life. We can lose a loved one."
Editor's note: After KTW visited, Hutchison returned home . Her cancer continues to spread, but her pain is under control. She is being cared for by friends, family, community nurses and hospice volunteers. Hospice patients spend on average two weeks at the facility and it is not intended for long-term care. Hutchison spent two months at the Marjorie Willoughby Snowden Memorial Hospice Home.