A Thompson Rivers University law professor and her former students are at the centre of a legal battle with the Canadian government over redacted information detailing its involvement in alleged human rights abuses in Guatemala.
After six years — during which time students who worked on the case have since graduated — online hearings are now underway.
TRU law professor Charis Kamphuis explained Indigenous communities in Guatemala filed an international human rights complaint against the Guatemalan government for enabling a Canadian mining company's operations in that country.
Former Vancouver-based company Goldcorp operated the Marlin mine, which has since closed, in Guatemala. The company has since been acquired by Newmont.
Kamphuis said consent was not obtained by the Indigenous communities for the mine and consultation was lacking. Environmentalists raised concern about water contamination from the mine and the InterAmerican Commission for Human Rights, of which Canada is a member, issued a statement advising suspension of the mine to have reviewed the water quality impacts.
At that time, Canada apparently escalated its involvement. Kamphuis said public servants appeared to have pressured the Guatemalan government to not shut down the mine, effectively advocating against an international human rights order.
She said the government also appears to have interfered with the body's independence by trying to insert the company into the process.
Kamphuis said the case revolves around government accountability in its support for the private sector. She said the Global Affairs department has a culture of supporting Canadian companies at all costs.
"The concerns we have is that Canadian officials continue to support — often very aggressively — the company regardless of or actually sort of working across purposes to the affected communities that are asserting their rights," Kamphuis said.
Kamphuis said amidst alleged human rights violations, Canada should take a step back, facilitate dialogue, hold the Canadian company to certain standards, respect the other country's sovereignty and abide by international human rights institutions.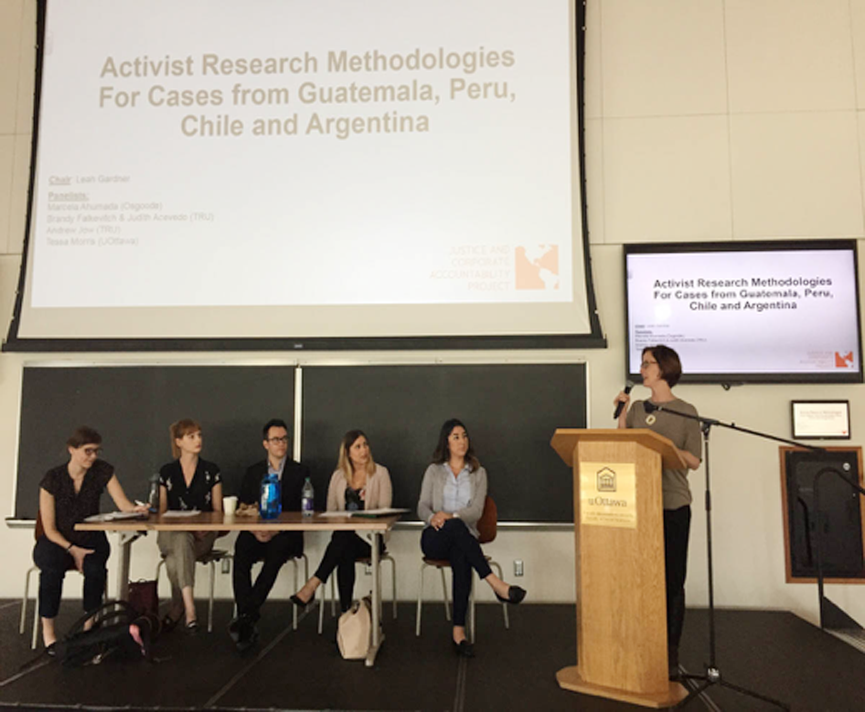 The alleged pressuring of the international human rights body is focus of the case, outlined in 20 pages of documents with redactions.
The government has fought to keep the redacted information from the public, while Kamphuis and her students aim to have the information released. Kamphuis said government is arguing release of the information will affect international relations and the company's competitive edge.
She said those harms, however, are not applicable in this case because of a significant passage of time, the mine's closure and a change in government over the years.
She said documents cannot be hidden to hide "embarrassing conduct."
Kamphuis said Canada has gone to "great lengths" to prevent the Canadian public from knowing what Canadian officials did to support Goldcorp. On the other side of the equation, she said, is an impoverished Indigenous community fighting for its own concerns.
"They've been doing everything they can," she said, noting the government resisted for years a complaint on the withholding of information to the information commissioner, delayed judicial review and set itself up with a hearing to privately discuss with the courts its own case.
The case is part of the Justice Corporate Accountability Project, a non-profit experiential learning initiative of which Kamphuis is a founding member.
She said the organization works with law students, mostly at TRU and in Canada.
Kamphuis said it aligns with a seminar she teaches at the university, Transnational Lawyering: Social Justice, Communities and Resources, which is clinical work providing students with experience.
Justice Corporate Accountability Project cases are put together in consultation with civil society organizations and sometimes by working directly with mining-affected communities.
The idea is many communities impacted by such projects are impoverished and do not have access to knowledge or resources.
Four TRU students were involved in the case (which also included students from four other universities, including Dalhousie and UCLA) currently before the courts. The TRU students were Jeanine Ball, Andrew Dow, Cody Kessler and Tyson Kwasney. Kamphuis said the TRU students contributed research, policy analysis and access to information requests and review.
In the fall of 2014, Ball took interest in freedom of information law through Kampuhis' class. Ball also had interest in social justice issues and Guatemala, after living and volunteering there for six months.
At the recommendation of Kamphuis, Ball got involved in the case and went on to review more than 500 pages of documents — some of which were in several different languages — obtained through freedom of information requests from the federal government for the case and filed the original complaint to the information commissioner about the redactions.
She said in looking at the information available and what was missing, it raised "a lot more questions."
"Especially about the response of employees at both the Canadian embassy and the Canadian government in Ottawa," she said, noting support for the Canadian mining company.
Ball graduated from TRU in 2016 and was called to the bar in 2017. She is now an associate lawyer at Paul and Company in Kamloops, practising family and youth criminal law.
She said the experience provided hands-on learning, teaching her patience — both in waiting for a decision years later, but also in the actual work, analyzing those pages and pages of documents.
"Those are really useful skills," Ball said. "In practice, you can definitely have files that have that amount of material in them. Having the ability to go through it all and also having the understanding that in legal practice cases don't happen in five minutes. It can take years to move something forward."
What this case is all about
This case in a nutshell, as explained by TRU law professor Charis Kamphuis:
"This case has broader implications for the public's ability to scrutinize the extent to which government officials act in accordance with government policies.
"In this case, we have a senior government official testifying to a federal parliamentary committee and telling the committee that public servants follow specific policies in specific cases. 
"Then in the ATIP [access to information and privacy] records, we see government officials taking actions that completely contradicted the policies they say they follow. 
"We want to see the redacted information to determine if Canada actually followed its own policies.
"If Canadian officials can say one thing, and then do another, and then hide it from the public using the ATIP regime, we think this is a problem for Canadian democracy and public trust in government."