Click here to see the PurpleAir air quality map of Kamloops
Due to the decline in air quality, heat warnings and the impact of wildfires, many Kamloops' businesses and summer entertainment events have been postponed for the foreseeable future — some cancelled entirely.
After more pandemic-related restrictions were lifted on July 1, the public's excitement in getting back to a more normal way of life has been pre-empted due to record high temperatures, an early start to the wildfire season and heavy smoke in the air.
BC WILDLIFE PARK(ED)
But for a weekend respite that delivered beautiful blue skies and a welcome breeze, Kamloops has been smoked in for much of this month.
This has led to people staying indoors, empty patios, a noticeable drop in customers to downtown shops and far fewer visitors to local attractions, such as the BC Wildlife Park in east Kamloops.
"It's impacted our visitors — probably about 25 per cent reduction," said Glenn Grant, executive director of BC Wildlife Park.
"Year-to-date for attendance we're great — but in the past couple of weeks it's really diminished. I don't think too many people want to spend that much time outdoors in the smoke," Grant said.
Although the animals seem to be bearing through the heat fairly well, (having access to water and shade and indoor shelters) the heat and the smoke has increased the intake for the rehabilitation side of the park.
The recent heat wave saw more than 50 birds brought to the rehab centre,. Since then, admittance levels have returned to normal for this time of year.
With the annual summer concert cancelled this year, Grant said, free-flight bird of prey shows and animal encounters may soon be possible as soon as weather permits.
Click here for more information on the BC Wildlife Park.
SPRING FESTIVAL NIXED
In the downtown, the Kamloops Central Business Improvement Association postponed its Spring Back Festival 2021 block closure and block party, which was scheduled to take place this past weekend.
With air quality in the high-risk category late last week, the Downtown Kamloops association decided to postpone.
"Our team has worked tirelessly to plan every detail for the upcoming and it pains me to postpone the block party," Downtown Kamloops executive director Carl DeSantis said.
He noted the smoke and heat has resulted in far fewer people sitting on outdoor patios at restaurants and pubs downtown.
Instead, businesses are seeing more traffic inside their shops.
"The people who really wanted to sit in the patios, they're going inside where it's cooler and the air is fresh," DeSantis said. "So the businesses are still welcoming and enjoying support that way.
"When the conditions are as they are right now, people can get a break from the smoke, going into the stores, going into the restaurants and they're air-conditioned and it's fresh air. They can still do all the things downtown, just in a slightly different way."
Click here for more information on Downtown Kamloops.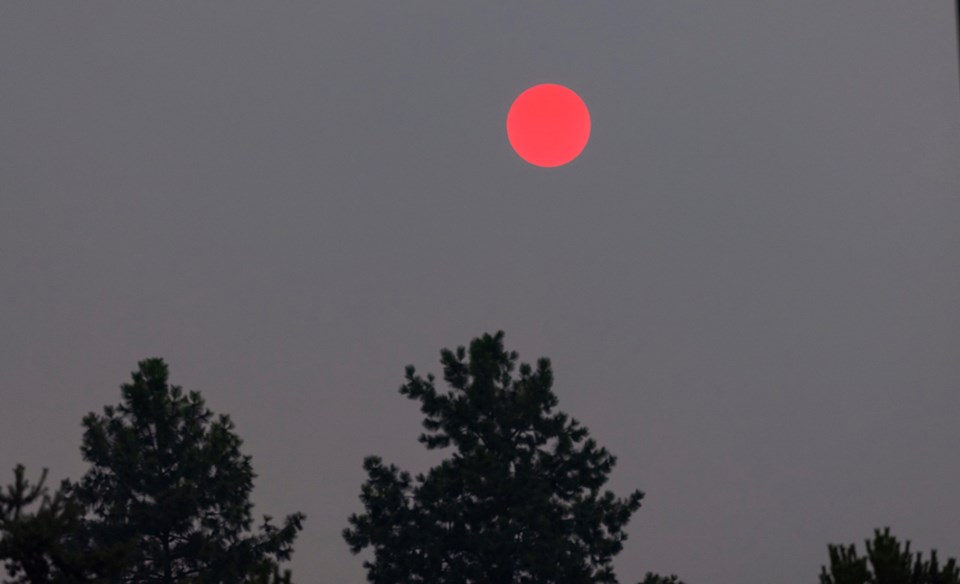 PROJECT X THEATRE
Project X Theatre has plans to return to Prince Charles Park, with a COVID-conscious X Fest: Theatre Under the Trees production called Gruff, set to run from Aug. 3 to Aug. 21.
"We're certainly worried about the smoke and heat, as our artists' and audience safety is a top priority for us every year," artistic producer Randi Edmundson said, noting the group is hoping for a reprieve from the heat and smoke in August.
The wildfire season has made for an uncertain future for their organization. The last two summers have been relatively smoke-free, but the summers of 2017 and 2018 resembled what Kamloops is experiencing now.
This year, Project X Theatre has a backup venue for rehearsals and, if there are nights on which it's unsafe to perform outside, ticket buyers will be offered exchanges for performances on other nights.
Click here for more information on Project X Theatre.
RIVERTOWN PLAYERS ARE NOW ONLINE
The live, interactive shows that offer free family-friendly theatre performances at parks and events throughout Kamloops are continuing virtually, with hopes of performing in parks around the city if the air quality improves.
Originally performances were scheduled to begin on July 15, with daily shows Tuesdays through Saturdays at 11 a.m. and 2 p.m. But the haze has put a halt to those plans.
The smoky skies and heat have already had an impact on the theatre group, even in their early stages of production.
As the smoke and wildfires have worsened, the troupe is looked into securing indoor venues and has been keeping COVID-19-related concerns top-of-mind. 
Click here for more information on the Rivertown Players.
KAMLOOPS FILM SOCIETY
Last week, for the third consecutive week, the Kamloops Film Society cancelled its outdoor Twin Rivers drive-in on McArthur Island, citing unsafe air quality as the reason for the decision.
However, the Paramount Theatre — managed by the film society — remains open downtown at Victoria Street and Fifth Avenue and is screening movies.
Click here for more information on the Kamloops Film Society.
WILDLINGS RESORT AT SURREY LAKE
Recreation tourism businesses like Wildlings Resort on Surrey Lake, south of Kamloops, have also been impacted by smoky skies.
Just 18 months into a new business venture, resort owners Brett and Stephanie Russell have had to cope with the pandemic and, now, wildfire threats and smoky skies.
The couple ventured out from the pace and expense of living in the Lower Mainland to connect with their wild side, opening and re-branding the former Surrey Lake Fishing Resort that began in the 1940s.
The recently renovated, off-the-grid resort has been slow to draw its usual clientele from places like Washington state, due to the closure of the Canada-U.S. border crossing, which is expected to reopen ton Aug. 9 to fully vaccinated visitors from the United States.
Meanwhile, the early and aggressive wildfire season has impacted the resort's bottom line.
Guests have left the resort early due to smoky skies and the threat of possible wildfires.
"I don't blame them," owner Brett Russell said. "If you're not used to this kind of thing, it can be very nerve-racking because a fire could start at any time. We're in a reasonably vulnerable position if one does."
After receiving much-needed assistance from the provincial government during the pandemic, Russell said he is looking forward to seeing business return to normal levels as local visitors and vacationists stateside re-discover the resort.
Click here for more information on the Wildings Resort.