Calling the request "a little bit ironic," a Kamloops judge has dismissed the application of a Tiny House Warrior who asked to be allowed to attend a conference at Thompson Rivers University — a campus from which she was barred from stepping foot on following her arrest at a 2018 pipeline protest.
Nicole Manuel, also known as Mayuk, was one of three protesters arrested on TRU's campus on Dec. 10, 2018, after members of the Tiny House Warriors allegedly smeared red paint on the walls and windows of the university's Campus Activity Centre during a pipeline consultation meeting helmed by former Supreme Court of Canada Justice Frank Iacobucci. The meeting was taking place in rented space on campus and was not a TRU event.
In Kamloops provincial court on Thursday, defence lawyer Joe Killoran said Manuel is scheduled to speak at and attend this weekend's Human Rights Symposium and Delegation, organized by the Tiny House Warriors and the Indigenous Network on Economies and Trade. The conference is slated to take place in rented space on TRU's campus on Saturday, followed by a field trip to the Blue River area on Sunday.
Killoran asked for a court order allowing Manuel to attend campus for the event. TRU opposed Manuel's application, as did the Crown.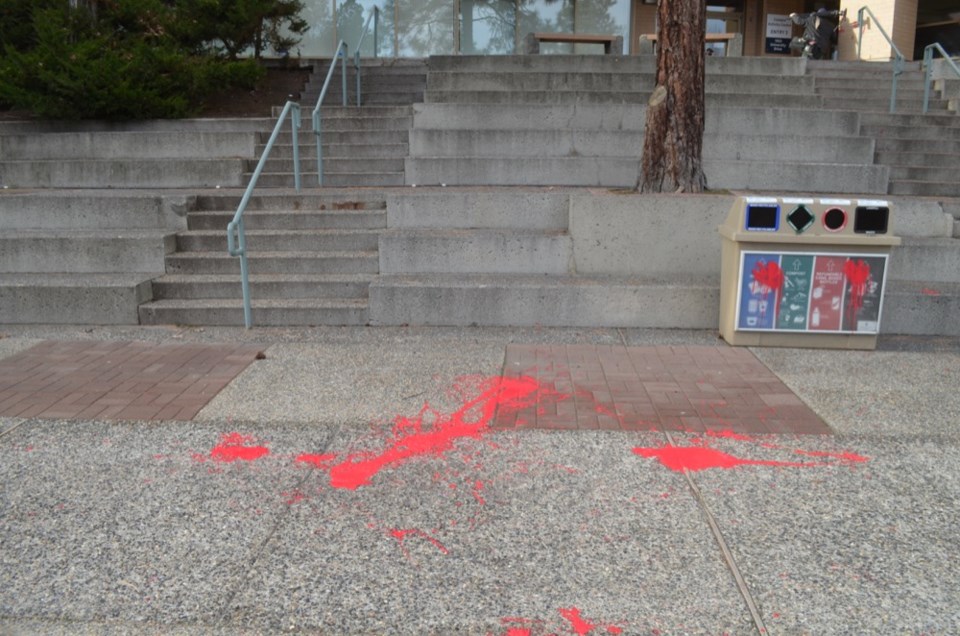 Kamloops provincial court Judge Stella Frame did not take long to make up her mind.
"Does it not strike you as a little bit ironic that she wants to go to TRU, the place where she met the charges, to speak to the very topic the charges flow from?" Frame asked.
"What I find ironic is the commitment TRU espouses given their position now," Killoran replied. "They themselves talk about being on unceded Secwépemc territory."
Frame dismissed Manuel's application.
"The university doesn't want her there and they have the right to stand by that position," Frame said.
Speakers expected to attend the conference on Saturday include broadcaster and filmmaker Avi Lewis and First Nations lawyer and activist Pam Palmater.
Manuel is the sister of Kanhaus Manuel, a leader of the Tiny House Warrior movement — a group of First Nations activists opposed to the Trans Mountain pipeline expansion crossing Secwépemc territory. The group has constructed a number of tiny houses it plans to place along the pipeline route as a means of protest.
Manuel and her two co-accused, Chantel Manuel and Isha Jules, are slated to stand trial in November on charges of mischief under $5,000, assault and causing a disturbance stemming from the December 2018 protest on TRU's campus.