Some creativity, a drive to help the community and having the right tools have put Kamloops Makerspace in a good spot to help out during the COVID-19 pandemic.
The non-profit society has about a half-dozen of its members working to produce face shields, an important piece of personal protective equipment (PPE) to prevent the spread of the novel coronavirus.
"We've made a couple thousand," Kamloops Makerspace co-founder Nicholas Adams said. "Our plan is to get as many out there as possible. Our main bottleneck right now is just material."
Makerspace members began experimenting with face shield production after the manufacturer of its 3D printer, Prusa, made a blueprint file available and encouraged people to print it to help supply frontline workers.
They also began experimenting with a file from Jody Mitchell of Filaprint in Logan Lake, who had undertaken a similar venture.
But then, Adams said, they realized another tool at their disposal could produce face shields for local doctors, nurses and other health-care workers much quicker.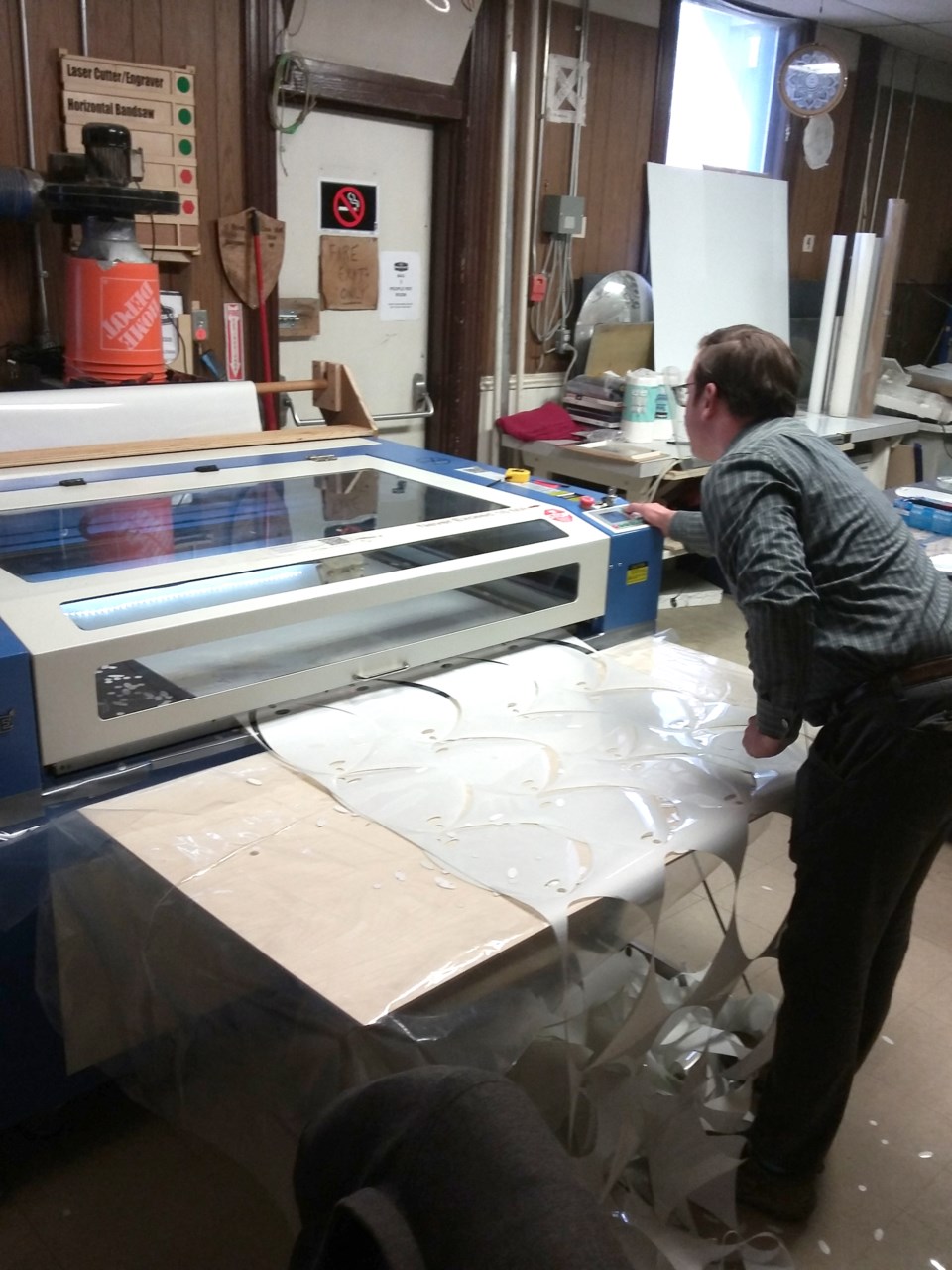 With a 3D printer, he said, they can produce about two face shields per hour, but by using their laser cutter, they can produce one face shield every five to eight seconds, thanks to a feeder system developed by Adams.
Kamloops artist and Makerspace member Vaughn Warren designed the shield with feedback from staff at Royal Inland Hospital, adapting the design to fit onto a pair of glasses.
"We've gone through a few different styles, working with them, to figure out what works really well," Adams said.
The face shields are a simple, adaptive design that allows anyone with a pair of glasses — including safety glasses, sunglasses, prescription glasses or even glasses without lenses — to fit the face shield onto the arms of their frames.
Helping with the design was Dr. Bill Stinson, who has been putting the shield to use in the emergency room at Royal Inland Hospital, Warren said.
Adams said right now, the only limitation Makerspace is facing is available material.
"We can use a few different plastics, limited by what the plastic off-gasses. PET, PETG, mylar, acetate are what we're using and, really, whatever we can find," Adams said, noting that right now, there is a plastic shortage in the province due to everyone trying to produce similar shields.
Material thus far has come from "generous community support," Adams said, as well as a donation from the provincial government, which gave Makerspace some materials it no longer uses.
Even printer transparencies would work, Adams said, encouraging anyone with any type of clear, light plastic to contact Makerspace and donate.
"We have a lot of creative, dedicated people trying to work on this as a team," he said.
For now, face shields are not available to the general public and won't be until Makerspace can produce an excess of demand — which Adams said is in the tens of thousands.
"Once we can feed RIH and Interior Health for their needs, we'll get these out to all the essential frontline workers, [like] people in grocery stores — really, the people keeping us going right now. We want to get this on as many people as we can," he said.
Kamloops Makerspace also needs large Ziploc bags, used for packaging and transferring the materials to hospitals.
Anyone with materials or supplies to donate can contact Kamloops Makerspace by email at covidresponse@kamloopsmakerspace.com.
SCORPION STEPS UP
Scorpion Technologies, a firm on Laval Crescent in Sougthate, is also making re-suable face shields for use by those in the health-care field.
Contact the company through this link.