Kamloops Mayor Reid Hamer-Jackson has shaken up membership of council committees he created just three months ago, removing several councillors from their chair positions and replacing them with members of the community.
Nine residents have been added to the five committees, including two — Darpan Sharma and Randy Sunderman — who staged unsuccessful runs for council in last October's civic election.
KTW has received a copy of the new committee appointments. Each of the five committees has met only once since the Oct. 15 election.
Hamer-Jackson has removed Coun. Kelly Hall as chair of the community and protective services committee, replacing him with Bud Smith, the former Social Credit MLA for Kamloops and former attorney general of B.C.
Hamer-Jackson also added Brandon Coyle to the committee. Coyle owns Bailey's Pub and is a friend of Hamer-Jackson's. Left on the committee are councillors Katie Neustaeter and alternate Stephen Karpuk.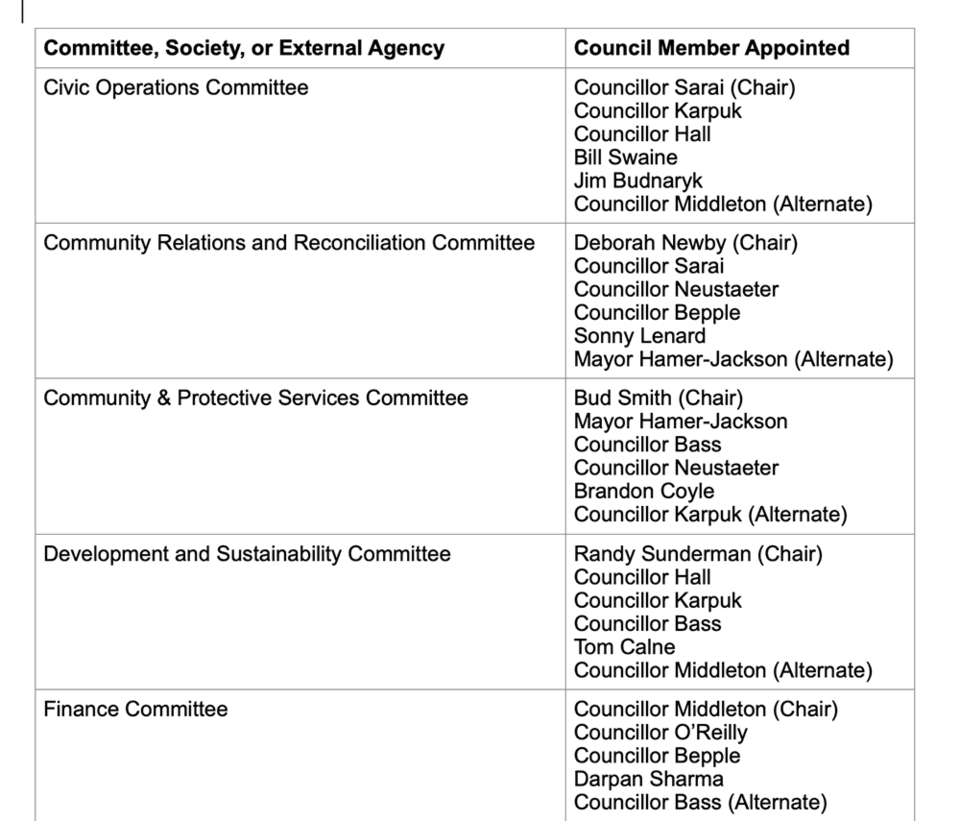 On the community relations and reconciliation committee, Hamer-Jackson has removed Coun. Bill Sarai as chair and installed Deborah Newby as chair. Sarai has been demoted to committee member. Former Tk'emlúps te Secwepemc councillor Sonny Leonard, a friend of Hamer-Jackson's has also been appointed to the committee, which also includes councillors Nancy Bepple, Hall and Neustateter, with the mayor as an alternate.
On the development and sustainability committee, the mayor has removed chair Coun. Mike O'Reilly, replacing him with Sunderman, who is president of the Kamloops Voters Society. Hamer-Jackson has left councillor appointees Bass and Karpuk on the committee and added Canadian Home Builders' Association Central Interior president Tom Calne. O'Reilly has been removed from the committee and replaced with Coun. Hall.
To the civic operations committee Hamer-Jackson has added community members Bill Swaine with Emil Anderson Construction and former City of Kamloops employee Jim Budnaryk, while on finance he added Sharma, who was vocal on the campaign trail about council spending. Existing council members and chairs remain the same for those two committees.
Under the Community Charter, the provincial legislation that governs how municipalities operate, non-council members are allowed to be appointed to standing committees, as long as at least half of the committee members are council members. Only the mayor has the power to create standing committees and appoint members. According to the Community Charter, standing committees are created by the mayor "for matters the mayor considers would be better dealt with by committee."
However, council can establish select committees and appoint members, as long as each select committee includes at least one member of council. According to the Community Charter, select committee are formed to "consider or inquire into any matter and to report its findings and opinion to the council."
The mayor has had well-documented spats with at least a couple of members of council — Hall and Bass.
Hall recently criticized a notice of motion Hamer-Jackson introduced regarding adding outreach workers to city streets. The motion was defeated by a vote of 8-1, with Hall arguing it lacked research and depth. Hall also called on the mayor to collaborate with his fellow council members.
Bass and Hamer-Jackson have been at odds since a comment the incumbent councillor made during the last term, when Hamer-Jackson pitched a recovery centre idea to the previous council. Bass equated the idea to that of a concentration camp and the new mayor has been vocal about his displeasure with the comment ever since.
At the recent March 14 council meeting, Bass asked Hamer-Jackson to clarify whether he was serious when he proposed building a homeless shelter in Dallas, which is where Bass resides. He told her at the meeting he was, in fact, serious, but during KTW's March 15 Kamloops Last Week webcast/podcast, Hamer-Jackson said his remark was, in fact, flippant.
Hamer-Jackson also conceded to Kamloops Last Week co-hosts Marty Hastings and Christopher Foulds that there is ongoing "drama" between himself and members of council, while councillors have expressed frustration to this newspaper with the mayor's lack of teamwork with them.