Kamloops Mayor Ken Christian is speaking about the spending issue at the Thompson Nicola Regional District, as detailed in recent KTW stories, and said he thinks the "mechanism" by which the spending occurred is at issue, via a taxpayer-funded credit card.
Christian said taxpayers can be upset, but he wants them to be upset about the right issue.
"Mr. [former TNRD CAO Sukh] Gill did not expense half-a-million dollars for his own purposes and walk away with it," Christian said. "This is about how he paid for different things that we had."
Christian pointed to successive meetings as to a reason why dining expenses would be charged by Gill on behalf of directors. In those circumstances, Christian said, it wasn't only Gill who charged the expenses, but also the TNRD's finance director, Doug Rae, or director of development Regina Sadilkova. KTW did not analyze expenses via those staffers' taxpayer-funded credit cards.
Christian said costs for dining in such cases are subsequently assigned to directors and included in the annual statement of financial information report. Christian referred to KPMG audits and the regional district's audit committee, upon which he sits. He would not comment on behalf of that committee, citing "consistency of messaging."
The TNRD has maintained the spending detailed by KTW in recent reporting occurred within policy, though policy changes have since been made. Asked, however, whether the spending was ethical, Christian said: "I think you'd have to be a bit more specific as to individual expenses," noting he did not look at KTW's expense spreadsheet chronicling five years' worth of expenses charged to Gill's credit card, published as part of KTW's investigation into regional district spending.
"Some people would say that going for coffee is not an expense thing. They would say that would be unethical. I would argue there may be times when it would be and there may be times that it wouldn't be," Christian said.
He said he went for coffee with Gill when the two would arrange a time to have a meeting at Caffé Motivo downtown. Christian said he would sometimes pay and Gill would sometimes pay. 
"What I didn't know was that the sometimes that they were paying for it, it was being expensed and the sometimes I was paying for it, it isn't, right?" Christian said. "You know, I drink black coffee. I'm not a cappuccino drinker or anything else. If people are upset about that, then I am guilty for those kinds of expenses."
Christian said he remembers riding his motorcycle to a Monte Creek Ranch Winery event detailed in KTW's reporting and said he wouldn't have been drinking. Christian believes a liquor store claim attached to him in Revelstoke was for a Southern Interior Local Government Association meeting. 
"I'm assuming that the TNRD had a hospitality suite, which is very often what the TNRD did, where they would invite the speakers and other delegates and stuff like that," he said. "If they had it, I can assure you I probably went and, if I was there, I probably had a beer or two beer or a glass of wine, but I think that would be a reasonable assumption.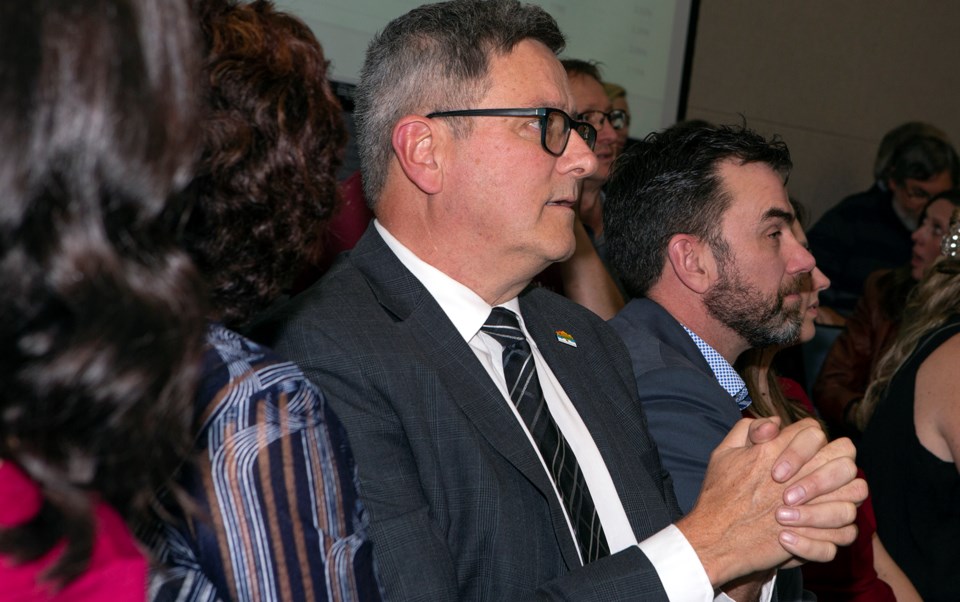 "What I did not know was that they would have stocked that room with receipts from a liquor store and that they would expense that, right? I have very often had delegates over to my room and sometimes I would buy a bottle of wine and I would pay for it and we would do the same thing. This was more on a larger scale. My share of that — and I think your report said it was $125 and there was eight of us or something, so I'm into it for $16 for a couple of beers and I'm guilty as charged. I don't deny that. Nor do I think that that was superfluous spending. Other people would. I get that. I understand that."
Christian said he believes expenses to have been small in town, but more when travel was involved. Asked then why four TNRD staffers, including Gill, were dining in 2016 at Atlas Steak and Fish as one example of high-end local spending, Christian replied: "That I do now know." 
Christian said he doesn't know Gill personally, but became acquainted with him through the IndoCan Links charity golf tournament.  
Christian conceded convention expenses in Victoria, Whistler or Vancouver were "very expensive," both for the TNRD and City of Kamloops. 
He said the only times he travelled for the TNRD was to Ottawa in 2017 and Vancouver in 2013. He said on those trips, hotels, dinners and hospitality suites were expensed. Christian suggested one policy discussion point could include how often directors attend conferences and events, perhaps limiting them via a rotation process, such as a once-per-term policy he said is in place for the Federation of Canadian Municipalities convention. 
Christian also noted out-of-town meetings held by the TNRD once per year. He said the TNRD is composed of people largely outside of Kamloops, arguing it is beneficial to get out and see issues throughout the region. 
Asked what he would say to someone who would suggest the regional district was known for lavish spending, Christian noted a culture of supporting restaurants and businesses throughout the region, as well as keeping directors up to speed on issues such as the Trans Mountain pipeline expansion project.
Christian said the regional district is different from a municipality or school district. He said he has worked for them all in four decades and similarities and differences can be found. Christian said the public is likely to deem any expense unnecessary, but he said it costs money to have people on the road conducting business.
Christian said he visits Salmon Arm for Shuswap Watershed Coalition meetings, for which he claims mileage. Lunch is provided. He attends Kelowna twice per year for the Thompson Regional Hospital District meetings and stays at the Coast Capri Hotel, which appeared to be modest accommodations when researched by KTW. Christian said rural directors have higher expenses and wages, due to travel to and from Kamloops.  
Asked, however, which institution has been the most generous during his time in public service, Christian said: "I would probably say that the TNRD is, but again, it's a different kind of thing, in terms of the makeup of the TNRD and the function that they have."
Meanwhile, a Thompson Rivers University political science professor is questioning the way politicians are defending the spending revelations detailed by this newspaper. 
"In this day and age, under these financial circumstances, economic circumstances, I think people who don't take seriously people spending lavishly — even if it's legal — when it's taxpayers money, there's no tolerance for that," Derek Cook said. 
Cook specifically pointed to comments made by Kamloops Coun. and TNRD director Arjun Singh about the spending. Cook noted Singh's background as one of affluence and questioned whether the city councillor realizes the significance of such spending. He called Singh's comments about the legality of the expenses "tone deaf."
Singh told Castanet Kamloops that much of Gill's work made it necessary for him to travel around the region, having coffee or meals with people.
Singh said dinners and Christmas parties were "money well spent.
"We're a 26-member board," Singh told the website. "Building relationships is quite important. That's always been useful for me to have that kind of relationships with my colleagues. You look at it in retrospect, we tightened the policy, and now we move forward. But I don't think Mr. Gill was at massive fault here. He was running the organization based on past practices and past presidents from other CAOs, and he tried to treat people well."
"I think he just dug a hole for himself," Cook said. "Because everybody knows he wants to be mayor and the election is in the fall [of 2022]. I think other candidates now have a better chance."
Cook suggested the issue of public money will be front and centre in the next municipal election, especially given the steady increase in taxes annually. 
"For some people, that creates difficulties," Cook said.
TNRD to hold press conference on spending issue
The Thompson-Nicola Regional District has scheduled a press conference via Zoom on Monday, March 1, at 11 a.m. A release states TNRD board chair Ken Gillis "will provide a statement on the recent news coverage surrounding spending at the TNRD."