Kamloops MLAs described an unnerving morning in Victoria on Tuesday as protesters stopped provincial politicians from restarting the legislature's spring session by physically blockading the entrances to the capital building.
Kamloops-South Thompson MLA Todd Stone and Kamloops-North Thompson MLA Peter Milobar were both able to gain entry to the legislature unimpeded, arriving before the situation escalated.
Milobar said he arrived to an east-wing entrance as normal without any opposition, but crowds gathered quickly after his arrival, making the entrance unaccessible.
Stone, who described accessing the building as a bit unnerving, said he arrived at about 9:15 a.m. to a crowd about five or six people deep blocking the entrance.
He said no one attempted to physically prevent him from entering the building, noting one person handed him a pamphlet to read over his morning coffee as he slowly made his way past the crowd to the door, where a security guard let him in.
The opposition BC Liberal MLAs caught up with KTW via phone on Tuesday afternoon, following a delayed speech from the throne.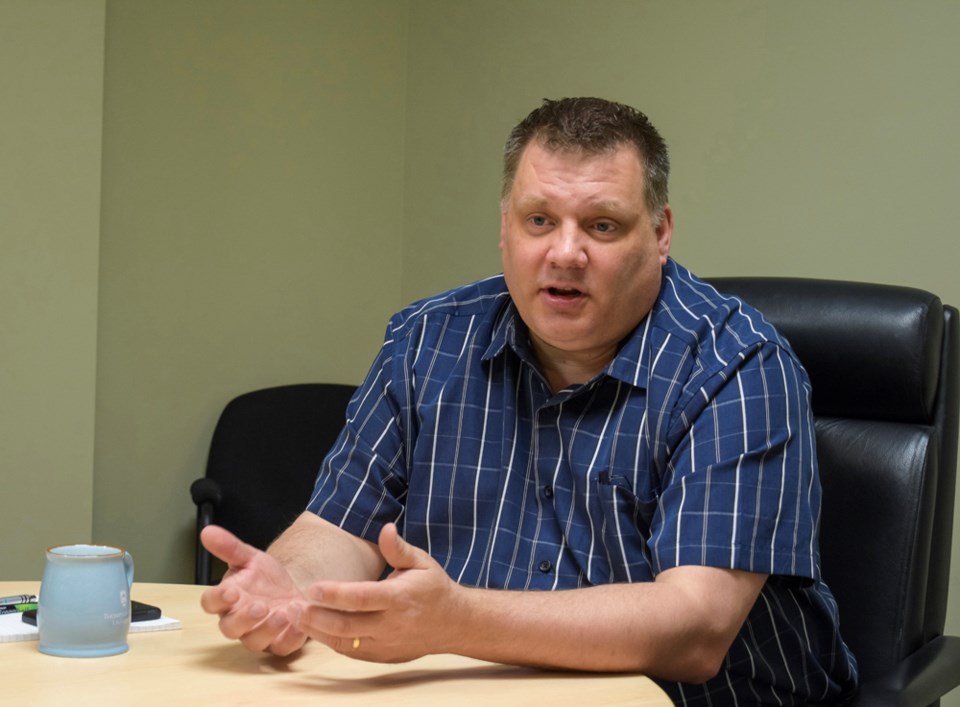 Speaking from an office at the west end of the legislature, chanting protesters outside could be heard through the phone as Milobar and Stone described their experience that morning.
The crowds gathered in support of Wet'suwet'en hereditary chiefs opposed to a natural gas Coastal GasLink pipeline in northwest B.C. Similar demonstrations have occurred in recent days on highways in Victoria and Vancouver, as well as at Vancouver's port and on rail lines in Ontario and Quebec. A similar protest was also held in Kamloops last week.
MLAs had been set to meet at 10 a.m. to prorogue the fourth session of the 41st parliament in advance of the start of a new session at 2 p.m. and the speech from the throne by Lieut.-Gov. Janet Austin.
That was cancelled and rescheduled for later in the afternoon, due to several MLAs and staff unable to enter the building. Austin herself was eventually able to enter.
Several MLAs, including Agriculture Minister Lana Popham, Jennifer Rice and Janet Routledge, were unable to enter the building from the usual side entrance, as dozens of protesters, some beating drums, yelled "shame" at passersby and linked arms to physically prevent passage into the building.
Education Minister Rob Fleming had to be pulled through a crowd by security. Protesters also blocked the media from entering or exiting the building, in some cases physically pushing back against journalists. Staff who ran the gauntlet were screamed at by the crowd.
The crowd yelled "Fight back!" and chanted "UNDRIP." At the front of the building, hundreds of protesters built a fire and set up tents on the front steps.
Milobar said Popham wasn't in attendance for the throne speech.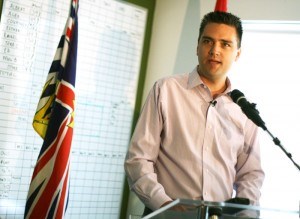 Stone and Milobar laid blame for Tuesday's blockade at the feet of Premier John Horgan, who they said had no apparent mitigation strategy for a situation they said he should have seen coming, given other recent protests. They said the premier should have been working with the Victoria Police and the city's mayor ahead of time to ensure the 87 MLAs and the broad range of people who work in the legislature had safe access to their workplace.
The Kamloops MLAs also criticized Horgan for cancelling his 3:15 p.m. media availability on Tuesday, describing it as showing a lack of leadership. 
Stone said Horgan also has an obligation to let the people of B.C. know if his government has any plan to de-escalate rising tensions and acts of civil disobedience in the days and weeks ahead.
While he cancelled his 3:15 p.m. press conference, Horgan did release a statement at about 4 p.m. in response to the protests. 
"We support people in the exercise of their democratic rights — within the law. That said, I understand the frustration of people who have been unable to go to work today, who have been unable to enter government buildings or have been unable to get around in their communities," Horgan said in the release.
"My government, represented by Scott Fraser, Minister of Indigenous Relations and Reconciliation, met on an urgent basis for two days in February in an effort to find a peaceful resolution to the impasse regarding the Coastal GasLink project. Regrettably, the talks were unsuccessful. My government continues to be available to engage with the Wet'suwet'en Hereditary Chiefs through the Wiggus Table discussions. We are also engaged in ongoing reconciliation discussions, which are focused on rights, title, self-government and self-determination. Those channels of communication remain open."
The premier went on to say that reconciliation with First Nations isn't easy and there must be continued engagement to find common ground.
"No single one of us decides what reconciliation can or should look like. It is a shared journey we are on together.
Stone said he had no comment on the nature of the protest itself, adding only that while people have a right to peaceful protest, a line is crossed when such expression of dissent makes people feel their personal safety is threatened and British Columbians are prevented from accessing key infrastructure in their province.
Milobar said he faults the premier for allowing the situation to escalate to the tactics used on Tuesday.
"The premier has been nowhere in this file in any meaningful way," Milobar said.
Asked for their thoughts on the protesters' point of view, Stone said the courts have already ruled in favour of the Coastal GasLink project being able to move forward.
"What gets lost in this entire discussion is all 20 elected chiefs of the Wet'suwet'en Nation — all 20 — have signed on with this pipeline project," Stone said. "They have all signed advantage agreements, they have the overwhelming support of the people who actually live in their communities, who have elected them to represent them, and their voices don't seem to matter as much as some other voices do. And so it's time for the John Horgan government to enforce the law and enforce the court orders."
Beyond that, Stone said, the premier needs to reach out to the Wet'suwet'en and other First Nations leaders across the province to solicit more discussion and consultation regarding their concerns. 
As for the throne speech itself, Stone said it was devoid of anything new, noting the annual speeches typically outline a vision of where the government wants to take the province in the coming year.
Stone summed up Tuesday's speech as a "laundry list" of past accomplishments the NDP government may want to focus on in an election campaign and laying blame for issues on the previous B.C. Liberal government.
"It's inexcusable that it took 35 minutes of that speech before the word forestry was used," Stone said, noting the speech was devoid of anything forthcoming on that file, which has seen many mills closed or curtailed.