An occasional roundup of 2022 municipal election coverage, comments and quirks:
• Taj Sandur, a 33-year-old realtor and councillor candidate, said he was surprised as a newcomer to politics that running for council would be so political. During the campaign, Sandur said, he has encountered many who have a lot to gain or lose trying to push agendas. "The alliances and strategic planning and things caught me off guard," Sandur said, noting he had no aspirations in the past to run for political office and that he is working to represent a younger generation.
• The Kamloops and District Labour Council has endorsed Sadie Hunter for mayor, Dale Bass, Daphane Nelson, Katie Neustaeter, Jesse Ritcey, Taj Sandur, Bill Sarai and Randy Sunderman for councillors and Heather Grieve, Cole Hickson, Jo Kang and Kathleen Karpuk for schol trustees.
• Councillor candidate Kelly Hall has been endorsed by Dino Bernardo, Norm Daley, Dan Hines, Tara Holmes, Terry Lake and Henry Small.
• The Canadian Home Builders' Association Central Interior is urging voters to choose a city council that supports zoning changes and is pro-development. The organization, which represents the building community, is lobbying for streamlined approvals processes and policy that allows two to four family dwellings on one plot.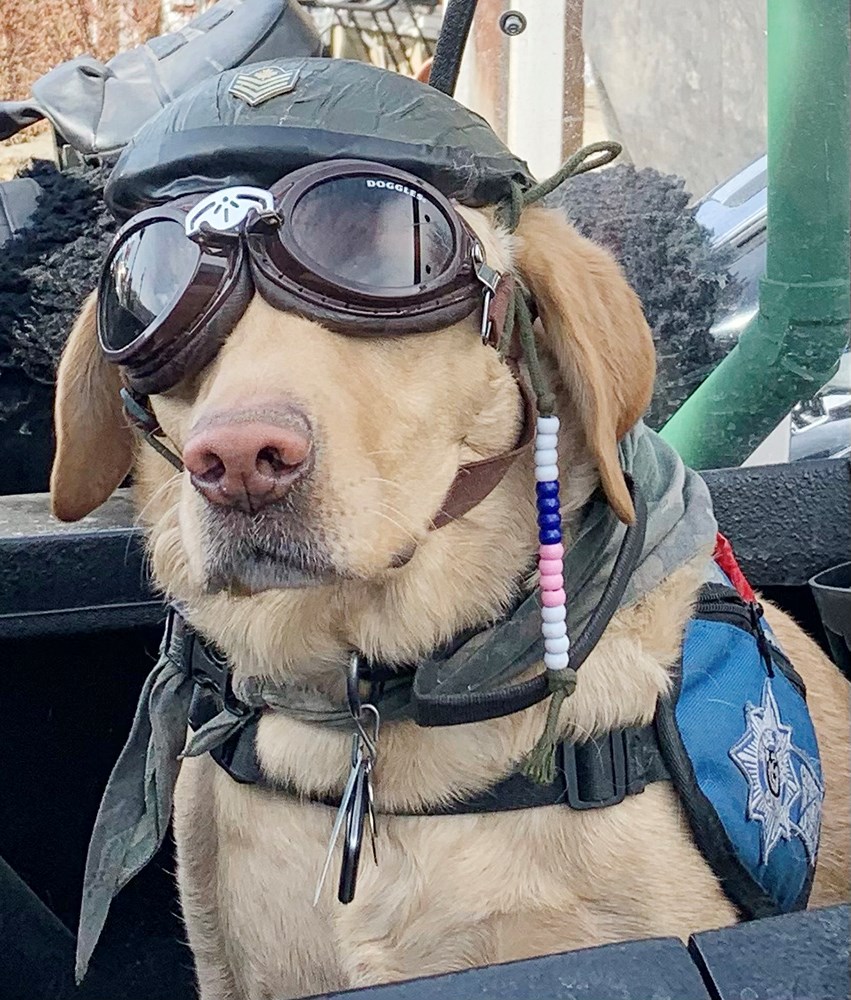 • Councillor candidate George Dersch is a 73-year-old veteran who hopes, if his election bid is successful, to bring his PTSD service dog, Sgt. Pip, to council chambers. Sgt. Pip rides in Dersch's sidecar on his Harley Davidson motorcycle.
• Katie Neustaeter said she has been encouraged by the tone of the election campaign thus far. She said she is encouraged by a sense of hopefulness as society exits a global pandemic. "There is hope on the wind and that, I think with a cohesive council, we can begin to get some really important things done."
• Councillor candidate Jesse Ritcey said campaign finance reform has come a long way, but he has noticed that candidates with connections to money, business and development have an easier time putting up signs and spending on advertising. "It does create a bit of an unlevel playing field still," he said. Ritcey said elections are won by name recognition and he looks forward to media forums, during which he said candidates will have a more level playing field.
• Councillor candidate Nancy Bepple said after knocking on more than 500 doors all around the city, street-related issues has emerged as the dominant concern among Kamloops residents. "It's by far the biggest issue that's come up," she said. Bepple said she has lost a friend, two colleagues, a colleague's son, a friend's two sons and another friend's brother to overdoses. She also recently promoted free naloxone kits being handed out by Interior Health at the Kamloops Regional Farmers' Market.
• Campaign financing rules, which set limits on how much a candidate can spend during the campaign period — Sept. 17 to Oct. 15 — are set out by Elections BC. Campaign limits are set based on the office and area population. In Kamloops, mayoral candidates can spend up to $67,295.77 and councillor candidates can spend a maximum of $34,080.90. In the 2018 civic election, Ken Christian spent about a buck a vote ($17,190 for his 17,330 votes) en route to occupying the mayor's chair, while councillor candidates Mike O'Reilly spent the most ($23,280) and Ray Dhaliwal spent the least ($200). O'Reilly was elected and Dhaliwal was not.
• Former city councillor Tina Lange weighed in on the election campaign on CBC Kamloops recently, telling host Shelley Joyce she thinks the mayoral race — which includes five candidates — comes down to the three incumbent councillors on the ballot: Dieter Dudy, Sadie Hunter and Arjun Singh. Lange said Singh has received the most votes in the past, is well-loved and has been involved in the Union of BC Municipalities. She said Dudy has "got the Liberal campaign machine behind him" and noted Hunter is the "dark horse." "I see it as a three-person race," Lange said.
• Councillor candidate Dale Bass posted on her campaign Facebook page that an echo chamber is claiming businesses are fleeing and the North Shore is dying. She said she has recently served as acting mayor at four new business openings in the area, including a new bakery, bistro and the Yew Street Food Hub. "That echo chamber needs to get out and see the great things happening," Bass said.
• Some rural communities in the region will acclaim mayors due to no challengers stepping up to face the incumbents. Among those being acclaimed as mayor are Al Raine in Sun Peaks, Ward Stamer in Barriere and Barbara Roden in Ashcroft. In School District 73, 10 candidates are seeking five City of Kamloops trustee seats, while the remaining four school board seats will see incumbent rural trustees acclaimed, as they have no challengers. These include Diane Jules in the Chase area, Rhonda Kershaw in the Barriere area, Cara McKelvey in the Savona area and Shelley Sim in the Clearwater area. Four Thompson-Nicola Regional District directors have been acclaimed due to no challengers: Herb Graham in Electoral Area N (Nicola Valley South), Jill Hayward in Electoral Area O (Lower Thompson), David Laird in Electoral Area M (Nicola Valley North) and Lee Onslow in Electoral Area B (Thompson Headwaters).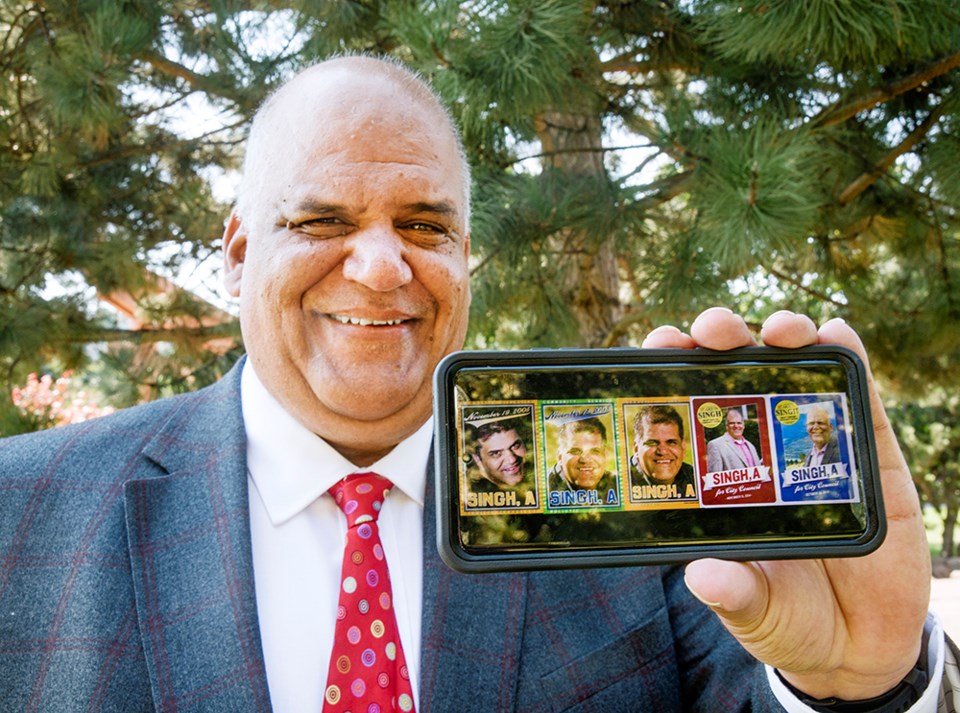 • Mayoral candidate Arjun Singh said he did not order any new signs for this year's civic election. He said he designed his signs in the past with decals so they could be used for runs for councillor and mayor. Singh said his oldest campaign sign is 17 years old and the majority are at least eight years old. He has also been using election campaign headshots over the years to create campaign cards that resemble hockey and baseball cards. Dating back to 2005, the headshots show how Singh has changed during his time on council. On the back is information about the candidate.
• Residents can register to vote by mail in the civic election. To do so, go online to https://www.kamloops.ca/form/request-for-mail-ballot. Ballots will not be mailed out if applications are received after 11:59 p.m. on Sunday, Oct. 2. General voting day is Saturday, Oct. 15.
• An informal councillor candidate coalition, consisting of Dennis Giesbrecht, Caroline King and Darpan Sharma, is criticizing the city's handling of the new community services department. The candidates argue other communities kept their existing bylaws officers while adding a community services branch. The city is currently in a legal battle with CUPE 900 over the issue, with an arbitrator set to hand down a ruling later this fall.
• Councillor candidate Darrell LaRiviere has been vocal on social media about transportation. He has criticized regular and Sunday transit service and suggested an initiative out of South Korea, in which solar panels line the centre of a highway covering a bicycle path, could be replicated in Kamloops.
• Councillor candidate Stephen Karpuk has proposed on his website building a performing-arts centre or multipurpose centre at Thompson Rivers University. Karpuk's idea includes co-managing the building with the university and designing it as a teaching facility in conjunction with the theatre arts and trades programs. He said the university has transit access and parking, the latter being empty in the evenings.