The KTW Christmas Cheer Fund is back, with readers of Kamloops This Week helping us help the community.
Money raised in the Cheer Fund will be distributed equally to the Y Women's Emergency Shelter, Kamloops Therapeutic Riding Association, Kamloops Brain Injury Association, Chris Rose Therapy Centre for Autism and the BC SPCA.
One of the philanthropic clubs that has been donating significantly to the Cheer Fund is the Free Radicals Hockey Club. It's become a Christmas tradition to give to the community for guys who play pick-up hockey games on Tuesdays and Thursdays, with the alumni group hitting the ice on Wednesdays and Fridays.
Longtime Free Radical Kelly Shantz dropped by the KTW office with a cheque for $8,657 to the Cheer fund. Since 2011, the Radicals have raised more than $94,000 for the cause.
"We're are a bunch of like-minded, like-spirited, community guys," Shantz said, noting some of the new hockey players and those on the spare list rallied to donate to the Cheer Fund this year.
"The percentage of guys who contribute and contribute generously is always really, really high — even the new guys," Shantz said. "There's just that kind of spirit that seems to emanate from recruiting the right people."
Since the pandemic restrictions ended, the Radicals are back to their regular ice times.
The Free Radicals also support a number of other causes, including Kamloops Minor Hockey Association's Night of Champions, United Way, First Nations Capacity Fund, Kamloops Youth Soccer Association, Alzheimer Society of B.C., Kamloops Hospice Association and Special Olympics BC.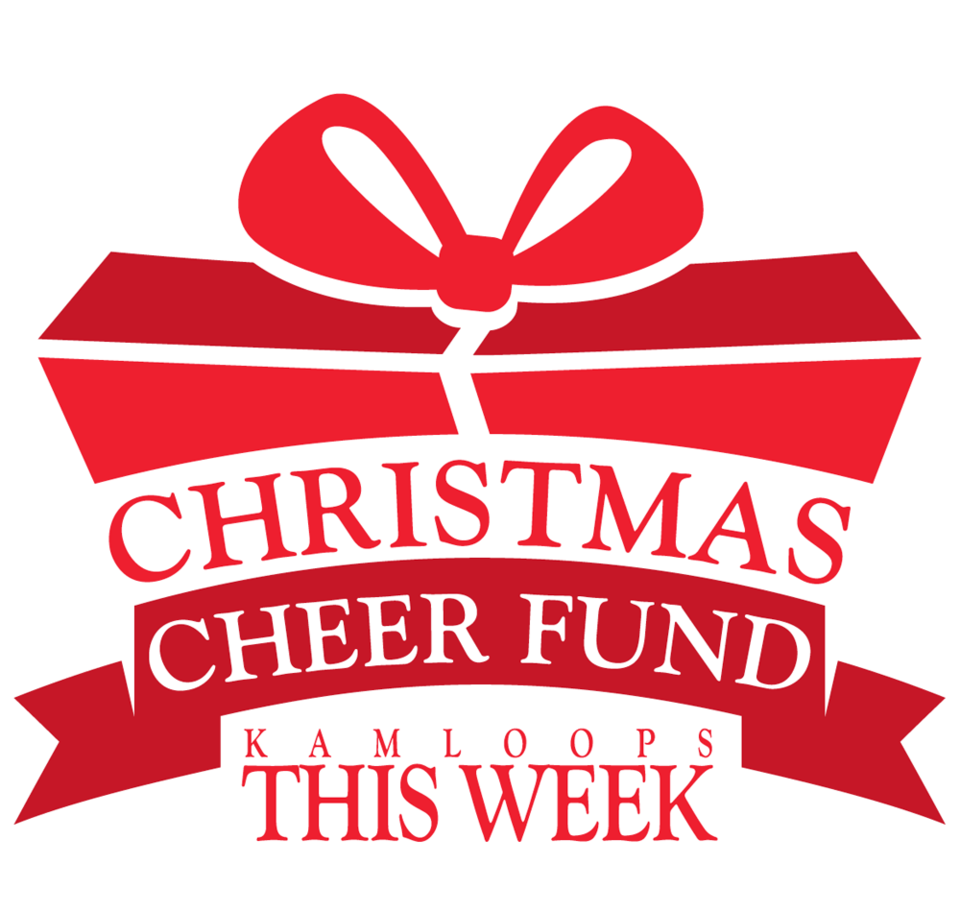 To donate, click on the KTW Christmas Cheer Fund logo on the kamloopsthisweek.com website or go online to bcicf.ca/kamloops-this-week-christmas-cheer-fund. Donations are accepted online thanks to a partnership with the BC Interior Community Foundation. Donations can also be dropped off at the KTW office, at 1365B Dalhousie Dr. Office hours are 8 a.m. to 4:30 p.m. weekdays. Cheques should be made out to the BC Interior Community Foundation.
THANK YOU, DONORS!

• BC Old-Time Fiddlers Kamloops branch: $100
• IG Wealth Management: $1,402
• Donald & Kathleen Gienow: $50
• Nel Sarrasin, in
memory of Gordon Sarrasin: $100
• Susan & Ron Durant: $100
• John & Val Kemp: $100
• Greg Harris: $50
• Simone Werstiuk, in memory of brother Carmen Werstiuk: $50
• Kim & Andrew Cooper: $150
• IG Wealth Management/Chris Nagle: $500
• Cal & Pat Moulton: $100
• Richard & Terry Taylor: $100
• Nolan Pastoor Real Estate Corporation: $1,500
• Sharlene & Darren McIlwain: $158
• Margaret Sandulak: $100
• Sarb & Kam Chattu: $100
• Anonymous, in memory of Rose Goar: $50
• Anonymous: $50
• Ed & Dianne Barker: $250
• Anonymous: $50
• Abacus Gardening & Landscaping: $1,000
• Dianne Jackson: $50
• Spencer & Janet Bryson: $200
• Vic & Sally Mowbray: $150
• Jo-Mary & Bob Hunter: $200
• Barbara Eagle: $40
• Jerry & Wendy Patrick: $100
• Wendy Dickson, in memory of Peter Basson & John Healy: $50
• Anonymous, in memory of Dave & Sandy: $100
• Barbara Caswell: $75
• Lorna McMillan & Robin Johnson: $75
• Sharon Moore, in memory of Tom Moore: $100
• Anonymous: $100
• Silvia Olson: $100
• Lynne Totten: $100
• Rick Bennett: $50
• Bea Smith: $50
• Amanda Fenrich, in memory of husband Adam: $100
• Linda Jackson, in memory of George E. Wilmot: $100
• Doris Finlay: $20
• Ian & Margaret Stewart: $100
• Amy Regan: $100
• Teresa & Colman Byrne: $200
• Harriett Chave: $100
• Anonymous: $1,000
• Brenda Fennell: $500
• Mary Dobrovolny: $25
• Shirley Holmes: $50
• Don Whyte & Gail Cameron: $200
• Sharon Cooley: $50, in memory of Ruth Cooley
• Gerry Saunders: $200, in memory of Peter Baron
• Heather & Bingley: $50
• Anonymous: $200
• Marie & Norio Sakaki: $100
• Lois Hollstedt: $250
• Maggie Campbell: $100, in memory of Don
• Mel & Wilda Bronken: $100
• Patricia Hanson: $100
• Shirley Ross: $100
• Sally & Bill Jennejohn: $100
• Anonymous: $100
• Chris Nagle: $100
• Jacques Lamb: $50
• IG Wealth Management: $200
• Linda Rollins: $100
• Rick & Judy Collinge: $100
• Nora Berkhout: $500
• Frances Higginson: $25
• Anonymous: $100
• Twyla-Lea Jensen: $25
• Anonymous, in memory of Peter Howard & Harold Bedard
• Anonymous: $100
• Anonymous: $100
• Debbie Fransen: $100, celebrating new grandson Fletcher, love Harm and Deb
• Tiernan Buchan: $100
• Irene Buckle: $200, in memory of Edyn & Mykel Rothenburger
• David Whitson: $100
• Anonymous: $250
• Marg & Terry Bangen: $20
• Rob & Joyce Buchanan: $100
• Kathy Kendall: $200
• Sue Turner: $200
• Sue & Darren Arndt: $200
• White Wolf Wellness Counselling & Consulting/Sharon Todd: $50
• Marv & Marilyn Peterson: $100
• Anne Wade: $25
• Bea Prehara: $50
• Donna Geefs: $100
• Jean Tash: $50
• Colleen M. Stainton: $200
• Marion Kaban: $100
• Sharon Langland: $100, in memory of Sharon Frampton
• Anonymous: $100, in memory of our parents, Tom & Gloria Stout, and Muriel & Norman Cooper
• Eileen Jones: $100
• Anonymous: $100
• The Hausers: $100
• The Posse: $200
• Sheila Pierson: $100
• Kathie & Brian Andriashyk: $100, in memory of Verna Wasylnka
• The Sallis Family: $360
• Anonymous: $150
• Vic & Dorene Radmacher: $100
• Anonymous: $100
• Tivola Howe: $100, in memory of Marjorie Duck Lehrle
• Cathy Wilcox: $100
• Wayne Murphy: $50
• Don & Debbie Erickson: $100
• Sandra Blakely: $50, in memory of Harvey
• Aileen Murphy: $50
• Cathy McIntosh: $100, in memory of George & Nolan
• Anonymous: $100
• Diana Kopec: $100, in memory of Norman Kopec
• Gordon Gillespie: $100
• Nancy Stewart: $500
• Leanne Knowles: $100
• Kelsey Boudreau: $100
• Andrea Ciccone: $48
• Anonymous: $100
• Vic & Bev Poleschuk: $100
• Kathleen Ayotte: $100
• Pat & Dave McDonald: $100
• Noreen Dorais: $200
• Kathy Michell: $100
• Glennis Davidson-White: $50
• Anonymous: $100
• Yamilka Zienowicz: $25
• Pat Davies: $200, in memory of husband Bill Davies and grandson
T.J. Finnen
• Anonymous: $100
• Dale & Noeline Kerr: $100
•Timm & Ruth Kitchur: $100
• Precious Pets Grooming Salon: $100
• Anonymous: $500
• Roy Simmonds: $50
• Anonymous: $100
• Peter & Jo Ann Hall: $500
• Antonio Kirwin: $25
• Family Law: $100, in honour of Sheriff Mark
• Teresa & Kevin Wallace: $500
• David Page: $1,000
• Judy Edwards: $25
• Theresa Mueller: $100
• Anonymous: $100
• Anonymous: $25
• Sharon & Alan Dodd: $100
• Tina Lange-Henzler: $50
• Evan & Wendy Lichlyter: $100
• Cathy Newman: $50
• Tanya Giles: $25
• Gary & Carol Bacon: $100
• Anonymous: $50
• Anonymous: $100
• The Hanes Family: $200, in memory of Brett & Bob
• Diana Christianson: 2,000, in memory of Ingmar & Eileen Christianson
• St. John Vianney Bridge Club: $350
• Anonymous: $1,000
• Marg Holley: $50
• Cassie Koroll: $100
• Bev Turner: $40
• Linda Dunkley: $200, in memory of Douglas
• Linda L. Inglis: $100
• Arthur & Myrna Bepple: $100
• Gwen Watson & Gordon Harris: $400
• Luella Doyon, in memory of Mike & Lou: $100
• Anonymous: $100
• Wayne Houston: $25, in memory of Devon Blackmore
• Anonymous: $100
• Anonymous: $20
• Davina Neve: $50
• Anonymous: $100
• Rosemary Anderson: $100
• Anonymous: $500
• Marilyn K. Bartlett: $300, in memory of Magnus Wydenes & Kris Bush
• Ruth Konrad: $100, in memory of Al & Joan Crofts
• Maureen Hove: $100
• Preceptor Delta Beta Sigma Phi: $100
• Mavis Paravantes: $200, in memory of Ted
• Barbara & Ronald Oyler: $100
• Anonymous: $100
• Verita Van Diemen: $500
• D. & G. Swannell: $100
• Anonymous: $100
• Bill & Pat Van Zandt: $100
• Ross & Sheri McLean: $200
• Alan & Frances Vyse: $200
• Helen Ferguson: $50, in memory of mum & brothers
• Anonymous: $50
• Anonymous: $50
• Anonymous: $100
• Kevin & Janice MacDonald: $100
• Rick & Maureen Nakashimada: $100
• Susan Peachey: $50
• Eileen & Rick Sevigny: $105
• Lorraine Nelson: $100
• Amy Elliott: $100, in honour of Sheila's Family Daycare
• Free Radicals Hockey Club: $8,657
TOTAL: $44,435