The KTW Christmas Cheer Fund is back, with readers of Kamloops This Week helping us help the community.
Charities being supported this year: Y Women's Emergency Shelter, Kamloops Brain Injury Association, Chris Rose Therapy Centre for Autism, Kamloops Therapeutic Riding Association and the Kamloops chapter of the BC SPCA.
To donate, click on the KTW Christmas Cheer Fund logo on the kamloopsthisweek.com website or go online to bcicf.ca/kamloops-this-week-christmas-cheer-fund. Donations are accepted online thanks to a partnership with the BC Interior Community Foundation. Donations can also be dropped off at the KTW office, at 1365B Dalhousie Dr. Office hours are 8 a.m. to 4:30 p.m. weekdays. Cheques should be made out to the BC Interior Community Foundation.
Here, we focus on the the Kamloops Therapeutic Riding Association, which is is reaping the benefits of its new Shuswap Road locale.
On Jan. 9, 2023, the KTRA will begin its first-ever winter session, with 10 weeks of riding that wasn't possible at its previous location near Kamloops Airport.
The organization provides therapeutic horseback riding lessons for children and adults who have physical or cognitive diagnoses.
"A lot of people ride with us to build up muscle strength, core strength, hand-eye co-ordination. We do it all through learning how to ride a horse," said Ashley Sudds, the organization's executive director.
Sudds said many of those who ride at the KTRA are on the autism spectrum and have trouble socializing and communicating. Riding presents an opportunity for people to do both, she said, needing to communicate with an animal, a volunteer and an instructor.
"For some of our adult riders, this is their only recreational activity," Sudds said. "So, not only does it get them out of the facility they live in, but they come here, they get to socialize with other people and do a beneficial activity."
The new facility features a 12-stall heated barn with a heated wash rack and a large indoor riding arena.
Sudds said being able to offer sessions over the winter is a big improvement, as consistency can make all the difference for those who attend sessions.
"Because this is a therapeutic service, it makes more sense for it to be as consistent as possible for them," Sudds said, noting even the most regular riders might see six months between rides.
The service now covers 10 months of the year, with the horses given a break in November and December.
Having received KTW Christmas Cheer Fund support for the past three years, Sudds said the help has been unexpected and very much welcomed.
"Yes, there are grants and things out there, but many grants these days are very focused on a capital project and they don't want to support operational costs or wages — and that's where organizations like ours probably struggle the most," she said.
On top of caring for the horses, Sudds said special training and professional development is required for the organization's instructors.
"I can't just take anyone off the street to teach a riding lesson to a person with a diagnosis," she said. "So, it's just nice to sometimes have funding that is not so limiting."
To donate to the Cheer Fund, click on the KTW Christmas Cheer Fund logo at www.kamloopsthisweek.com, go to bcicf.ca/
kamloops-this-week-christmas-cheer-fund or drop in to KTW's office at 1365B Dalhousie Dr., weekdays between 8 a.m. and 4:30 p.m.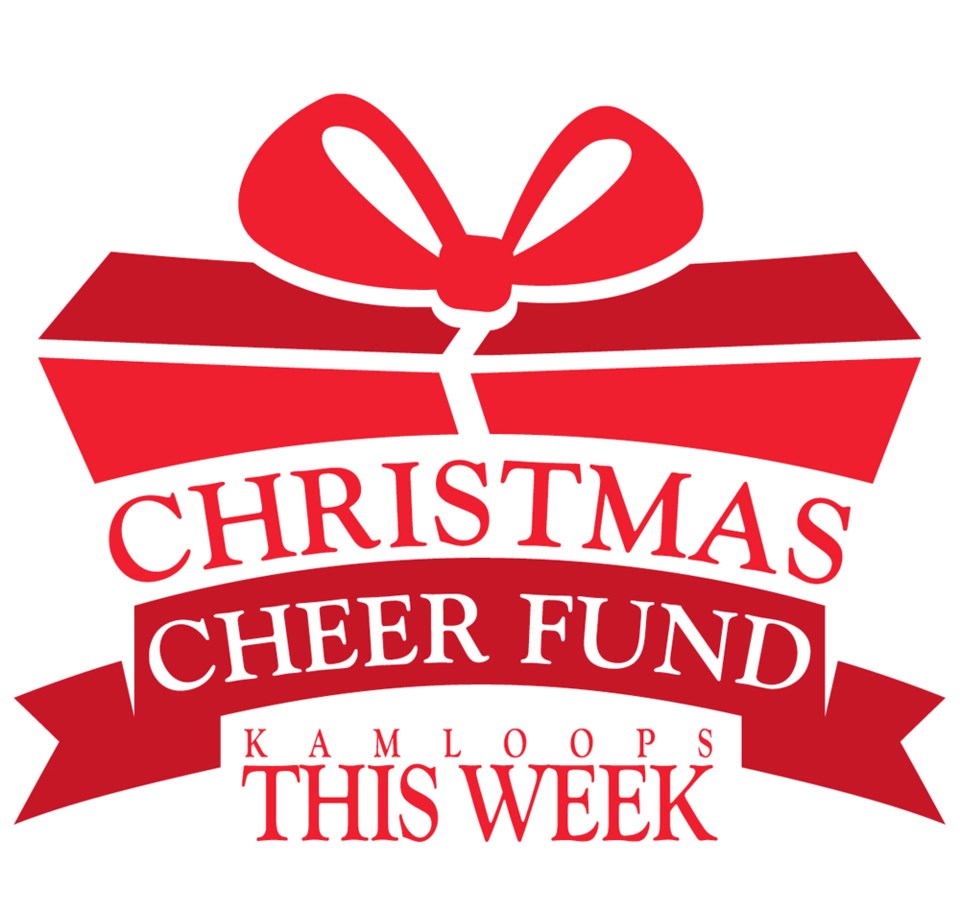 THANK YOU, DONORS!

• BC Old-Time Fiddlers Kamloops branch: $100
• IG Wealth Management: $1,402
• Donald & Kathleen Gienow: $50
• Nel Sarrasin, in
memory of Gordin Sarrasin: $100
• Susan & Ron Durant: $100
• John & Val Kemp: $100
• Greg Harris: $50
• Simone Werstiuk, in memory of brother Carmen Werstiuk: $50
• Kim & Andrew Cooper: $150
• IG Wealth Management/Chris Nagle: $500
• Cal & Pat Moulton: $100
• Richard & Terry Taylor: $100
• Nolan Pastoor Real Estate Corporation: $1,500
• Sharlene & Darren McIlwain: $158
• Margaret Sandulak: $100
Sarb & Kam Chattu: $100
• Anonymous, in memory of Rose Goar: $50
• Anonymous: $50
• Ed & Dianne Barker: $250
• Anonymous: $50
• Abacus Gardening & Landscaping: $1,000
• Dianne Jackson: $50
• Spencer & Janet Bryson: $200
• Vic & Sally Mowbray: $150
• Jo-Mary & Bob Hunter: $200
• Barbara Eagle: $40
• Jerry & Wendy Patrick: $100
• Wendy Dickson, in memory of Peter Basson & John Healy: $50
• Anonymous, in memory of Dave & Sandy: $100
• Barbara Caswell: $75
• Lorna McMillan & Robin Johnson: $75
• Sharon Moore, in memory of Tom Moore: $100
• Anonymous: $100
• Silvia Olson: $100
• Lynne Totten: $100
• Rick Bennett: $50
• Bea Smith: $50
• Amanda Fenrich, in memory of husband Adam: $100
• Linda Jackson, in memory of George E. Wilmot: $100
• Doris Finlay: $20
• Ian & Margaret Stewart: $100
• Amy Regan: $100
• Teresa & Colman Byrne: $200
• Harriett Chave: $100
• Anonymous: $1,000
• Brenda Fennell: $500
• Mary Dobrovolny: $25
• Shirley Holmes: $50
• Don Whyte & Gail Cameron: $200
• Sharon Cooley: $50, in memory of Ruth Cooley
• Gerry Saunders: $200, in memory of Peter Baron
• Heather & Bingley: $50
• Anonymous: $200
• Marie & Norio Sakaki: $100
• Lois Hollstedt: $250
• Maggie Campbell: $100, in memory of Don
• Mel & Wilda Bronken: $100
• Patricia Hanson: $100
• Shirley Ross: $100
• Sally & Bill Jennejohn: $100
• Anonymous: $100
• Chris Nagle: $100
• Jacques Lamb: $50
• IG Wealth Management: $200
• Linda Rollins: $100
• Rick & Judy Collinge: $100
• Nora Berkhout: $500
• Frances Higginson: $25
• Anonymous: $100
• Twyla-Lea Jensen: $25
• Debbie Fransen: $100, celebrating new grandson Fletcher, love Harm and Deb
• Tiernan Buchan: $100
• Irene Buckle: $200, in memory of Edyn & Mykel Rothenburger
• David Whitson: $100
• Anonymous: $250
• June & Ken Hartley: $100
• N&C Jackson Inc.: $250
• Surander Singh: $150
• Anonymous: $100, in memory of Peter Howard & Harold Bedard
• Anonymous: $50
• Jerry Neigel: $300
• Ken & Marylyne House: $100
• A&G Morrissette: $200
• Christine Gregory: $25
• Christine Gross: $200
• Marie Mudry: $100
• Terry & Nancy Stephenson: $100
• Rina Damini: $50
• Anonymous: $40
• Evelyn Meyer: $100
• Anna Evenrude: $50
• Geri McNally: $500
• Rachel Long: $100
• Louella Garner: $100, in memory of Louise Watt
• Michelle & Uncle Paul Goyer: $120
• Ken & Gladys Klepachek: $100
• Moneca Jantzen: $50
• Debra McNichol: $50
• Herbert & Phyllis Kimmel: $100
• Carolynne Miller: $100
• Beth Dye: $50
• Jay Leslie: $100
• Alan & Judy Grimes: $100
• Susan Rolston: $51.95
• Darko & Allison Filipic: $155.85
• Tish & Eric Schweizer: $103.90
TOTAL: $17,191.70