While the local charities and non-profits that are funded by the KTW Christmas Cheer Fund change every two years, there is one organization that remains on the list in perpetuity.
It is the Y Women's Emergency Shelter and its status as a legacy charity is at the request of Gregg Drinnan, the man who created the fund at the Kamloops Daily News before that newspaper closed in 2014 and the endeavour was picked up by Kamloops This Week.
Like most other local non-profits in 2020, the emergency shelter has had a challenging year due to the pandemic.
In order to follow the province's physical-distancing guidelines, shelter staff were forced to reduce the number of people who stayed in their facility.
Thankfully, they were able to maintain their total capacity by finding other sites within the community to host families.
Shelter staff have seen an increase in the number of women and children's being supported, particularly since July.
"With any crisis situation, there is an increase in a need of service for women experiencing violence," said Michele Walker, general manager of violence against women intervention and support services at the Kamloops Community YMCA-YWCA.
She called this increase in violence the shadow side of the pandemic, as it often remains unseen.
Walker said that the shelter appreciates the money that comes from the KTW Christmas Cheer Fund as it arrives without any restrictions on its use, which means funds can be directed to wherever they are most needed in a given year.
One area they had to focus on earlier this year was in setting up families with tablets and cellphones during the time when the pandemic had school buildings closed and students learning remotely, as many of the families in the shelter didn't have access to that technology.
"Being able to respond quickly to people's needs is really fantastic for us to be able to do," Walker said, which is exactly what the KTW Christmas Cheer Fund donations allows.
Walker expressed gratitude for the generosity of the Kamloops community, which has helped them to keep their operations running for years, and explained how when talking to service providers in other communities, people are always amazed at how supportive Kamloops is.
Walker expects this KTW Christmas Cheer Fund season to be no different.
"My instinct is telling me that supporting Christmas Cheer won't be any less successful than it has been in other years," she said."
For more information on the Y Women's Emergency Shelter, go online to kamloopsy.org and click on the Women's Safety tab.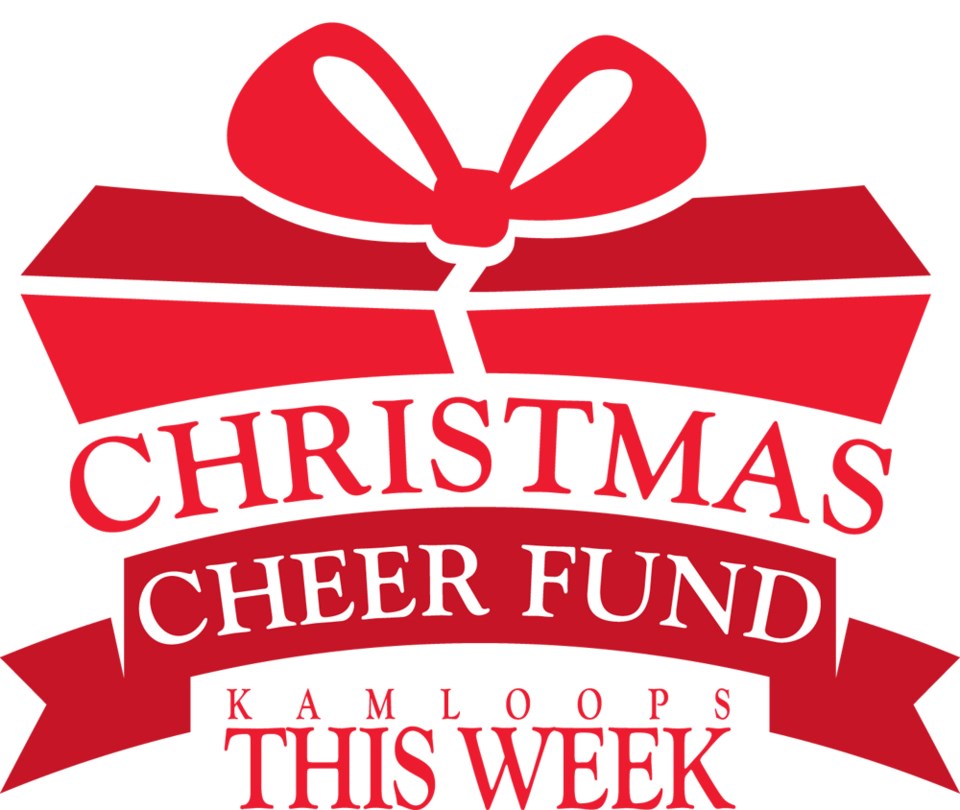 TO DONATE, GO ONLINE TO KAMLOOPSTHISWEEK.COM/CHEER OR DROP BY THE KTW OFFICE AT 1365B DALHOUSIE DR. IN SOUTHGATE (JUST SOUTH OF THE NOTRE DAME DRIVE/DALHOUSIE DRIVE INTERSECTION) WE ARE OPEN WEEKDAYS FROM 8 A.M. TO 4:30 P.M.
THANK YOU, DONORS!
Amy Berard: $25
Susan & Ron Durant: $100
Stella Frame: $100
Anonymous: $50
Anonymous: $100
Debra McNichol: $50
Anna Evenrude: $50
Anonymous: $50
Neil Sarrasin, in memory of Gordon Sarrasin: $100
Phil & Cathy Holman: $100
Canadian Tire: $200
Barb Storms: $100
Darren, Sharlene & Kyle McIlwain: $158
Greg Harris: $50
Marg & Terry Bangen: $200
John & Val Kemp: $100
Twyla-Lea Jensen: $20
Milton & Anna Marie Mankowske: $100
David Whitson: $100
Kathy Kendall: $150
Loni Hamer-Jackson: $50
Norm & Sue McGowan: $100
By donation from BBQ at VW Turtle Race: $185
Tom & Sharon Moore: $100
Gladys & Ken Klepachek: $100
Kamloops Aberdeen Lions Club: $180
Mrs. M.I. Stewart: $100
Amy Regen: $100
Old Dogs Senior Hockey: $790
Donna Geefs & Ross Styles: $100
In memory of Mary Helem: $25
Sylvia Olson: $100
Anonymous: $100
In memory of Dave & Sandy: $100
In memory of Ruth Cooley: $50
In memory of Sarah McAlary: $150
Eleanor Nicoll: $500
In memory of Stan & Jack Tash: $50
Beth Dye: $50
Anonymous: $100
Lynne Totten: $100
Peter Humphrey: $100
Michael & Maureen McInnes: $100
In honour of Josie, Libbie, Eira: $150
Louise & Ron Oyler: $100
Gerald & Wendy Patrick: $50
Caitlyn Winter, in memory of grandfather Walter: $50
Lance Weisser: $20
Tina Lange: $100
Steven & Susan Baardsen: $100
Anonymous: $100
Ken & Marylyne House: $100
Anonymous: $260
Harriett Chave: $100
Norio & Marie Sakaki: $100
Elizabeth Grice: $50
Butch & Sharon Beblow: $75
Colman & Teresa Byrne: $200
Pat Davies, in memory of husband Bill Davies: $100
The Posse: $100
Anonymous: $150
Russ & Carol Dreger: $100
The Hausers: $100
Bob & Jo-Mary Hunter: $200
Doris Finlay: $20
Lorraine & family, in memory of Noel Kirby: $100
M. Colleen Stainton: $200
Evelyn Meyer: $60
Marilyn & Marvin Peterson: $100
Graeme & Bev Hanes, in memory of Brett & Bob: $100
Sharon & Fred Persello: $50
R. Wells: $50
In memory of George Wilmot: $100
Margaret Boehler: $100
Lorraine Harper: $50
Anonymous: $100
Twink & Wayne Murphy: $50
Anonymous $100
TOTAL TO DATE: $9,193