It appears as though the Liberals have inherited the problem experienced by the New Democrats locally in the last federal election.
Like the NDP in 2019, the Kamloops-Thompson-Cariboo Liberal riding association is back to square one after the candidate the party announced as being acclaimed on Aug. 7 appears to have decided against running.
George Petel posted on his Facebook page on Wednesday (Aug. 11) that he had decided against running in the soon-to-be-called federal election and focus on his work and family. The post is viewable only by Petel's list of Facebook friends.
KTW has contacted, and is awaiting a response from, Petel, the Kamloops-Thompson-Cariboo Liberal riding association and the federal Liberal party in a bid to get more information on the situation.
For more information on the Liberal Party of Canada's nomination process, click here.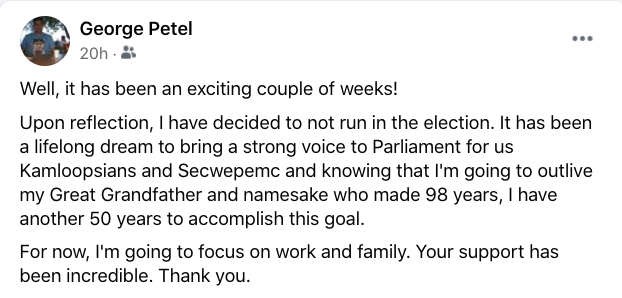 While the Liberals work to find a candidate to replace Petel, this situation is a familiar one in the local riding.
In the 2019 federal election campaign, the NDP lost two acclaimed candidates before finding a third.
Original candidate Gina Myhill-Jones of 100 Mile House was acclaimed in the spring of 2019, but quit in early August due to a death in her family. Thompson Rivers University law student Dock Currie was named candidate on Sept. 4, 2019, and asked by the federal party to step down seven days later due to comments he made online to two energy reporters during a debate on pipelines.
The current roster of local candidates include Conservative Frank Caputo (who won a four-way race for the nomination), Corally Delwo of the People's Party of Canada (who won a two-way battle for the nomination) and New Democrat Bill Sundhu (who was acclaimed on April 8).
Yet to name a candidate are the Liberal, Green and Maverick parties.
A federal election call is expected later this month.