When Trever Andrew first started developing Sewllkwe Book, a digital solution that improves water-quality monitoring and control, he had never before been involved in app development.
"You spend hours and hours and making mistakes and then ask yourself, why are you doing this?" Andrew said.
But after 14 years of research and work, Sewllkwe Book is available and already helping to make improvements in the industry.
Sewllkwe means "water" in the Secwépemc language.
Andrew, an Adams Lake resident and member of the Secwépemc (Shuswap) Nation, has worked for more than 20 years as a certified water operator. He travelled across Canada and saw many First Nations not having clean drinking water. He also found that many other communities also had poor quality drinking water and poor reporting systems.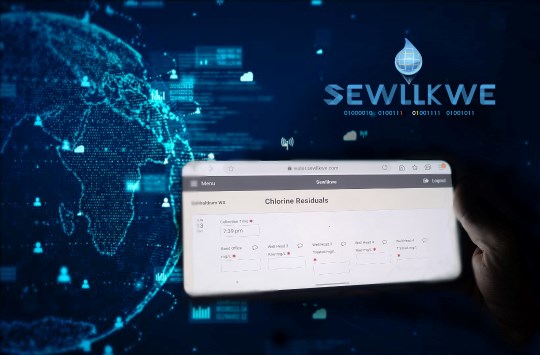 There are 1,920 water systems in the Interior Health region alone. At any given time, 500 of them may be unfit to drink without boiling or taking other measures. Many water systems have been substandard for years, including on First Nations lands.
Andrew saw firsthand the complicated nature of tracking the three phases of moving water from the source to the client: the watershed, the mechanical and the distribution plan.
"One of the problems I found was that there were no programs out there with those three programs under one umbrella," he said. "A water operator takes the raw source that's in your watershed, whether it's surface or ground, and makes it into potable, healthy water for the end user, or for the consumer."
Andrew found that tracking all the data from the three different elements was time consuming on top of the existing responsibilities he had as a water operator.
That's what inspired him to start working on Sewllkewe Book.
Sewllkewe Book is a cloud-based water and waste-water program that will run on computers, tablets and smart phones. Along with making it more efficient to enter water operation data, the software also offers analyzation and customization and a variety of built-in tools.
In tracking water systems, the app promises to help improve water quality in areas that have adopted the program.
Sewllkewe Book is being used at the Okanagan Indian Band and at Adams Lake, but Andrew is hoping to see its use expand, though it hasn't yet grown as much as he had initially hoped.
"Being an entrepreneur, I've made so many mistakes as a business owner," he said. "I thought it would take off on its own. I was naive to think that."
In 2017, Andrew was awarded the Victor M. Terry Award for excellence in operations in by the BC Water and Wastewater Association (BCWWA).
More information on Andrew's software suite can be found at sewllkweboy.com.
How Sewllkwe Book works
Sewllkwe Book is a cellular phone-based app which allows water operators to collect and monitor water and wastewater quality data and input the data into a cellular phone right from the collection site in the field. Sewllkwe Book instantly analyzes the results, creating a report identifying trends or urgent issues.
• As soon as a worker takes a water sample and enters it into the Sewllkwe Book app, Sewllkwe Book analyzes the data and generates instant reports or alerts. Real time trend reports alert operators to identify issues.
• A preventive maintenance schedule reports on trends in the data identifying where water quality may be deteriorating or where excessive water treatment is occurring.
• Can isolate problem areas within the water system so the operator knows where the issues are and where scarce resources should be allocated first to have the greatest positive impact.