The city's incoming mayor, Reid Hamer-Jackson — referred to by friends and family as "Reider" — is scrappy and packs a punch.
Perhaps it is fitting the next man to take the mayor's chair at one time was an accomplished boxer.
Hamer-Jackson delivered a knockout political punch on Saturday, defeating three council incumbents and a fourth opponent via his tenacity and persistence in raising concerns about street problems in Kamloops, first prompted by the impacts on his business on Victoria Street West.
However, as tough as he comes off, Hamer-Jackson is also described by those who know him as a family man and good neighbour who is always smiling and has a sense of compassion.
KTW spoke with friends, family and colleagues of Hamer-Jackson to get to know the city's mayor-elect.
Tyrell Hamer-Jackson, 27, described his dad as a family man and his biggest role model. Hamer-Jackson has three adult children (Hailey, Ashley and Tyrell) and is married to wife Lori, who works at Arthur Hatton elementary.
The couple raised their family in Westmount, with many relatives also living in Kamloops. The family routinely spent a month in San Jose del Cabo, Mexico, during Christmas break.
Tyrell said he was never the biggest or tallest kid, but wanted to play sports, noting his dad built his confidence and supported him.
At age 15, Tyrell wanted to play lacrosse for the senior A New Westminster Salmonbellies of the Western Lacrosse Association and Hamer-Jackson drove him twice a week, several hours each way, for practices.
Tyrell said his dad would wait at the rink and then drive him back to Kamloops, arriving home at 3 a.m. only to wake him up for school the next day.
""He said, 'If you want to play this game, that's the only way you're going to be able to do it right now,' so he'll help me do that," Tyrell Hamer-Jackson said. "He'll give me the tools — I've just got to build the house."
Tyrell now plays professionally for the Vancouver Warriors in the National Lacrosse League and can't remember a game his dad didn't attend.
"He'll come down and then he'll head back that night or whatever he's got to do to make it work, just so he can show his support," Tyrell said.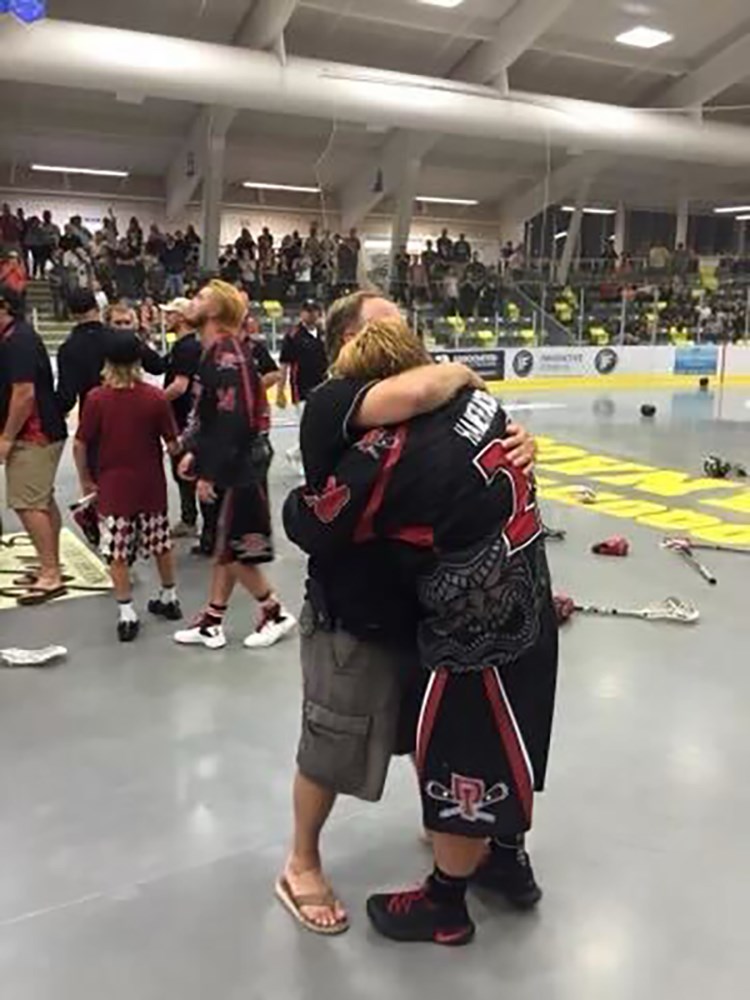 Mount Paul Golf Course owner Dan Latin's son also played for the New Westminster Salmonbellies and the dads carpooled together. Latin said they spent a lot of time travelling back and forth and became friends, riding motorcycles together on and off over the years.
"Tenacious," he said of Hamer-Jackson's nature. "When he gets onto something, he gets something on his mind and away he goes."
That was a common theme among people who spoke with KTW about Hamer-Jackson. Another friend, Bill Skene, described Hamer-Jackson as being a dog with a bone.
Skene has been friends with Hamer-Jackson for 35 years. Their boys also played hockey together and they became friends. He described Hamer-Jackson as a "straight-up guy" and recalled the two competing against one another as car salesmen working for different dealerships. They would try to get their names in the newspaper for salesman of the month. Reid was apparently pictured five years in a row.
"He'd sell anything," Skene said. "He's a hell of a salesman."
Skene recalled one occasion when the two of them raced cars on a quarter-mile racetrack that was beside Skene's workplace in an industrial area of Kamloops. Hamer-Jackson was driving a Trans-Am and Skene was driving a Camaro and they were racing with nobody else around — until the son of Skene's boss showed up and caught them. It's a story that still comes up between the two men.
"We have a few things to talk about," Skene quipped. "Not for you guys, though."
Hamer-Jackson has a penchant for stock car racing, according to a number of his friends and family.
Doogie Anderson is another of Hamer-Jackson's friends. Asked about Hamer-Jackson's hobbies and interests, Anderson said Hamer-Jackson was a "golden gloves boxing champion," a dirt-bike and ATV rider and a boater.
"He got his golden gloves," Anderson said. "It's the hierarchy. You know when you have a black belt in karate? When he was younger, it was a boxing thing. So he knows how to — he doesn't back down from anybody."
Stereo Warehouse owners Nina Johal and Mindy Sandhu have worked beside Hamer-Jackson's Tru Market Auto Sales for 30 years and described him as a good neighbour and person. Johal said the pair calls Hamer-Jackson when they feel unsafe due to street disorder in their neighbourhood, noting he shared water and electricity after a fire damaged the Stereo Warehouse building.
Johal said Hamer-Jackson is compassionate and talks to people on the streets, recalling one occasion when someone climbed onto a train behind their buildings. She said Hamer-Jackson spent 30 to 45 minutes talking the person, who was in distress, down from the train before taking them into his office to talk. On another occasion, Sandhu was threatened and the Stereo Warehouse owners phoned Hamer-Jackson.
"Before the police got here, Reid got here," Johal said. "Reid was always here any time we needed him, feeling unsafe in our store. He always comes through. It doesn't matter where he is, he'll drive down and help us out."
Added Sandhu: "If a person has a good heart, and they care, and they're compassionate, it doesn't matter what the profession is, what job they choose. If you're a good person, good all the way around and you have nothing personally to gain, I'd rather have that person run for — doesn't matter what it is."
Tyrell said Hamer-Jackson is a big Kamloops Blazers fan and is friends with the Recchi family. NHL hall-of-famer Mark Recchi endorsed Hamer-Jackson for mayor during the election campaign.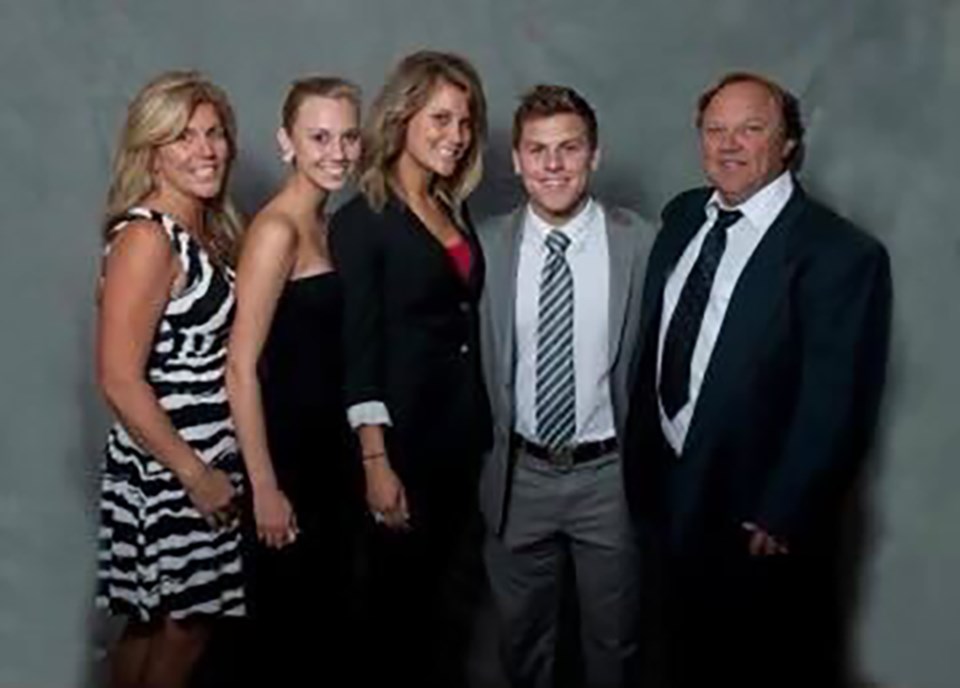 Mel Recchi — Mark Recchi's father — told KTW he knew Hamer-Jackson's father, who was a "big real estate man in Kamloops," noting he is somewhat of a second dad to Hamer-Jackson. Recchi said Hamer-Jackson comes across as a "hard guy," but pointed out he will do anything to help and has a great smile. He went so far as to describe him as a "sweet guy."
Recchi said Hamer-Jackson first told him he was running for council and Recchi encouraged him. He said he was the first person Hamer-Jackson called to tell him he was, in fact, planning to run for mayor — something that caught Recchi by surprise.
"He's going to have a challenge but, you know, he's a very bright guy," Recchi said, adding he believes Hamer-Jackson will work well with council on all issues.
"Sometimes Reid, pardon my language, seems to be a hard-ass. But he's not. He's a real softy. He's a pretty good guy. He's stubborn — but he's a pretty good guy."
Tyrell said what you see is what you get with his father. He said he suggested his dad wear a suit when running for mayor.
"He says, 'No. No, Ty, like I'm just a normal guy," Tyrell recounted. "'I'm just going to wear my clothes. I'm not going to change. Why would I change? Why would I wear a suit? I've never really worn suits.'"