One of the nine candidates vying to succeed Elizabeth May as leader of the Green Party of Canada said the party must lay unapologetic claim to the left and stick to its principles as the pandemic has unveiled to more people the stark economic inequality inherent in the present system.
Dimitri Lascaris spent about an hour on Sunday at Riverside Park, speaking to a couple of supporters — and a curious local New Democrat member — between interviews with reporters.
Lascaris joined the party in 2007 after what he called two "transformative experiences" — release of the fourth report by the Intergovernmental Panel on Climate Change that showed it is "unequivocal" that global warming is occurring and that is it bering caused overwhelmingly by human-caused emissions.
That was also the year Lascaris read Noam Chomsky's Manufacturing Consent, a book that argues acceptance of government policy by the public is a propaganda model in which the mass media select material in relation to the values of those in power.
Lascaris added that the Great Recession of 2008 and 2009 also impacted him. At the time, he was a securities class actions lawyer.
"I watched as global central banks bailed out the very financial institutions that brought the global economy to the brink of collapse, rather than assist people who had been injured by the fraud," he said. "And not one single banker was held accountable in Canada or the United States."
The only country where any banker was placed behind bars was "tiny little Iceland," Lascaris pointed out.
"Inherently competitive is just not who we are as human beings," Lascaris said as he spoke with three people — two Green members and an NDP party member who dropped by the park to ask some questions. "We actually are collaborative, co-operative and we prefer the collective good to individual power."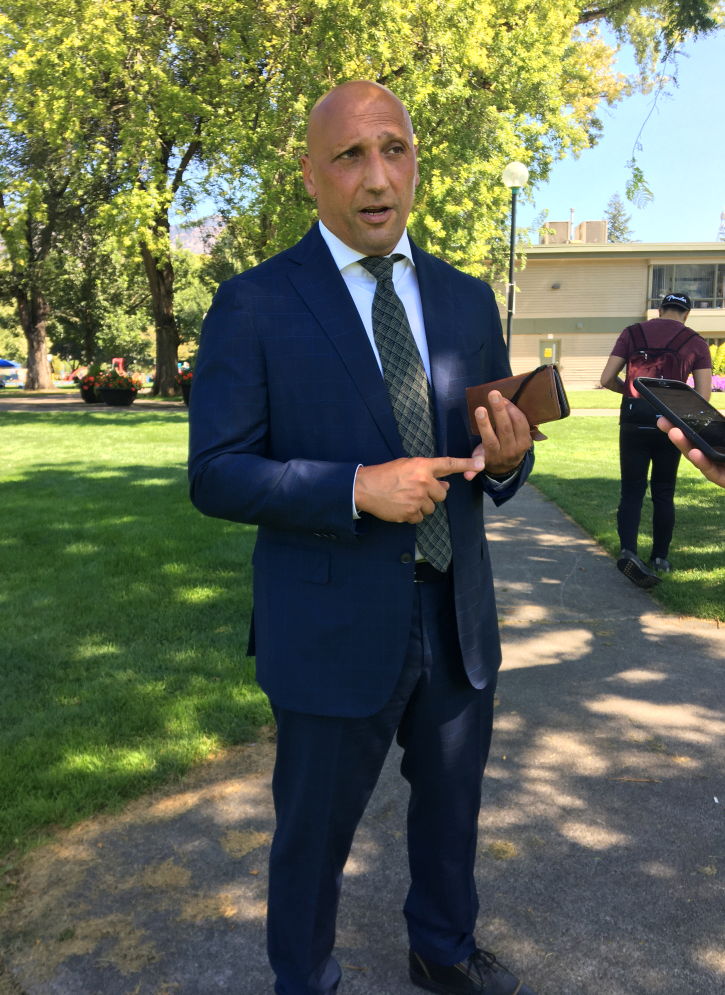 He said he joined the Greens because the six core values of the party — non-violence, sustainability, social justice, ecological wisdom, participatory democracy and respect for diversity — spoke to him.
In the 2015 federal election, Lascaris carried the Green flag in London West, finishing fourth in a field of six candidates. Prior to running for the party leadership, Lascaris was justice critic for the national party, justice critic for the Quebec Greens and had been elected to the Green council in La Belle Province.
"I really felt it was important that we have a leader who's dealt with the abuse of corporate power because that, ultimately, to my mind, is what is stopping us from making the transformational changes that we need," Lascaris said.
Lascaris, who has been endorsed by former Green leader Joan Russow (who led the party before it entered its centrist era, he noted), said he will take the party back to its roots in many ways.
"While at the same time building upon the successes of Elizabeth May in terms of developing the party into a professional and political organization — and she deserves a tremendous amount of credit for that," he said.
Lascaris said leadership in the party has, for the past 15 years, been positioning it as centrist, which he argues does not inspire people, and not only because doing so does not address the core problem of crises facing society — the economic system.
"Does it really make sense for us to be competing with the NDP, who have now moved the centre, and the Liberals?" he said. "We're going to fight with them on their own ground? That is not a winning electoral strategy."
Lascaris said the NDP has abandoned socialism, which presents a "tremendous opportunity" for the Greens.
"That's how we are going to grow the party," he said. "We made a major mistake by trying to position ourselves as a party of the centre. We should be boldly and unapologetically a party of the left."
As part of his platform, Lascaris is calling for a 75 per cent income tax for earnings over $500,000 and a 100 per cent tax on every penny of wealth over $500 million.
Workers rights, economic inequality, racial and social justice and transitioning to a sustainable economy are among Lascaris' priorities if he becomes leader. He has also been a highly visible and outspoken critic of Israel's policies toward Palestinians and had a falling out with May in 2016 when she threatened to step down as leader after the party endorsed the Boycott, Divestment and Sanctions movement, an endorsement that party later withdrew.
COVID-19 has revealed a truth
As for the pandemic and its hit to the economy, Lascaris said it has revealed to the public the "nonsense" of the current and past governments who have argued there is not enough resources to invest in a transition to a renewable energy economy.
"It's a myth," he said. "All of a sudden, the government summoned up $250 billion. Where did this money come from? We've been told for decades we had to tighten our belts. Well, that was always economic voodoo."
Lascaris noted the central banks of the world's five leading economies created trillions of dollars of currency to prop up the global financial system.
"And there was not a hint of hyper-inflation in any of those jurisdictions," he said.
About the leadership race
This is the first Green Party of Canada leadership race since 2006, when Elizabeth May was elected to head the party. She stepped down as leader in November 2019, shortly after the federal election in which the Greens sent three MPs to Ottawa — one more than was elected in 2015 — and garnered 6.5 per cent of the popular vote.
There are nine candidates seeking the party leadership: Judy Green, Meryam Haddad, Courtney Howard, Amita Kutttner, Dimitri Lascaris, David Merner, Glen Murray, Annamie Paul and Andrew West. According the the Hill Times, Lascaris, Paul and Merner are the top three fundraisers in the leadership race.
The election of the leader will use a one-member, one-vote system using a preferential ballot, with the winner being the candidate achieving a simply majority of votes. Online voting will take place from Sept. 26 to Oct. 3 and is open to all eligible voting members (those who are a member of the party as of Sept. 3 and who are at least 14 years of age as of Oct. 3.
For more information on the leadership race, go to greenparty.ca.