The Kamloops Area Preservation Association has asked the province to increase monitoring of the old Afton/proposed Ajax mine site south of Aberdeen due to "declining water quality" downstream in Peterson Creek.
The association, which opposed the Ajax copper and gold mine application, which was eventually rejected by both the federal and provincial governments, retained a hydrogeologist who determined increasing levels of elements related to mining activities, raising concern about environmental impacts, specifically on drinking water, irrigation water and wildlife.
"There's a lot of mine waste, like 50-million tonnes of mine waste, and then there's some overburden, which is low-grade ore that wasn't used, that's still stored up there," KAPA chair Paula Pick said, noting concern it is leaching into groundwater and contaminating Peterson Creek. "This is all pretty serious. … It's just not right and it could get worse."
Pick said KAPA retained Kevin Morin of Minesite Drainage Assessment Group in Surrey last year, having worked with him to review the Ajax mine environmental impact assessment application. Though the Ajax mine proposal was rejected, KAPA suspected groundwater contamination from the former Afton mine.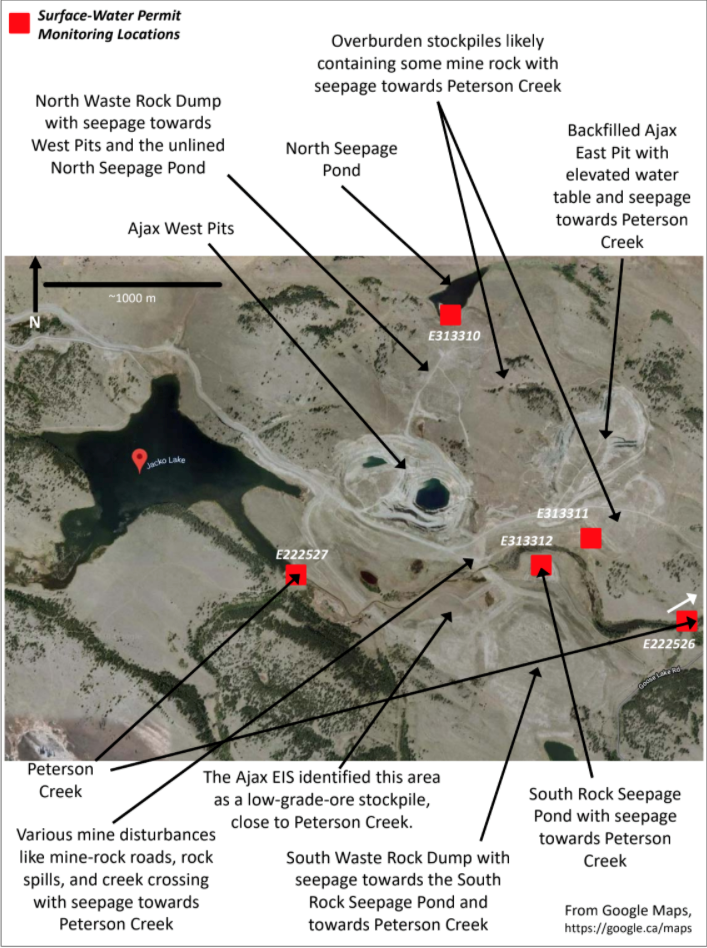 Release of Morin's report came on Sunday, Oct. 4, delayed due to the COVID-19 pandemic. Timing now is linked to the provincial election, Pick said, adding KAPA wants to get the information out during the provincial election campaign.
The association paid $4,000 for the review, which Pick said was funded by Western Mining Action Network.
Morin, who spoke to KTW by phone from Surrey, determined the old mine's permit requirements are inadequate, do not protect Peterson Creek from mine site contamination and do not explain increasing contamination of Peterson Creek by minesite-derived elements. He said B.C. had antiquated rules around groundwater protection until a few years years ago, when it introduced regulations to protect water not visible on land.
Morin said lakes and streams are connected underground through groundwater and ground and surface water cannot be separated, as they are linked. He assessed the old Afton mine permit and said it allows 25 cubic metres of mine water to seep into the ground without monitoring, despite a large aquifer beneath Peterson Creek.
He compared multiple years' worth of data submitted by Ajax owner KGHM to the province about water sampled from Jacko Lake and a few kilometres downstream.
The report noted water samples taken from Peterson Creek exceed B.C. Water Quality Guidelines for arsenic, selenium, uranium, molybdenum, copper, sulphate and nitrate.
"The water quality above the mine site, the concentrations are low and for some reason going down," Morin said. "But when you get past the mine site, the contamination of the creek is getting worse, concentrations are going up. If you have a creek that's flowing from one point to another, the only way concentration can be low in the upstream and then as you move downstream, the concentrations go up, it's something between those points that's adding contamination to the creek — and the only thing between those two points is the old mine site."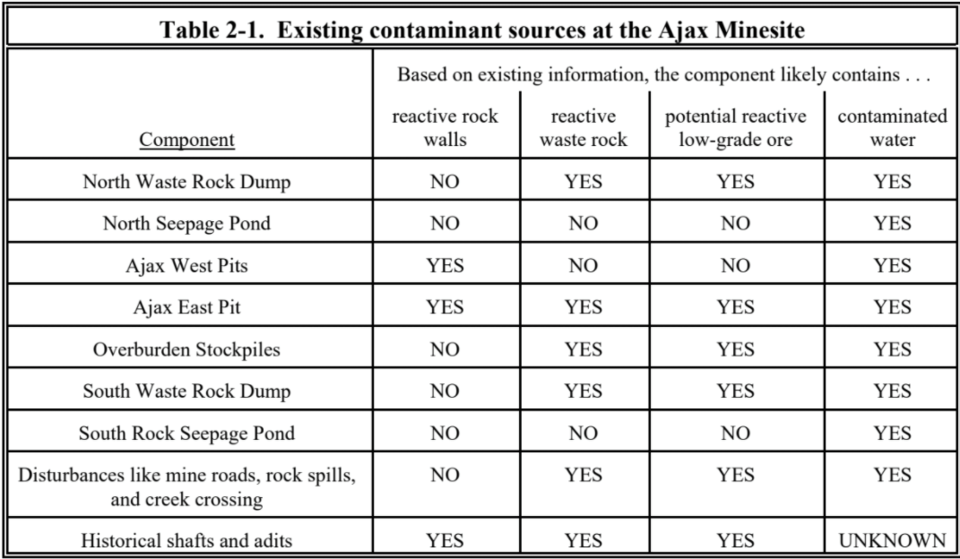 Asked what he believes is contaminating the creek from the old mine site, Morin said it is linked to rock blasting. He said the remnants are highly reactive.
"It's releasing arsenic into the water and cadmium into the water and mercury into the water and all of these elements are going into," he said. "When the rainwater comes down onto it, all these contaminants go into the water and then the water goes somewhere."
Morin pointed out contaminated water is non-potable, cannot be used for irrigation and can harm aquatic life.
Pick pointed to levels exceeding BC Water Quality Guidelines and drinking water in Knutsford. She is concerned for community wells, including for the Kamloops RV campground and Knutsford Knoll development.
Skeetchestn Indian Band Chief Ron Ignace called the report "disconcerting," noting impacts on the Thompson River, to which Peterson Creek flows.
"The environment and the salmon that are travelling up the waters get impacted by those contaminants and then we turn around and we ingest those salmon," Ignace said. "It goes up the food chain. Not only that, it's not very healthy for the environment."
Morin said the contamination has been getting worse. He suggested, as a result, the province revise KGHM's permit. Suggested revisions include monthly measurements of creek flows and chemistry and groundwater levels and chemistry and monitoring of 20 surrounding wells. It also calls on the province to compare monthly values to guidelines, rather than annual averages to guidelines, due to seasonal peaks.
KAPA has written to the provincial Ministry of Environment and Climate Change Strategy, requesting the province "significantly strengthen its water monitoring conditions." Pick said the ministry has not yet responded.
The province is in the midst of an election campaign, with voters heading to the polls on Oct. 24.
KTW reached out to the Ministry of Environment and Climate Change Strategy and is awaiting comment. KTW also reached out to Abacus and KGHM — owners of the mine site — and is also awaiting a response.
BC Water Quality Guidelines
Asked if B.C. water quality guidelines are a suggestion or requirement, Morin said:
"In the U.S., it would be law. In Canada, we have guidelines, where if you exceed those, you can get in trouble and the government's not happy. But it's not entrenched in law, where you can then be dragged into court and prosecuted. There's two different approaches in Canada and the U.S. In Canada, water quality and drinking water are guidelines or criteria that you should meet and, if you don't, government starts looking at you."