Heather Shtuka still remembers the gut-wrenching feeling she had the day her son went missing.
"In one second, our lives changed, so there will always be the time before that and the time after," she told KTW.
This Sunday marks one year since the disappearance of her son, Ryan Shtuka, who vanished in the early hours of Saturday, Feb. 17, 2018, on a cold, snowy morning at Sun Peaks.
On Friday, Kamloops RCMP and the family will hold a press conference to remind the public the search for Ryan remains ongoing. Multiple events are planned at Sun Peaks on Saturday to honour his memory.
For Heather and husband Scott, who live in Beaumont, Alta., the past year has gone by both incredibly fast and painfully slow.
"We will be forever stuck on Feb. 17 at this point in time," she said.
Ryan, 20, arrived in Sun Peaks on Dec. 1, 2017, to spend the season snowboarding and was last seen in the early-morning hours of Feb. 17, 2018, leaving a house party on Burfield Drive to walk the short distance home.
It's unclear how intoxicated he may have been.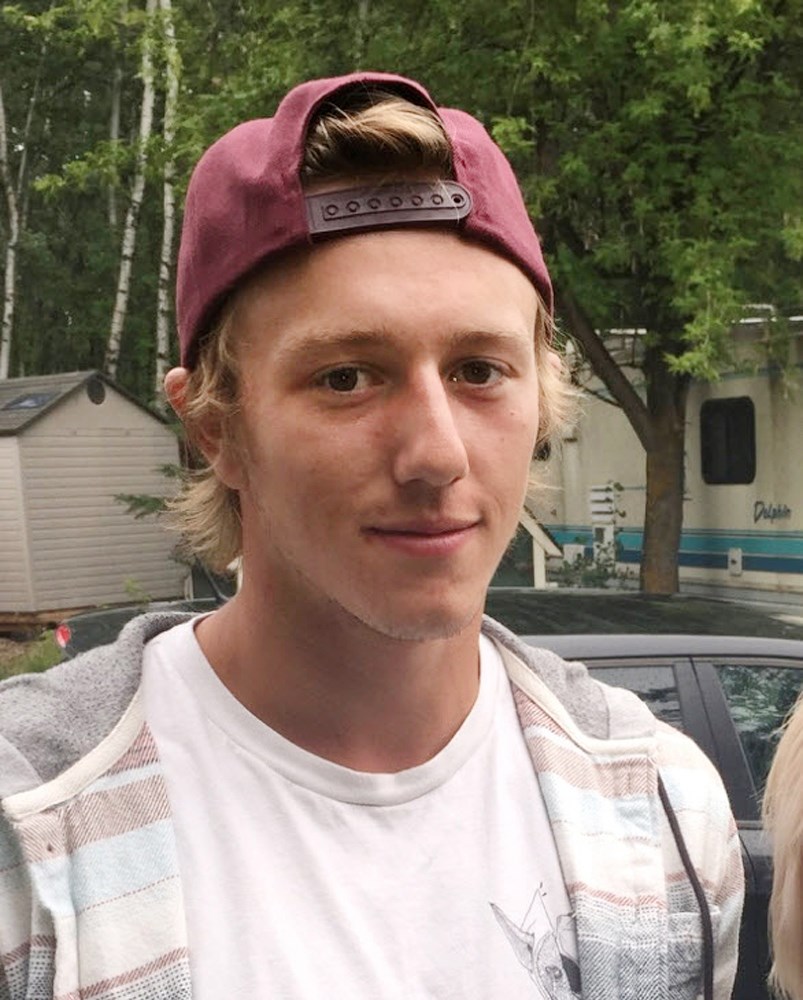 When he didn't show up to work later that day, friends reported him missing.
That night, Heather received a text message from Ryan's roommate, but initially didn't think much of it until she read the entire message.
"I still remember being in shock," she said.
The Shtukas then called the friend and spoke with police.
They set out for Sun Peaks from Alberta.
"I wanted to believe on the drive up that our luck would hold," Heather said.
Upon arrival, they heard from the search manager that the chances of finding Ryan alive were slim to none based on the cold temperatures.
On the morning he vanished, the mercury dipped to about -20 C.
"Already at nine o'clock in the morning, we prepared ourselves for the absolute worst and it didn't happen. All day it didn't happen — they searched and it didn't happen," Heather said.
She remembers being informed by Kamloops Search and Rescue that night that they had completed all the tasks Mounties had requested and were leaving. Police issued a press release asking for people to check their sheds, basements and outbuildings, which gave Heather some hope her son may still be alive.
"And then they went home and nobody searched for him on Monday except for us," she said.
Sun Peaks became the parents' home for the next three months as they organized volunteer searches out of a command trailer.
They combed through both sides of Burfield Drive and various locations in the resort over the course of the year.
The snow hampered initial search efforts, which included sniffer dogs. No sign of Ryan was found through the winter.
In the spring came another opportunity for answers as the snow receded. Search and rescue crews returned, but no clues were found.
Finally, in June, Heather and Scott left the ski resort, needing to return to Beaumont to be with their two daughters.
They've returned periodically ever since to continue searching.
Heather said she understands she may never know where her son is or what happened to him. That sinking feeling she felt the day he went missing still lingers.
Ryan's disappearance remains a mystery. The family has found no clues nor is the RCMP any closer to determining Ryan's whereabouts.
Kamloops RCMP Cpl. Jodi Shelkie said police have not ruled out the possibility Shtuka met with foul play that night, but nothing so far indicating he did, either.
"We have no evidence of anything suspicious," she said.
Shelkie said she couldn't speak to the types of tips police have received, the number of leads or if the RCMP has received any recently.
Over the course of the year, police utilized the RCMP helicopter, dog team and dive team to aid search efforts.
Friday's press conference is yet another public appeal for information about Ryan.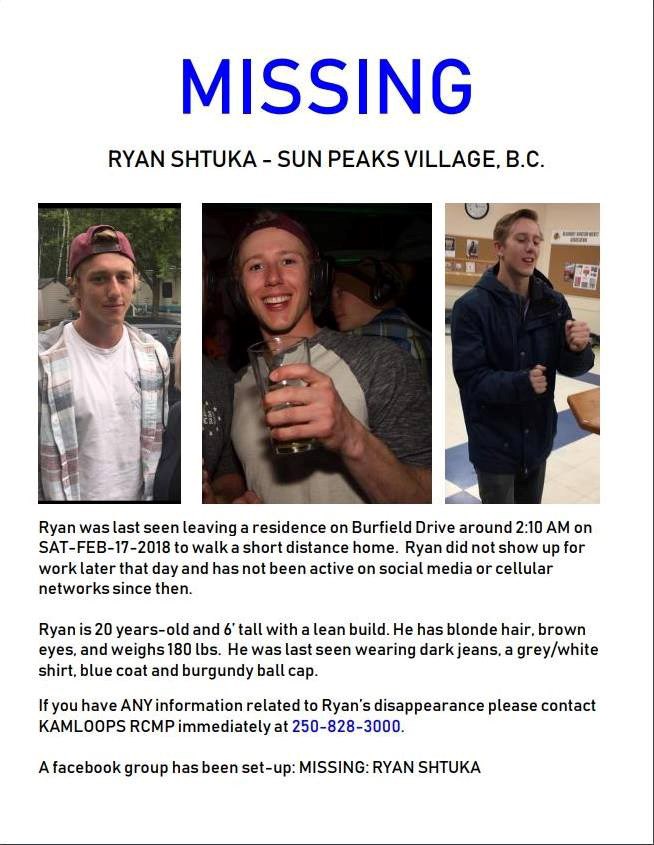 Shelkie said all police know about that night is that Ryan went to a bar and then attended a house party on Burfield Drive.
"And that was the last place he was seen," Shelkie said.
A year later, there is no shortage of speculation as to what happened to Ryan.
In a CBC documentary, one of Ryan's co-workers said she heard he took a "party drug" and went to another gathering after the one on Burfield Drive. She said the second party had gang members in attendance.
"I've heard a lot of different things. I really don't know what to believe," the co-worker told CBC.
In that documentary, a Sun Peaks resident said he told police he woke up in the middle of the night, around the time Ryan disappeared, to the sound of an angry man saying something to the effect of "get in the car."
Shelkie confirmed police followed up on that tip and all other leads received, but none have determined the young man's whereabouts.
Heather said it's her understanding the resident lived on Fairways Drive — about a 20-minute walk from the Burfield Drive house — which puts that report in more context.
She said she heard of a sighting of someone matching her son's description on that street on the night he disappeared.
She's heard plenty of rumours and, while it might be possible that Ryan met with foul play that night, Heather noted her son's character and the fact he had no enemies. She said if something nefarious did happen to him, it's not likely he brought it upon himself.
Heather has gone over all the possibilities and hopes whatever happens to her son was accidental and not criminal in nature.
From what she has heard of that night, Ryan was about to leave the house on Burfield at about 2 a.m. with some friends who thought he was behind them. By the time they turned around and noticed he wasn't there, they assumed he was lagging behind or decided to stay at the party.
In the CBC documentary, Kamloops Search and Rescue Manager Alan Hobler said despite the inches of snow that had fallen from the time Ryan went missing, any tracks left behind would have still been very obvious.
"We should have been able to see if he had wandered off anywhere," Hobler said.
Ryan's parents continue to search the same areas of the ski resort. They still find new items that have been in the area for a while, though nothing has been connected to Ryan.
"As his parents, there's nothing more that we can do," Heather said. "We would never be able to forgive ourselves and we wouldn't be able to enjoy the moments in between the searches if we didn't. It would feel like we were failing him and he deserves so much more than that."
The family will be in Sun Peaks this weekend for a few planned events organized to remember Ryan, while making happier memories with the people who have supported them throughout a trying year.
On Saturday, Sun Peaks Resort is inviting people to the top of the Sunburst Express chairlift at 3 p.m. for a group ski to honour Ryan.
That will be the final run of the day — fitting because it will be a year to the day since her son was able to enjoy the slopes for the last time.
Once the group reaches the village, participants are invited to the tube park, where Ryan was working during his season in Sun Peaks.
Heather and Scott are planning another search, followed by a candlelight walk through the village, ending with a social at Bottoms bar.
This weekend, Heather said she also plans to take a snowboarding lesson to honour her son's memory.
"I'm not sure how successful it'll be. I'm sure he will laugh at me if he were watching, that's for sure," she said.
Ryan is white, stands six feet tall, weighs 180 pounds and has blond hair and brown eyes. He was last seen wearing dark jeans, a grey and white shirt, blue coat and burgundy ball cap.